Posted on
Wed, Feb 1, 2012 : 10:04 a.m.
Amtrak train crashes into truck in Jackson County
By Cindy Heflin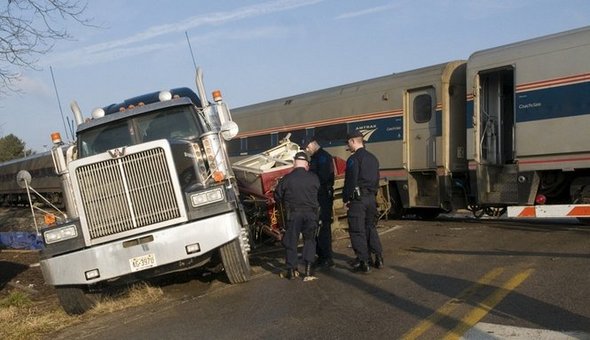 Jackson Citizen Patriot photo
Editor's note: This article has been updated with additional details.
Ten people were injured Wednesday morning when a westbound Amtrak train crashed into a semi tractor-trailer rig, the Jackson Citizen Patriot reported.
The driver of the semi-trailer and the conductor of the train along with others were taken to Allegiance Health with non-life threatening injuries, Blackman-Leoni Township Public Safety Director Mike Jester told the newspaper.
Jester said the semi-trailer, a lowboy trailer, was stuck on the tracks as the train approached the crossing at Portage Road near E. Michigan Avenue.
There were 68 passengers and five crew members on the westbound train, Amtrak said. The engine and two cars derailed in the crash, officials said.
Erik Swanson of Pontiac, who suffered a back injury, told the newspaper he was sleeping and the collision knocked his seat loose.
The Amtrak train that runs through Jackson County makes a stop in Ann Arbor on its way from Pontiac to Chicago.
The track was damaged and the route will be closed for some time, Jester said. Amtrak was making alternate transportation arrangements for passengers.
Norfolk Southern, which owns the tracks where the crash occurred, told the Citizen Patriot it would investigate the crash.
The Citizen Patriot has posted several articles about the crash:
Jackson Citizen Patriot photo