Posted on
Mon, Jan 14, 2013 : 11:32 a.m.
Ann Arbor apartment resident: 'Flames were pouring out the window'
By John Counts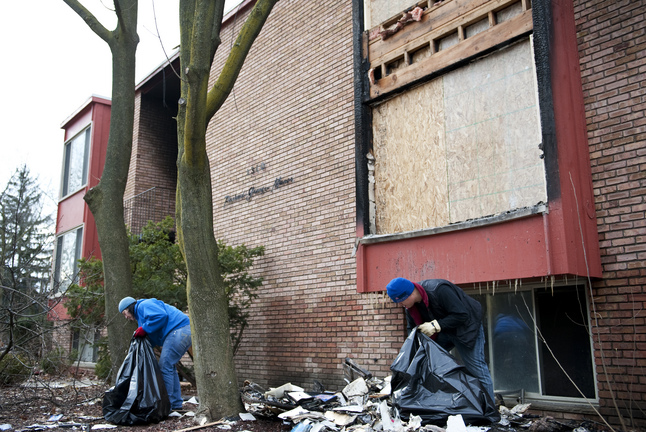 Daniel Brenner | AnnArbor.com
Kory Moore was talking to her mother on the telephone around 9 p.m. Sunday when she sensed something wasn't right.
"I just smelled this hot smell," said the 27-year-old University of Michigan graduate student. "Then I heard this girl screaming, 'Fire!'"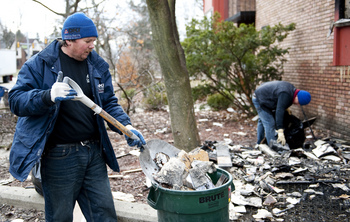 Daniel Brenner | AnnArbor.com
Moore, who lives in the basement apartment of the building at 1310 Packard St. that
burned Sunday night
in Ann Arbor, grabbed a few things and headed outside.
"I opened the door and saw all the smoke," she recalled. "I ran through the smoke."
Moore didn't realize the magnitude of the fire until she got outside.
"I couldn't believe this was actually happening," she said. "The flames were pouring out of the window."
Police seemed to be on the scene instantly, Moore said, and fire crews were only about 10 seconds behind them.
"It was incredible how fast they got there," she said.
A lot of people were crowding the scene, and Moore said she was aware of someone screaming that there were still people left in the building and that authorities were going in to rescue them.
The freezing weather, a cold mix of rain and snow, prompted Moore to call some friends to come and pick her up once a police officer told her she wouldn't likely be able to get back into her apartment that night.
Moore said her apartment in the basement on the east side was largely spared, only sustaining smoke damage. She said the fire had its most devastating effects on the west side of the six-unit building.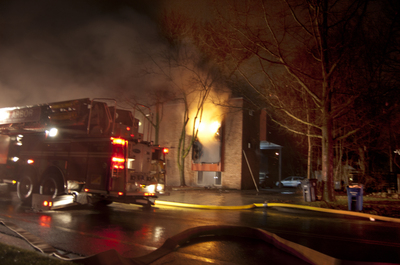 Photo courtesy of Lee Alexander
Moore ended up staying with friends. Four volunteers from the Washtenaw-Lenawee County Chapter of the American Red Cross responded provided two people with food, clothing and lodging, the organization said in a press release.
Monday morning, at least half of the six-unit building appeared to be destroyed.
Plywood filled two empty windows facing the street. A pile of blackened debris sat in a planting bed amid bushes and trees.
Crews were starting to pick up the pieces around the building at 1310 Packard St. about 9 a.m. Monday.
Fire investigators continue to look into what started the blaze that sent six people -- three residents and three police officers — to the hospital for smoke inhalation. Police and firefighters rescued four people from the burning apartments Sunday night.
Three Ann Arbor police officers were sent to the hospital, evaluated and released Sunday night, said Sgt. Matt Lige. They were helping to save a woman from the building when they suffered the smoke inhalation, he said.
As of 10:30 a.m., it was not clear what happened to the residents who were taken to the hospital. AnnArbor.com was still waiting for the Ann Arbor Fire Department to return calls. The property management company and the Red Cross also didn't immediately return phone calls.
Update at 1:16 p.m.: There were fire-related violations of city ordinances noted at the building when it was last inspected and currently a certificate of occupancy -- which a dwelling gets updated every three years -- had not been renewed, said Ralph Welton, Ann Arbor's chief development officer.
"It was still pending," he added. "Basically, they were operating without a certificate."
In a report dated Sept. 13 2012, three of the apartments inspected did not have smoke detectors.
The next step would be to deem the building uninhabitable, but the building's owners still had time before this step was taken, Welton said. The amount of time depends on the severity of the infractions. In addition to the missing smoke detectors, there were minor problems with garbage disposals and light switches, according to records.
Welton didn't think any of the infractions had to do with the start of the fire, but that not having detectors could pose problems.
"I don't see anything ... that's necessarily a fire hazard," he said. "If there were no smoke detectors working, that could be dangerous,"
Records indicate a company called The Highway Company International owns the building. As of 1:35 p.m., the company had not returned a call to AnnArbor.com.
This story will continue to be updated.
John Counts covers cops and courts for AnnArbor.com. He can be reached at johncounts@annarbor.com or you can follow him on Twitter.