Posted on
Tue, Feb 7, 2012 : 5:55 a.m.
Ann Arbor approves $93 million contract with Walsh Construction Co. for wastewater plant rebuild
By Tom Perkins
Ann Arbor has tapped Chicago-based Walsh Construction Co. to undertake the largest capital project in the city's recent history.
City Council on Monday unanimously approved a $92.9 million construction contract with Walsh to rebuild half of its wastewater treatment plant and renovate the other half. The project could cost up to $120 million total and require five years to complete.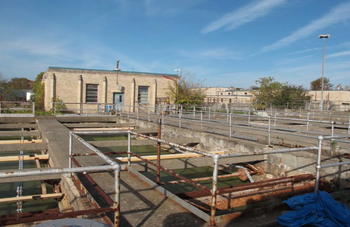 Walsh's approval was the latest step in the project, which has been in planning and design stages
since
March 2005
Earl Kenzie, the city's wastewater treatment services manager, said Walsh, which has a regional office in downtown Detroit, had more experience than two other companies interviewed during the bidding process. Six companies bid.
Parts of the plant will have to remain functional and treating wastewater, while other parts are demolished or renovated, creating a highly complex situation.
Kenzie said he city needed a company with experience in coordinating with multiple sub-contractors on a complex project over a long period of time, and he felt Walsh was the best selection.
"Clearly they have and continue to have that kind of experience," he said.
Walsh recently completed two similar projects for the Detroit Water and Sewerage Department with price tags of $190 million and $290 million that were done while wastewater plants continued operating.
"Those were operational plants and that's the biggest crux of our situation: the plant has to be operating," Kenzie said. "Some of the work requires shutdowns that could affect our ability to treat wastewater … and that's the biggest concern about having the right contractor."
During public comment, a representative from Granger, which put in a bid of $90 million, asked why the city would pay over $2 million more when his company has experience with building large water treatment facilities.
Responding to questions from council later in the meeting about the selection of Walsh over Granger, Kenzie said he didn't have an issue with Granger's experience as a general contractor, but said Walsh had more experience working on projects where a wastewater plant remained operational.
Because the city has been approved for a $109 million loan from a revolving fund managed by the Michigan Department of Environmental Quality, Walsh is listed as the "tentative" contractor until the DEQ approves the city's application.
City Council recently approved a notice of intent to issue up to $120 million in sewage disposal system revenue bonds for the project, though officials estimate the final cost between $100 million and $110 million.
The aging facility is located just east of the city limits and US-23, off Dixboro Road along the Huron River, mostly in Ann Arbor Township. It consists of a West Plant constructed in the 1930s and a newer East Plant built in the late 1970s. The West Plant is shut down and it will be demolished and replaced. The plant's electrical grid and stand-by generators will also be replaced.
The plant serves about 130,000 people in the city of Ann Arbor and portions of Ann Arbor, Pittsfield and Scio townships.
Kenzie said the part of the plant that is operational can handle around 20 million gallons per day and takes in between 18 million and 18.5 million gallons per day.
Starting the project now instead of when it nears full capacity is crucial so that the plant can continue treating those levels of wastewater while portions are shut down, Kenzie said.
The renovations to the East Plant include rehabilitating existing flow control structures, complete demolition and replacement of primary and secondary treatment equipment, and construction of new buildings. Other improvements include installation of a new electrical distribution system and two new emergency power generators, utilities relocation, replacement of stormwater collection system equipment, installation of new roadways, and replacement of aeration systems with energy efficient blowers.
The project comes as the city completes another project replacing worn out and inefficient residual solids processing equipment and other upgrades at a cost of more than $50 million.
Council Member Jane Lumm praised staff for their work and selection of Walsh.
"The rationale seems sound … and I think the bid and application process were quite robust," she said.