Posted on
Tue, Feb 28, 2012 : 5:59 a.m.
Ann Arbor area officials say more privatization of local services possible
By Ryan J. Stanton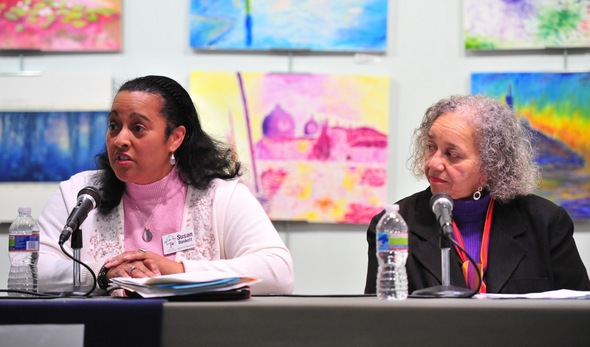 Ryan J. Stanton | AnnArbor.com
As municipalities and school districts continue to face budget constraints, there will be more pressure to privatize services, a panel of local officials said Monday night.
"Your school secretary may be a contracted employee in the future," said Susan Baskett, an Ann Arbor school board trustee.
"Think hall monitors or even security at our school football games," Baskett added. "That's a possible area."
Baskett was one of five officials who spoke during a panel discussion on privatization hosted by the League of Women Voters in Ann Arbor and co-sponsored by the local alumnae chapter of Delta Sigma Theta. About 50 people attended the event at the downtown library
The five panelists shared their insights about government services in Ann Arbor and Washtenaw County that already have been privatized and what might be next.
Joining Baskett on stage was Ann Arbor City Council Member Sabra Briere, former Washtenaw County Administrator Bob Guenzel, Ypsilanti City Council Member Lois Richardson, and Ypsilanti school board member Andy Fanta.
"Privatization leads me to believe that it is a world that I'm not so sure I really want to live in," Fanta said.
Ryan J. Stanton | AnnArbor.com
"Does it take a wild imagination to imagine Google or its progeny digitizing court records, removing a government employee that will take the accuracy and responsibility for recording transcripts?" he said. "I don't think that's out of the question."
Fanta said the Ypsilanti school district is "under siege" concerning privatization.
"They want to privatize everything they could privatize. And the rationale for that is we have to cut costs," he said.
Fanta said he prefers to instead ask: "How do we politicize the citizens of Michigan to say it is a good thing to adequately fund pubic education?"
Baskett said declining funds and increasing retirement costs — which she said school districts "have nothing to do with except pay the bill" — have led to privatization talks.
Baskett talked about privatization she's seen occur since she joined the school board in 2003. She said it most often involves replacing current paid employees.
She pointed out a professional educational services group now does the hiring of substitute teachers for Ann Arbor and other school districts in the area.
Also in 2007, the Ann Arbor school district turned over its food service employees to Chartwells, a private for-profit company that now provides the school lunch program.
"In exchange for this contract, every year the district gets a sizable check and we're able to deposit that into our general fund," she said.
Baskett said the school board also decided recently to hire a private contractor to look after the district's heating and cooling systems instead of hiring a new full-time employee.
There probably are many future opportunities to further privatize services, she said, mentioning maintenance, plumbing, clerical services and child care as examples.
"We do offer before- and after-school care, so that's another area," she said. "As well as human resources — that's a potential area as well."
Baskett gave credit to the district's custodial employees, whom she said bargained well and made sacrifices in order to stay on as regular employees.
Briere said when she went to the city and asked to talk about privatization, she received "a little bit of a blank look back because we don't privatize very much."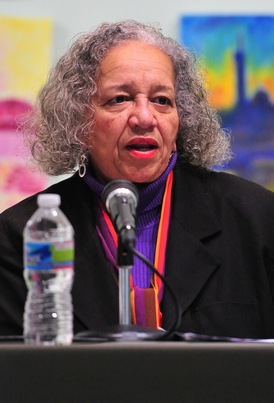 Ryan J. Stanton | AnnArbor.com
She said the city has privatized some areas of its operations, such as janitorial services, but mostly privatization in Ann Arbor has occurred in the solid waste department.
The city first hired Recycle Ann Arbor, which had been around since the 1970s, to provide curbside recycling throughout the city in 1991. Periodically over the years, Briere said, the city has put out a request for proposals and granted another contract to Recycle Ann Arbor.
"They win their contract because they come in with the best bid," she said, acknowledging there are more and more places now that are recycling and challenging that bid.
"It makes it more interesting, but it's also why we gave Recycle Ann Arbor a 15-year contract in 2010," she said. "Because a 15-year contract allowed them not to worry about whether they could put their investment into the city only to find out it was being withdrawn."
The city took another step in 2010 and decided to privatize the operation of its composting facility, which was the first time Briere dealt with a major privatization decision on council.
For years, the city had done its own composting, but it contracted those services out to a New York-based company called WeCare Organics to save money in the solid waste budget. Briere said the decision to go with a private company displaced three of the city's workers.
"We didn't lay off any workers. We didn't fire any workers," she said. "But we moved them out of the compost facility to other parts of the city government, because we have union contracts and we are very much discouraged from laying off as a way of dealing with privatizing."
Briere said it seems the city doesn't have clear policies on when it privatizes services, but what usually happens is the city's staff puts out a request for proposals and then compare costs.
Ann Arbor has twice, for instance, put out a request for proposals for trash pickup and twice the news came back that the city can provide the service cheaper, Briere said.
Guenzel said he prefers regional cooperation and sharing of services between public bodies over privatization.
"That's really where we should be spending our time," he said, noting the city of Ann Arbor and Washtenaw County recently combined their dispatch operations.
"That'll save hundreds of thousands of dollars and it'll be just as good. And we've combined the offices of community development, so those are opportunities that are out there."
Briere agreed that contracting with the county for police dispatch services was the right move for the city when presented with a shortfall in its public safety budget.
"In Ann Arbor, we're challenged by a budget where, looking at it last year, we said to each other we may have to eliminate police officer positions two years running," she said. "And we've already lost enough police officers that we feel the police department isn't as effective as they want to be or as we need them to be. How do we afford all the police officers we need?"
Baskett pointed out the Ann Arbor, Ypsilanti and Willow Run school districts agreed to consolidate transportation services to protect the jobs and pensions of bus drivers, turning those services over to the Washtenaw Intermediate School District.
"We thought we were protecting them, but they have a 40 percent turnover rate," she said. "So I would question how many of those employees that we were trying to look for are still there."
Richardson said Ypsilanti outsourced its trash collection services to save money and that's been a good move. She said it's saving the city money and the service is good.
"It does work good for us, for our city," she said. "We still have a very well-functioning department of public works that is well staffed."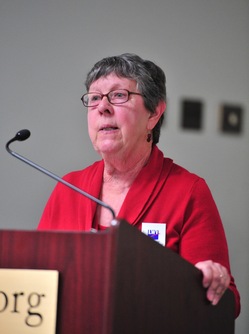 Ryan J. Stanton | AnnArbor.com
Richardson said she's typically not a big proponent of privatization, though, because it often involves eliminating jobs.
"From what I've seen, it takes jobs away away from the municipality. It takes jobs away from people in the community," she said.
Guenzel was the only panelist with a background as an administrator. He spent 22 years as the county's attorney and 15 years as county administrator before retiring in 2010.
In most instances, Guenzel said, he would not favor privatization.
He said at least 75 to 80 percent of what the county does is mandated by the state or the federal government, so it makes sense to keep most county services in house.
"Sometimes privatization seems like failure on the part of public bodies," he said. "Having said that, we have an obligation, and I felt an obligation as county administrator, to examine all ways of providing services."
Especially when providing human services, Guenzel said, if the government can save on overhead and indirect costs, there are more dollars to deliver directly to services.
In addition to issues of accountability, Guenzel said there are labor issues that come into play with privatization. He pointed out unions have strong political clout.
"Michigan is still a pretty strong labor state, so if a unit of government is thinking about contracting out, it's a mandatory subject of bargaining," he said. "Most of our contracts have clauses that say something like you can't contract out if it involves layoffs of employees."
Guenzel also pointed out the county, Ypsilanti and Ann Arbor have living wage ordinances that set a minimum level of pay that companies doing contract work must provide their workers.
So if the county or those cities are interested in saving money by paying people a lot less, he said, they have to face the fact that they have those policies on the books.
Guenzel said the county for years has contracted out a lot of services that most people don't think twice about. That includes paying private nonprofits to provide human services.
"These nonprofits do duties and responsibilities that the public bodies could do, but it's well accepted because the provision of human services is a hodgepodge," he said.
Guenzel said the county also has contracted out janitorial services, towing services through the sheriff's office, and ambulance services.
"When I was county attorney, part of the time I was an independent contractor, so legal services are certainly contracted out," he said.
One area where the county has not farmed out services, while other counties have, is in its public defender system, which provides legal defense to indigent persons.
"For years, folks have said, 'Why don't you contract that out? It would be much cheaper.' That's what other counties do," Guenzel said.
"And we have resisted that over the years because we felt that function was so important it needed to be performed in a professional manner by attorneys who were not necessarily concerned about how quickly they could dispose of cases."
Ryan J. Stanton covers government and politics for AnnArbor.com. Reach him at ryanstanton@annarbor.com or 734-623-2529. You also can follow him on Twitter or subscribe to AnnArbor.com's email newsletters.