Posted on
Fri, Apr 6, 2012 : 2:59 p.m.
3 abandoned kittens rescued from foreclosed home
By Danielle Arndt
A real estate agent with Edward Surovell Realtors in Ann Arbor stumbled upon three tiny, just days-old kittens hovering next to the heater of a foreclosed home.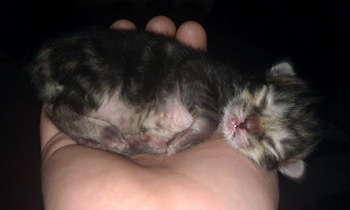 Courtesy photo
The home, located in
Flat Rock
in
Monroe County
, had been vacant for at least three months, said
Meghyn Stevens
, a property manager with Surovell.
"We heard some scratching and thought raccoons had gotten into the house," she said.
But to Monroe real estate agent Tom Wagner's surprise, he opened the door to the home's utility room to find the three black and white kittens bundled up together.
Stevens found a towel and shallow box and rushed out to Flat Rock to rescue the kittens. On her way home to Ypsilanti, she picked up some nursing bottles and kitten milk replacement.
She spent the night feeding them at three-hour intervals, she said.
The next day, she took them into work to continue their three-hour feeding routine. Realtor Andra Anteau volunteered to pay for Stevens to take them to the vet.
"We needed to have them looked at to make sure they were OK," said Anteau, who, along with her husband, adopted two cats from the animal shelter years ago.
"Other than having some fleas and being malnourished, the vet believed they were fine."
The vet estimated the kittens were about 10 days old.
Courtesy photo
After the vet visit, Stevens made it her goal to try to find the mother cat. She said she had Wagner set some standard raccoon traps to try to catch the mama.
"We anticipated she would be feral," Stevens said. "A lot of times with foreclosed homes of poor quality there are crawl spaces cats get into and there had been one here about a week."
The raccoon traps were successful, and a beautiful long-haired cat — with white and black fur, accented with a little orange — was found sitting in one of the traps, waiting for them.
"We thought, 'Let's just roll the dice and see what she does,'" said Stevens, explaining when they opened the door to the trap, the mama ran right over to her babies and jumped in the box.
"She was really sweet with them. And she's litter-box trained, so we knew she had to have been a domestic cat."
Anteau said it is not uncommon for pets to be left behind in foreclosures, although she personally has seen it happen only once at one of her listings.
"When a house is foreclosed upon, a lot of times there can be a lot of emotions involved, including anger," she said.
People have to move out rather quickly and may be moving into an apartment or a place that doesn't allow pets, she added.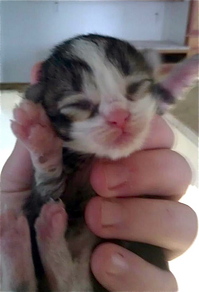 "Why people can't take them to an animal shelter, I don't understand," she said. "Given that animals can't take care of themselves, it is always a sad and not good thing to have pets left behind."
Stevens is looking for a good home for one of the babies and the mama cat. Two of the babies have already been spoken for. She said the kittens will be ready for adoption in a couple of weeks.
Finding the mother cat was the best thing for the kittens, Stevens added. They were not doing the best with the milk replacement. Anteau said they could have been even more malnourished and risked premature death if the mother had not been found.
Related reading from AOL Real Estate: Foreclosures' Other Victims: Abandoned Pets
Staff reporter Danielle Arndt covers K-12 education for AnnArbor.com. Follow her on Twitter @DanielleArndt or email her at daniellearndt@annarbor.com.