Posted on
Sat, Feb 18, 2012 : 2:17 p.m.
Small joys for African children: Ann Arbor businessman brings soccer balls to kids in Sierra Leone
By Lisa Carolin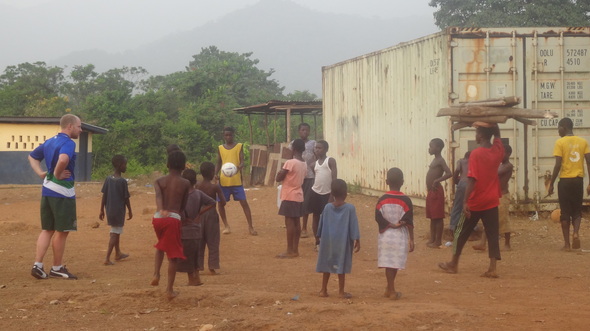 Courtesy photo
An Ann Arbor businessman and avid soccer watcher brought joy to a group of children in Sierra Leone when he brought them brand-new soccer balls to replace their homemade ones.
Robbie Schulz, manager of the Alley Bar and part-owner of the new Live and The Last Word (formerly Goodnight Gracies), recently took a break from the Ann Arbor scene to visit his girlfriend Jenni Rousseau in Sierra Leone, where she works for a medical non-governmental organization.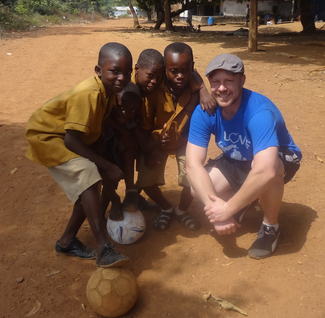 Courtesy photo
A soccer fan himself, Schulz had the idea to take some soccer balls with him last month on his weeklong trip to Africa for the first time.
"My girlfriend tells me stories about kids playing soccer with homemade balls of paper, twine and other random items," said Schulz, who will turn 35 next month.
His dad, Jim Schulz, contacted friend Tom Weinmann of School Tech/Wolverine Sports, which provides sporting goods and science equipment to schools. Weinmann and his boss, Don Eaton, put a plan in motion and School Tech donated 12 balls, one pump and a carrying bag at no charge.
"It's to Robbie's credit that he put the time and effort into bringing the soccer balls," said Eaton. "Soccer is a worldwide sport of choice, and it's easy to transport balls in a deflated state with a hand air pump."
Schulz says it was very rewarding to see the reaction from the children when he gave them the soccer balls.
"It is amazing the joy something as small as a soccer ball can bring a kid," said Schulz. "I watched four kids play barefoot in an alley in Freetown for around 10 minutes. They had an old flat ball, but they were having so much fun. I knew right away that I was going to give them a new ball."
Schulz tossed the ball toward them and says they were all smiles.
"One boy asked, 'For me?' and I told them, 'For all of you. You have to share it.' He smiled one of the biggest smiles that I have ever seen and raised the ball over his head and started screaming and running up and down the alley. Seeing his reaction, I think I was happier than he was."
Schulz says that kids play soccer in every alley, dirt patch and field available.
"Soccer is very popular there with Manchester United (English Premier League) being the most popular club," said Schulz. "It is very rare that you find a household with a television, but every village has a tent with a television for watching soccer."
As far as his impressions of Sierre Leone go, Schulz says that people there seem truly grateful for what they have. He says he would like to return to Africa soon.
"Simple things mean so much more," he said. "There's no power unless you can afford a generator, no running water, and so many more things that would seem to cause stress, yet people genuinely seem to enjoy life. There's much more of a community feeling. Most importantly, people are grateful for what they have right now — peace in the country."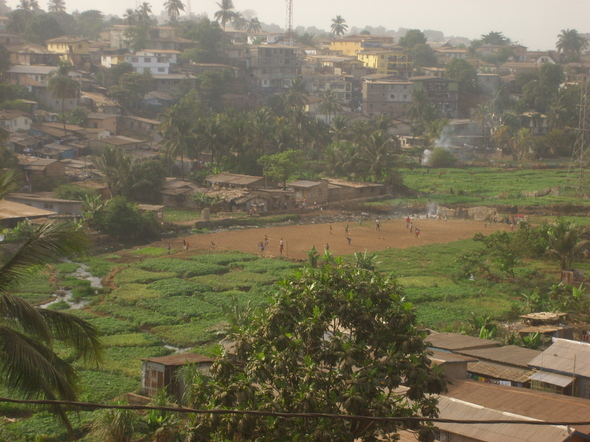 Courtesy photo