Posted on
Tue, Apr 17, 2012 : 5:59 a.m.
Ann Arbor budget plan increases staffing in police, holds line on fire
By Ryan J. Stanton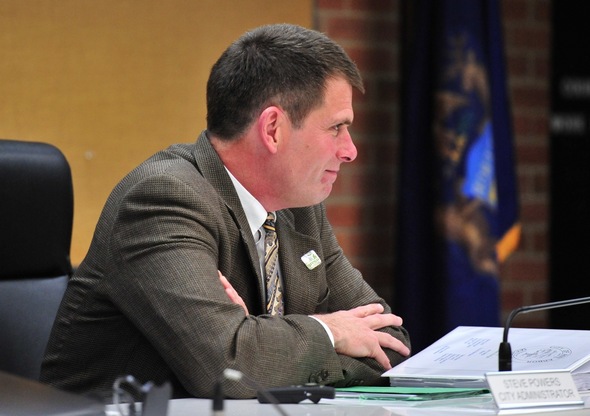 Ryan J. Stanton | AnnArbor.com
City Administrator
Steve Powers
received a round of applause Monday night after presenting a budget plan that avoids further cuts in the police and fire departments.
In fact, he proposes increasing police staffing.
The applause — the first time in years that anyone could remember such a sound following a budget presentation inside Ann Arbor's city hall — came from members of the Ann Arbor City Council as well as residents sitting in the audience.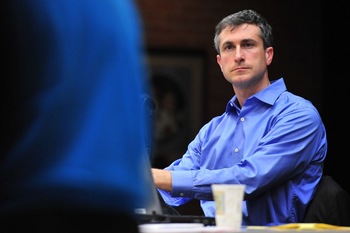 Ryan J. Stanton | AnnArbor.com
"This is a budget to write home about," said Council Member
Christopher Taylor
, D-3rd Ward. "The economic conditions in the city and the state and nation are improving. Our budget reflects that."
The recommended budget for the fiscal year starting July 1 assumes a 0.8 percent increase in property tax collections. It shows $79.2 million in recurring general fund revenues and $77.8 million in recurring expenditures, leaving a surplus of nearly $1.4 million.
Powers is proposing the city use a little more than $1 million of that surplus on what he's labeled "non-recurring expenditures," including a new police recruit pilot program.
That leaves a total of $323,362 being socked away in the city's rainy day fund under the administrator's recommended budget.
"We are fortunate that we are able to get back to a more strategic approach to budgeting," Powers said. "We're recognizing and funding long-term liabilities. Collaborative opportunities are key to 2013. So is investing in safe and reliable infrastructure."
The city's full-time employee count is proposed to drop from 706 to 685 in 2012-13 — a net reduction of 21 positions or 3 percent of the city's work force.
Powers said 19 positions are lost as a result of the city recently outsourcing police dispatch operations to the county.
While there are some position changes built into the proposed budget, Powers said there are no layoffs, meaning no city employees are left out on the street.
The Ann Arbor Police Department actually will forgo nine planned layoffs and see one added officer position under the administrator's recommended budget, which also includes funding five other part-time officer positions as part of a new program to recruit new officers.
Those initiatives are paid for by the recent outsourcing of dispatch operations, which is estimated to save the city $624,000 in the next budget year, while new police labor contracts will save another $447,000, according to Powers' proposal.
The budget shows a $657,000 increase in fire department revenues, which Powers said comes primarily from inspections Fire Chief Chuck Hubbard has initiated.
"Fire inspections are required by ordinance and those have not been done in the past," Powers said. "Chief Hubbard has been pushing the department to have those inspections completed, and the revenue is being recommended to be used to support the department."
Powers said he couldn't say why the inspections weren't done in the past other than it just wasn't a priority for the department.
A new labor contract with the firefighters union is going to cost the city an extra $229,000 next year, according to Powers' presentation.
On the parks side of the budget, Powers is proposing the city switch back to a 14-day mowing cycle. The city had been on a 19-day mowing cycle to save money until now.
"There were citizen complaints and questions regarding the overall condition of the parks with the length of the grass, the condition of the grass," explained Powers, who also is proposing adding three seasonal park ranger positions.
His presentation also showed $39,000 being restored for nonprofit human services funding, plus an extra $10,000 going to the county for human services.
The budget also factors in a $50,000 positive gain in rental housing inspections, which Powers explained this way: "We have fewer staff and we're doing more inspections."
Water and sewer rates are proposed to increase between 3.25 and 4.25 percent.
A May 7 public hearing on those fees and the overall budget is planned as part of the budget process, followed by council adoption on May 21.
Powers said he's not planning to hold a town hall meeting on the budget but he will appear on a call-in show on CTN in early May where he'll take live questions from the public.
Council Member Margie Teall, D-4th Ward, offered positive feedback on the budget presentation and said she's especially glad to see police staffing increasing.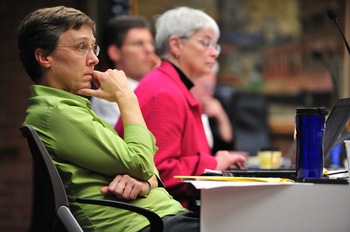 Ryan J. Stanton | AnnArbor.com
"I look forward to this year's budget adoption," she said. "It's going to be the best one I think we've been able to do since I've been on council."
Teall, who has been on council for about a decade, said she's not ruling out the idea of using some of the surplus shown in the proposed budget to increase staffing in the fire department.
The amount Powers proposes socking away would be enough to hire four new firefighters and increase the fire department's FTE count from 82 to 86.
"I think it's something we're going to look at," Teall said. "I don't believe there's anything off the table right now. It's still early in the process."
Even with a surplus projected, Powers said he didn't feel comfortable recommending an increase in staffing in fire. He noted the city's longer-term forecast shows the city is expecting a break-even budget in 2014 followed by future deficits in 2015 and 2016.
The budget for the upcoming year shows an increase of three FTEs in financial and administrative services and one FTE being added in the administrator's office.
Of the $78.9 million in general fund expenditures, $24.6 million is in police and $13.9 million is in fire, meaning nearly half the budget is going to public safety.
The fire department budget is growing by $531,971 and the police department budget is shrinking by about $1 million.
Nearly $4 million is going to the 15th District Court, which is up from less than $3.8 million budgeted this year.
The budget for the mayor and council is growing by $13,214, ticking up to $375,710. The actual total expenses for mayor and council two years ago was $339,129.
Overall, total city spending in 2012-13 is shown at $382.2 million. Meanwhile, total revenues are shown at $404.9 million.
Powers said difficult decisions made by council in years past have helped lay a solid foundation for the 2012-13 budget.
"We have a very talented and dedicated work force that has enabled the city to navigate a challenging economy," he said, making note of employee concessions. "It's a budget that responds to community concerns and council priorities."
The city's millage rate is ticking up slightly from 16.47 mills to 16.57 mills, which is due to the passage of a new sidewalk millage in November.
The non-recurring general fund expenditures include, among other things, a $272,220 golf subsidy, $154,000 Housing Commission subsidy, $150,000 for the police recruit program and $307,781 as a local match for a $2.8 million federal high-speed rail grant,
The $2.8 million federal grant since last year has been discussed in the context of the proposed Fuller Road Station project, but Powers chose his words carefully on Monday in discussing the allocation included in his recommended budget.
"It's not for the Fuller Road Station project, but Fuller Road could be the location. That will be determined by this planning grant," he said.
"There's a federal planning grant for studying locations for a high-speed rail station," he explained. "There is a non-federal match that's required."
Powers said no decision has been made yet. He anticipates the issue coming before council sometime in June or July.
"By including the funds in the recommended budget, this would allow that grant to move forward if council chooses," Powers said.
The police department is budgeted at 146 FTEs under Powers' budget, which is down from 182 in 2010. The fire department is budgeted at 82 FTEs, which is down from 94 in 2010.
"Public safety is, of course, a core service," Taylor said. "We strive to have the finest public safety that we can afford. With improving economic conditions in the city and the state, we are able to afford more than we have in the past. And the city administrator — in conjunction with the mayor and council — is rightfully focusing on restoring that area."
Mayor John Hieftje sounded hesitant that the city should consider using any of the surplus shown in the budget to hire more firefighters.
"We would not want to hire anybody this year if we aren't going to be able to sustain them next year," he said. "There are still enough unknowns out there that I think the city administrator is recommending we be cautious."
Ryan J. Stanton covers government and politics for AnnArbor.com. Reach him at ryanstanton@annarbor.com or 734-623-2529. You also can follow him on Twitter or subscribe to AnnArbor.com's email newsletters.