Posted on
Thu, Jan 26, 2012 : 2:09 p.m.
Village Green: New downtown Ann Arbor apartments to feature luxury amenities and 'sexy bathrooms'
By Ryan J. Stanton
Ryan J. Stanton | AnnArbor.com
The first tenants of
Ann Arbor City Apartments
could move into their new luxury units 14 months from now, says
Village Green
CEO
Jonathan Holtzman
.
"That's the goal," the developer said today. "We're going to deliver what we think will be a great product that you can get today in Chicago and New York and L.A. but you currently can't get in Michigan, let alone Ann Arbor."
A crowd of more than three dozen people gathered today at the southeast corner of First and Washington in downtown Ann Arbor for the groundbreaking of the long-awaited project, a collaboration between the city and Village Green now four years in the making.
There to celebrate were representatives from the development team, the city, the Downtown Development Authority, neighborhood residents and downtown business owners.
"We really welcome it," said Mark Hodesh, owner of Downtown Home & Garden and the Mark's Carts outdoor food court, two businesses that share the block.
"We occupy the eastern side of the block. Now it's the western side of the block. We're no longer on the frontier," Hodesh said. "We're just looking for the added activity. It's good for the neighborhood and it pushes the western edge of the downtown commercial district further."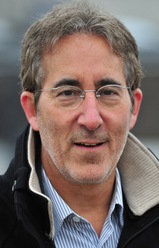 The new apartments will sit across the street from popular nighttime establishments like the Blind Pig, Circus and Millennium, with a one-block walk to Main Street.
"Obviously we think we picked a very good location," Holtzman said. "And I think the city realizes that they should build housing on top of everything that gets built. If Whole Foods does relocate to downtown, they should build housing on top of the Whole Foods. So we need to have more people living downtown. We need to have people use the car less, walk more."
Village Green is calling its 155-unit development the first market rent luxury apartment community in downtown Ann Arbor in more than 25 years. The project is designed to meet the National Green Building Standard established by the National Association of Home Builders and 95 out of 100 points on the Google Map Walkability Index.
The project represents Village Green's "City" brand, which is designed for young professional renters as well as corporate relocation.
The apartments include studios, alcoves, one- and two-bedroom units, penthouses, hardwood floors, 9- to 11-foot ceilings, three distinct color and finish packages, and what the Farmington Hills-based developer is calling "sexy bathrooms."
"The bathtub is designed for having wine glasses and candles," Holtzman explained. "It's a bathtub designed for two people, not one person. So we're more akin to a boutique hotel than what you would consider an apartment building. We're catering to that."
In addition to large tubs and shower units, the "sexy bathrooms" feature marble vanity tops and wood-framed mirrors.
The apartments also come with oversized windows, translucent glass barn doors, track lighting and balconies. Ten different floor plans range from 500 to 1,200 square feet.
"What you're going to see from the development is a green building," Holtzman said. "You're going to see wood floors and high ceilings. You're going to see all kinds of finish packages, and there's the kitchens and the technology. But I think the real winners are going to be the Zen garden, the business centers, the exercise room, the sky club and the sky park."
The building lobby will be designed similar to a boutique hotel, and tenants will benefits from time-saving concierge services. The sky club is designed as a social environment, featuring cabanas, gourmet kitchen and bar, gas fire pit and an outdoor lounge.
The Zen garden will be professionally landscaped, and all common areas, including a business conference room, will be Wi-Fi accessible and available 24-7.
O'Neal Construction is the general contractor on the project, which is being financed in part by US Bank. Management and marketing are being handled by Village Green and L.A. Inc., and the architects are the BKV Group and Damon Farber Associates.
The building rises 104 feet into the downtown skyline. In addition to apartments, it includes a 244-space parking garage to be owned by the city and managed by the DDA.
The Ann Arbor City Council agreed to authorize up to $9 million in general obligation bonds to help pay for the parking structure. Of the 244 spaces planned, about 72 are expected to be held for residents, leaving 172 spaces for the general public.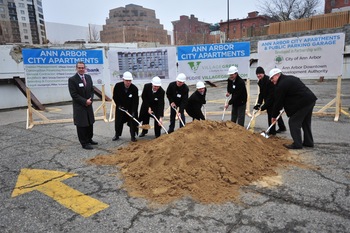 Ryan J. Stanton | AnnArbor.com
Holtzman declined to say what the monthly rents might be, except that they're going to be competitive with the current market.
Sixteen of the units will be classified as affordable housing, meaning they'll have cheaper rents that will be closer in reach for lower-income residents.
The project is taking shape on the site of an old parking structure that was torn down several years ago and today remains a surface parking lot.
"It's a wonderful day for us because this has been a long process," Mayor John Hieftje said at today's groundbreaking. "And I really want to compliment all the partners involved for hanging in there. It was a great project from the beginning, a project that was well accepted by the neighborhood, a project I think everybody in town wanted to see go forward."
Hieftje called it the kind of project that growing tech companies like Menlo Innovations, Google and Barracuda Networks are going to appreciate as they look to attract talent.
"We're ready to see this building go in the ground and go up, and it brings us the kind of housing we're looking for in our city," he said. "It's an addition to many elements that have come together that are multiplying to ensure the vibrancy of our downtown area."
Holtzman, who noted his father graduated from the University of Michigan, said the relationship between the developer and the city was critical in allowing the project to move forward, but he also had to thank US Bank for agreeing to loan money in a difficult financial environment.
Ryan J. Stanton | AnnArbor.com
Holtzman said downtown Ann Arbor needs more housing and he hopes this won't be Village Green's last apartment project here. Village Green's first apartment community in Ann Arbor was built in the early 1970s and the latest project will be the third, in addition to three other apartment communities that Village Green manages for other ownership groups.
A pre-leasing center will be set up six months before the first move-ins, Holtzman said, and prospective tenants will be able to see all of the floor plans and rents at that time.
"We look forward to being part of the Ann Arbor neighborhood and we'll be releasing all kinds of information on the website," he said.
He estimated it's about a $30 million project, including the parking deck portion that is being partially financed by the city.
Holtzman commented on the viability of the project, given that literally thousands of apartment units are being added in and around downtown Ann Arbor right now.
"All the housing, in our opinion, that's been built is very good student housing, but it's not the kind of housing that the city of Ann Arbor needs," he said.
"I think Ann Arbor has always been two Ann Arbors," he added. "The University of Michigan is a very important part of Ann Arbor, but the business part of Ann Arbor is really why we're here doing this project today. Ann Arbor has developed into really a great city, so as you look at all the companies — automotive engineering, high-tech, biomedical — it is driving a lot of new jobs, and the jobs are attracting this professional who wants to live urban versus suburban."
Aside from new student high-rises, Ann Arbor's existing housing stock is aging, Holtzman added, pointing to a need for a project of this kind.
"So this development is not student housing," he said. "You have to have a job in order to live here. So we don't expect that any undergraduate students will be living in this building. You could have graduate students because they're both working and going to school, but it's meant to be professionals living and working in Ann Arbor."

Image courtesy of developer
Ryan J. Stanton covers government and politics for AnnArbor.com. Reach him at ryanstanton@annarbor.com or 734-623-2529. You also can follow him on Twitter or subscribe to AnnArbor.com's email newsletters.