Posted on
Tue, Mar 6, 2012 : 5:58 a.m.
Ann Arbor City Council approves 4-party agreement for countywide transit authority
By Ryan J. Stanton
Ryan J. Stanton | AnnArbor.com
The
Ann Arbor City Council
voted 7-4 early Tuesday morning to approve a
four-party agreement
that lays the framework for creation of a new countywide transit authority.
The decision came toward the end of a six-hour meeting, the majority of which was spent discussing the agreement with the Ann Arbor Transportation Authority. It now awaits approval from the other two parties: Washtenaw County and the city of Ypsilanti.
Council Member Tony Derezinski, D-2nd Ward, called the council's approval of the agreement the launch of "something very big."
"Of all the regional needs there are in this area, transportation is perhaps the most compelling right now and the hottest," he said. "We have to address this now."
The four council members who came out against the agreement were Mike Anglin, Marcia Higgins, Stephen Kunselman and Jane Lumm. They said they aren't opposed to expanding transit services — they just have concerns about the path the city is headed down.
"I do think this is much more than a framework, lest we forget notwithstanding anything in this agreement to the contrary," Lumm said, mocking the legalese of the document.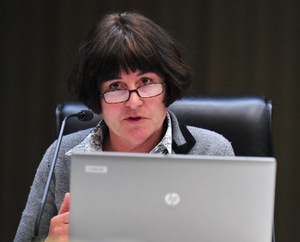 Ryan J. Stanton | AnnArbor.com
"It's an extremely important question for our community," she added. "Ann Arbor has had a strong, dedicated transit system that taxpayers have funded and the city has controlled for decades, and now our community is being asked to fundamentally change that structure."
AATA officials have been working for the last few years to develop a comprehensive plan for expanding transit services throughout Washtenaw County and have held dozens of public meetings to seek input. The plan, which appears to have support in the community, is to create a new countywide transit authority later this year that will replace the AATA.
A financial task force formed by the AATA issued a report last week that concluded the countywide plan could be funded with a 0.5-mill countywide property tax.
No final decision has been made about going to voters with such a millage request. But if it does turn out to be the way to go, the idea is that the new countywide tax would be layered on top of the transit millages Ann Arbor and Ypsilanti voters currently pay.
Mayor John Hieftje and other council members pointed out that by approving the agreement this morning, the City Council has made no final commitments. The city still could opt out in the coming months and essentially halt the countywide expansion, and voters will have the final say before any countywide authority becomes operational and funded.
Council Member Sabra Briere, D-1st Ward, brought forward an amendment to the four-party agreement Monday night that won unanimous support from council. It built on an amendment the council made to the agreement several weeks ago, now making it mandatory that if a majority of city voters fail to approve a funding source by Dec. 31, 2014, then the countywide transit authority is a no go — even if approved by a majority of county voters.
While Briere won support for her amendment, Lumm and Kunselman had no luck convincing council to go along with changes they proposed Monday night.
Kunselman, D-3rd Ward, proposed increasing Ann Arbor's representation on the countywide transit authority board from seven to eight members. That would give the city a majority on what's expected to be a 15-member board, but the amendment was defeated 8-3 with Kunselman gaining support from only Lumm and Anglin.
Other council members expressed concerns the amendments Kunselman and Lumm proposed showed a lack of trust in the process and went too far in trying to exert Ann Arbor's dominance, which could send the wrong message to other partnering jurisdictions.
Lumm brought forward three amendments of her own — all of which were defeated. She tried to add clarifying language to provide assurances to Ann Arbor taxpayers that there could be no reduction in current AATA services under a new authority. That amendment was defeated 6-5 with only Anglin, Briere, Kunselman and Higgins joining in support.
Lumm also tried making it so at least 50 percent of the municipalities in Washtenaw County — or 14 total jurisdictions — would have to participate in order for a countywide transit authority to become operational. That amendment was defeated 7-4 with only Anglin, Kunselman and Higgins joining in support.
Another amendment was defeated 8-3 with Lumm getting support from only Anglin and Kunselman. It would have given the parties the right to modify or terminate the four-party agreement if state legislation to create a regional transit authority for Southeast Michigan was approved before a new countywide transit authority became operational.
Briere said that particular amendment felt like requesting a prenuptial agreement "when you don't trust the other party." She said she had faith in the process and the parties involved.
Lumm later expressed regret there wasn't more of an appetite on council for, in her words, tightening up the agreement and providing more protections for city taxpayers.
Before voting against the four-party agreement, Anglin expressed concerns he might be supporting Fuller Road Station by voting for the agreement, because the proposed transit center project is included in the contemplated five-year program. AATA officials stressed the five-year program is still being finalized and won't be released until April or May, and even if the project is included, that doesn't preclude the council from taking a future vote on it.
The council welcomed state Rep. Jeff Irwin, D-Ann Arbor, to the podium Monday night to talk about pending transportation legislation in the state Legislature. That includes legislation calling for creation of a regional transit authority for Southeast Michigan.
"I would urge you not to let that uncertainty stop you from moving forward," Irwin said. "I certainly don't think any of the bills, if they were to pass or not pass, would replace this process here locally or would supplant what you're trying to do here locally."
Irwin said the bills most closely related to the AATA countywide expansion are probably the regional transit authority bills.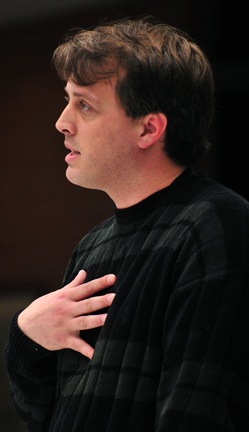 Ryan J. Stanton | AnnArbor.com
"Those bills seek to create a regional transit authority that would cover Wayne, Oakland Macomb and Washtenaw counties," he said. "I think the best way to think about that authority in the broadest sense is that it's an overlay authority, and what the governor has proposed is that there'd be a four-county authority created that would govern services that cross jurisdictions."
Irwin cautioned that many of the transportation ideas being discussed in Lansing, including an RTA for Southeast Michigan, have been around for many years. He said he's not sure it's wise for city officials to hang their hopes on any of the bills making it through the legislative process, particularly the bills that deal with coming up with local revenue.
"This has been an issue where local governments have been asking Lansing for decades, longer than I've been around, to unhook the shackles," he said. "And Lansing has repeatedly said no, and they've taken away our revenue sharing dollars just on top of that.
"I would really encourage you to use this process here locally as an opportunity to seize our own destiny locally," he added. "If we want more transit service, if we want later routes, if we want more regional service, if we want service that draws our county together, we have to solve that here locally. We can't wait for folks up in Lansing or folks in Washington, D.C."
Kunselman argued the AATA hasn't proven itself to be an efficient regional service provider.
He said AATA is sending buses right now to both Canton and Chelsea in the morning, primarily empty, picking up commuters, and driving them back to Ann Arbor. And then at the end of the day, he said, those buses are picking up commuters in Ann Arbor and driving them back out to Chelsea and to Canton, and then driving back to Ann Arbor empty.
"Does that make sense? It doesn't make sense to me," he said. "They propose to expand that kind of service where we send empty buses out to municipalities."
Kunselman expressed concerns there would be empty buses running to not only Chelsea and Canton, but also Dexter, Saline, Milan, Manchester, Whitmore Lake, Livonia and Plymouth.
"It'll be the Ann Arbor tax dollars that are subsidizing those," he said. "Remember, $100,000 is going toward the effort of subsidizing commuter services for Canton and Chelsea right now, so that's the issue that we're dealing with under this proposed Act 196 agreement."
Hieftje argued there's broad public support for expanding transit services in underserved areas of the county and that'll help bring people to work in Ann Arbor and reduce the need for more parking. He said both environmentalists and business leaders support the plan.
Ryan J. Stanton covers government and politics for AnnArbor.com. Reach him at ryanstanton@annarbor.com or 734-623-2529. You also can follow him on Twitter or subscribe to AnnArbor.com's email newsletters.