Posted on
Fri, Nov 11, 2011 : 5:59 a.m.
13-story Varsity apartments project wins approval from Ann Arbor City Council
By Ryan J. Stanton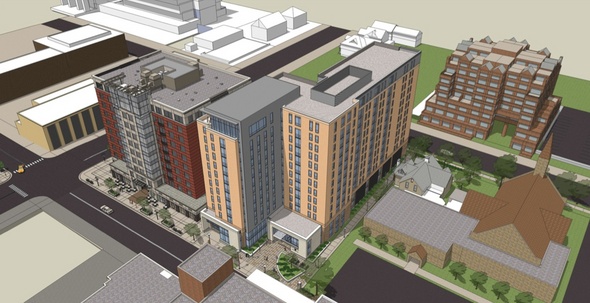 Image courtesy of developer
Another addition to the downtown skyline — a project known simply as
The Varsity
— was approved Thursday night by a 10-0 vote of the
Ann Arbor City Council
.
The council's action on the site plan and development agreement clears the way for a 13-story student high-rise at 425 E. Washington St.
The developer, Potomac Holdings of Bethesda, Md., plans to build a 177,180-square-foot building containing 181 apartments with 415 bedrooms. It'll be tucked between Sterling 411 Lofts, another student high-rise to the west, and the First Baptist Church.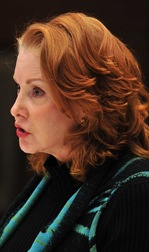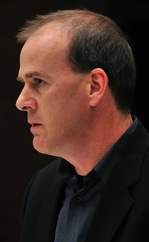 Tom Heywood
, one of several members of the public who spoke during a public hearing, thanked the developer for the project and for listening to input from the neighborhood.
"We understand that there are people in the community who do not like this massing of building downtown, but we sincerely believe it is the future of downtown to have higher density," said Heywood, executive director of the State Street Area Association.
"And we are hopeful that this will be just the first of a number of new buildings in the neighborhood," he said. "Zaragon will be open in September, and so we're looking to the Washington Street corridor being as vital a corridor as some of the others."
An existing two-story office building will be demolished to make way for the new development.
The project continued to draw criticisms from some residents during Thursday night's public hearing.
"The best thing you could say about it is that it could be a lot worse," said John Floyd, treasurer of the First Baptist Church.
Floyd said it's an "act of irresponsibility caused by this council and its zoning" to put a building of that size at that location. He called it "civic vandalism" and "church desecration."
"It takes what has been the most elegant street in town and begins its diminishment," Floyd said, blaming the zoning regulations, not the developer.
Ann Arbor architect Brad Moore said he'll be talking to his client today about the timeline for breaking ground, but he imagines the developer will want to move quickly.
He responded to the criticisms Thursday night to say many concerns were addressed in recent months.
"We have worked very hard with the neighbors and the Design Review Board and the Planning Commission," he said. "This project has evolved, and I understand that it's probably not possible to make everybody 100 percent happy, but we think we've done the best job possible."
Chris Crockett, president of the Old Fourth Ward Association, agreed The Varsity is an appropriate development for the site, and she said it even could be taller than what's proposed.
But one of her main concerns is the look and feel of the north facade on Huron Street.
"Huron Street is a major thoroughfare in this community," she said. "And we have talked for a long time about the importance of making any new construction on Huron Street important and architecturally significant. The facade on Huron Street is anything but that."
Even with changes the developer made to the drawings, Crockett argued the Huron Street facade still is just a "flat face" with "a glorified garage door."
Steve Kaplan, who identified himself as a soon-to-be neighbor of the project, also expressed some concerns about aesthetics, but overall he said he's excited for The Varsity.
"I've been a part of the design review process and meetings since they began for this particular project," he said. "And I have been impressed with the attention and the energy the developers have put into trying to make a lot of the changes."
Robert Keane of WDG Architecture in Washington, D.C., said he thought a lot of good feedback came from the neighborhood.
"And we really took very seriously a lot of the commentary. We're very proud of the building that we've developed," he said.
"We really feel like the evolution of that facade from where it started to where it finished … was a great improvement," he added. "There's quite a bit of detail that's put into the facade treatment. Some people described it as flat. I describe it as a rich texture."
The project includes 70 vehicle parking spaces underground, two shared-vehicle parking spaces on the adjacent property, 121 bicycle parking spaces, plazas on the north and south side of the building and a walkway along the length of the east side.
The plans include driveways off both Huron and Washington streets to different levels of the parking structure.
Council Member Stephen Kunselman, D-3rd Ward, said he didn't think the Washington Street garage entrance was very pedestrian-friendly. He wondered why two entrances are needed.
"I guess it's not perfect, but we'll have to deal with it," he said.
Council Member Sandi Smith, D-1st Ward, was absent Thursday.
Ryan J. Stanton covers government and politics for AnnArbor.com. Reach him at ryanstanton@annarbor.com or 734-623-2529. You also can follow him on Twitter or subscribe to AnnArbor.com's e-mail newsletters.