Posted on
Sat, Jun 8, 2013 : 6 p.m.
Ann Arbor City Council candidates differ on downtown development issues
By Ryan J. Stanton
Stephen Kunselman says he's seen significant changes in downtown Ann Arbor since the 1960s when he was a young boy living with his mother where Liberty Plaza is now.
He recalls hanging out downtown as a teenager in the 1970s, and what it was like during his time as a student at the University of Michigan in the 1980s.
"We've seen retail go out to Briarwood, and we've seen nothing but restaurants kind of backfill. We've lost Borders. We've lost all kinds of flagship stores that did bring the older resident into the downtown," he said, suggesting that's not happening so much now.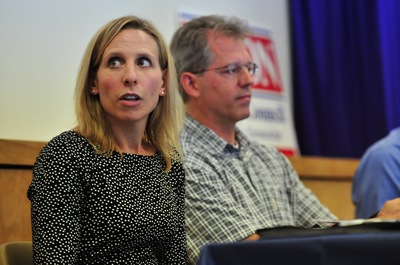 Ryan J. Stanton | AnnArbor.com
He added, "I do think we need to pay attention to the fact that if downtown becomes nothing but a food court, that's not going to be sustainable."
Kunselman, D-3rd Ward, is seeking re-election to the Ann Arbor City Council and he's up against challenger Julie Grand in the August primary. The two offered different perspectives on downtown-related issues on Saturday at a candidate forum hosted by the Ann Arbor Democratic Party.
Grand, chairwoman of the city's Park Advisory Commission, gave credit to the Downtown Development Authority for what she views as a vibrant city center that's working.
"We all benefit from what the DDA does," she said. "We all benefit from a vibrant downtown that attracts new residents, that supports our local businesses, and helps grow our economy."
As someone who grew up in a small town and witnessed emptying store fronts, Grand said she appreciates the DDA's efforts. She disagrees with Kunselman's proposal to limit the DDA's revenue growth and instead channel new downtown tax dollars to the city and other entities.
"In terms of funding, actually their current system works pretty well," she said. "The fact that they have more money just speaks to their success. Their purpose is to encourage investment in the downtown, and the fact that they're getting more money into the system shows they're doing their job."
Joining the two 3rd Ward candidates on stage was Jack Eaton, a neighborhood activist who is trying to unseat Council Member Marcia Higgins, D-4th Ward, in the August primary.
Higgins did not attend the event. Supporters of her campaign who were in attendance, including Leah Gunn, chairwoman of the DDA, said she was sick.
The three candidates were asked their thoughts on the controversial 413 E. Huron high-rise project that recently won approval from the City Council in a 6-5 split vote.
Grand said if she were on council she would have voted in favor of the project, which Kunselman opposed. She said she wouldn't have felt comfortable risking the taxpayers' money by rejecting it and bringing on a lawsuit from the developer that could have cost $10 million or more.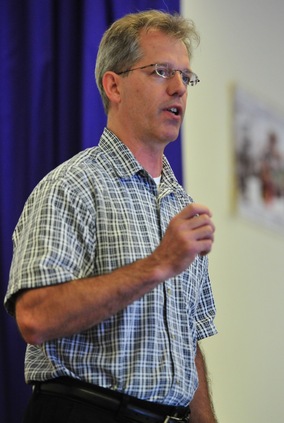 Ryan J. Stanton | AnnArbor.com
Kunselman said he voted against the project because the City Council has the authority to enforce the city's zoning ordinances and he doesn't think it complied.
"Yes, we would have gone to court," he said. "We would have won that case."
Eaton said he would have voted differently from Higgins, who approved the project. He said the city has made "radical" zoning changes to allow more density in the downtown in recent years without proper consideration given to creating a buffer for nearby neighborhoods.
"We wanted to create an area in the core of our city that was dense, and I agree with that, but the master plan calls for buffers between that density and the nearby neighborhoods," he said.
Eaton said he would have supported a six-month moratorium on downtown development — a proposal that was rejected by council earlier this year — while the city reviewed the D1 zoning. That review is going forward right now, but without the moratorium in place.
"We had three occasions in which we could have stopped that particular building without actually changing our intention to have a good dense downtown core, and we failed miserably each one of those three times," he said of 413 E. Huron.
"And I would point out my opponent was one of the driving forces with the original zoning that had these flaws and I would pay more attention to how zoning changes actually affect the properties that are being changed."
Kunselman said the council's failure to stop the 413 E. Huron project has created a distrust of the city's entire planning process. He said he's supportive of efforts to bring more dense residential living downtown, but he's discouraged that it's been mostly student housing.
He said the city needs to clean up its zoning on the edges of downtown to make sure another project like 413 E. Huron doesn't happen again.
Grand also said she's pleased the Planning Commission is reviewing the D1 zoning, which allows up to 180-foot-tall development.
"I remain in favor of density in the downtown," Grand said. "I just feel we have some opportunities, especially with some city-owned properties, to get it right and to build buildings that are really consistent with what the community wants."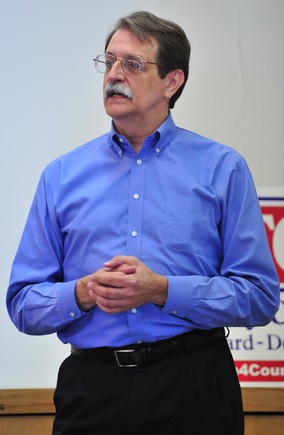 Ryan J. Stanton | AnnArbor.com
Grand said she hears from a lot of residents who are concerned about the change in the downtown landscape with new high-rises going up.
"We wanted density in the downtown, but we didn't know it was only going to be students in the downtown," she said. "We had a very different vision, I think, for those who supported density initially — that it wasn't going to be blocky buildings and students; it was going to be boomers and young professionals and they were going to live in architecturally interesting buildings."
Eaton said he thinks the DDA has good intentions to diversify downtown and attract more empty nesters and young professionals and businesses. He just doesn't think the DDA has been very successful.
Grand described herself as a consensus-builder. She said those who have served with her on PAC can attest to her ability to bring together diverse perspectives to achieve compromise.
Kunselman touted himself as an experienced, effective and ethical leader. He said he's been effective at getting compromise, though he acknowledged butting heads with DDA officials.
"I think everyone knows there's been some tension between myself and the DDA board over the interpretation of law, our city ordinances, and how the DDA operates," he said.
He said the "political intimidations" and the "character assassinations that the DDA orchestrates" against him have shown that "they're not the leaders of this community."
"When we talk about downtown investment, it's great — downtown is the wealthiest area in the community," Kunselman said. "But out in the deeper ends of Ward 3, our property values decreased by 30 percent — there's no investment."
Kunselman said investing in new roads and water mains and sidewalks helps improve perceptions of neighborhoods and reduce crime, and it's his goal to see more of that.
"That's what we need for all of our neighborhoods," he said. "I am tired of walking along a street with potholes and listening to people complain that we're not getting the services."
Grand said she cares about investing in neighborhoods, too, but she argued there's a symbiotic relationship whereby the entire city benefits from having a strong downtown.
"It's not that I don't acknowledge the fact that property values went down," she said. "I don't think that has anything to do with the DDA or a focus on the downtown. I think that downtown people want to come to the city and want to move into the neighborhoods because they want to have a downtown, and downtown actually supports core services and the value of our neighborhoods."
Eaton said he's found that neighborhoods too often end up fighting the city on issues, but he's hopeful recent elections are starting to turn the tide on council.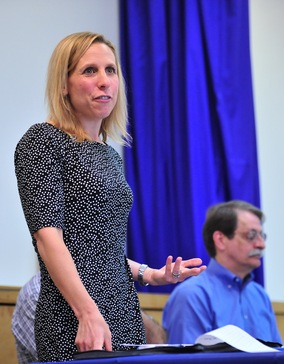 Ryan J. Stanton | AnnArbor.com
"Just since the 2012 election, we've seen council abandon its plan to close fire stations. We've seen council withdraw from an expensive, faulty, countywide transit plan," he said. "We've seen council table a plan to build a train station on parkland."
Eaton said it's time now to turn attention to a positive agenda of protecting parkland, addressing infrastructure needs and unfunded liabilities, and rebuilding the police and fire departments.
"As of this last December, with new council members seated at the table, we are taking on a new direction," Kunselman agreed. "We are going places where I think the community as a whole expects us to go — fiscal responsibility, attentiveness to our infrastructure, and making sure that we put all the cards on the table so the community knows what we're debating."
He added: "No more poker politics. No more hiding cards and trying to play strategies behind closed doors or emails."
Grand agreed there's room for improvement in the relationship between residents and city hall.
"People are also feeling very disconnected from their government," she said.
"And I don't know that we can get every road paved in the neighborhood. I don't know that we can fix all of the water problems. But one thing I think I can do a good job of is communicating with those neighbors."
She added, "You can come to me and I can immediately connect you to the person in the city who's going to address your concern."
The candidates' closing remarks from Saturday:
Ryan J. Stanton covers government and politics for AnnArbor.com. Reach him at ryanstanton@annarbor.com or 734-623-2529. You also can follow him on Twitter or subscribe to AnnArbor.com's email newsletters.