Posted on
Wed, Feb 22, 2012 : 5:58 a.m.
Ann Arbor City Council denies zoning request for sausage company that wants to expand
By Ryan J. Stanton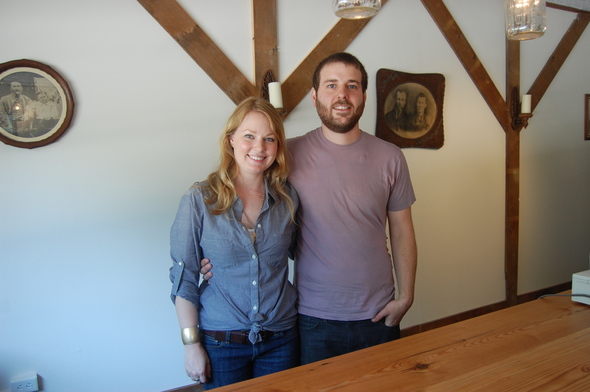 Janet Miller | For AnnArbor.com
Walt Hansen
and
Hannah Cheadle
, the couple who moved home to Michigan from New York City to start a sausage-making business, will not be able to expand in Ann Arbor.
At least for a while.
The Ann Arbor City Council voted 9-0 Tuesday to reject their request to re-zone the half-acre property on State Street to C3, a commercial designation that would allow them to expand retail operations and pair their sausage and jerky with microbrews and local wines.
"For the near-term, a year or two, they are pretty much frozen in place for their business expansion opportunities," Wendy Rampson, the city's planning manager, said of the impact of the council's decision. "They can establish their business, they can continue to sell goods that are made on the property, but they had hoped to expand to more of a retail flavor operation."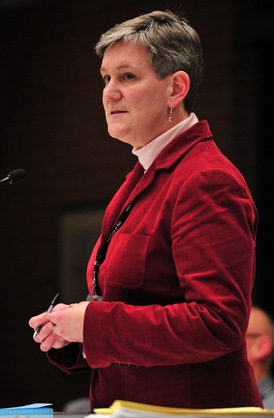 Ryan J. Stanton | AnnArbor.com
Hansen and Cheadle, who opened
Biercamp Artisan Sausage and Jerky
near the Produce Station last year, have been fighting a zoning battle ever since.
That's because they established their business on rented property that just happened to be an island of Ann Arbor Township land surrounded by the city of Ann Arbor.
The City Council agreed last July to extend city sewer service to the property, eliminating one of the hurdles. The city then agreed in October to annex the township island the sausage business sat on into the city limits.
But the council refused Tuesday night to grant the business owners the zoning they sought, following the advice of the city's planning staff and Planning Commission.
The city's master plan designates the Biercamp parcel M1, which is a light industrial zoning designation. The city's planning officials recommend the M1 zoning, which they say closely matches the township zoning for the property and allows for the existing uses on site.
That would allow Hansen and Cheadle to make sausage and jerky, but they could use only 10 percent of their floor space for retail. According to the business owners, that would mean only 140 square feet, and that wouldn't allow them to sell the craft beer and Michigan wines they've been wanting to pair with their sausage.
Council Member Tony Derezinski, D-2nd Ward, reminded council members the Planning Commission unanimously recommended denial of the zoning request.
Derezinski, who also serves on the Planing Commission and has a background in municipal law, argued it could be considered "spot zoning"
"The fact is you're really destroying the idea of predictability when you start to do what could be threatened as a count in a lawsuit to be spot zoning," he said.
Derezinski also pointed out the city is in the process of conducting a thorough study of the State Street corridor and the land uses along that stretch.
"We're moving along on that for the State Street area, which is going to become extremely busy when the new store at the end of it — the Costco store — starts pumping thousands of people onto that road very shortly," he said. "And the other thing, it has not been rezoned in a long time, so therefore the mix of uses there has to be re-looked at."
Council Member Margie Teall, D-4th Ward, said she could see Biercamp sausage becoming — if it's not already — "a much-beloved business."
"So I would very much not like to infringe on their business and I hope that either way they can expand business and thrive," she said.
Rampson explained what might happen from here on out.
"So if we were to proceed and move forward with a different zoning than what they requested, they could still continue operating as a non-conforming use," she said. "However, if the proposed zoning that was anticipated in the master plan — the M1 zoning — was put on the property, they couldn't expand their retail operations. Right now they're still subject to the township zoning until we put a fix on for the city zoning."
Rampson said her staff will have to go back to the Planning Commission to put a temporary zoning fix on the property until the State Street corridor planning effort is done.
She said she believes if two years go by after the annexation of the property into the city limits, and the city doesn't put a zoning fix on it, the property becomes un-zoned.
"And anything can happen," she said. "So we would want to put a placeholder zoning on, probably the M1. In the meantime, we have the State Street discussion going on and they are clearly a stakeholder in the corridor now. They would be a part of that discussion and can advocate for whatever they feel is appropriate as a part of the State Street planning effort."
Derezinski said he's personally a fan of the Biercamp sausage business and has been there about a half dozen times.
"This is a good business. They have expansion plans," he said. "And I think the planning commission, frankly, bent over backwards to figure out a way that we could be consistent with them. Eventually it's going to be worked out and it's just a matter of waiting.
"That's the kind of business that we want, but we have to make sure that we're doing it in an orderly fashion so that everybody along there sees the predictability that zoning is intended to bring. It's going to be an exciting corridor study because of the businesses involved along there. And it's, again, one of our major thoroughfares all the way to I-94."
City officials have expressed concerns that making an exception and granting C3 zoning for the Biercamp business could lead to unintended consequences, such as a fast food drive-through setting up shop on the property if Biercamp ever moved out.
Council Members Christopher Taylor and Carsten Hohnke were absent.
Ryan J. Stanton covers government and politics for AnnArbor.com. Reach him at ryanstanton@annarbor.com or 734-623-2529. You also can follow him on Twitter or subscribe to AnnArbor.com's email newsletters.