Posted on
Tue, Feb 14, 2012 : 5:59 a.m.
Ann Arbor city budget forecast: Future looks brighter
By Ryan J. Stanton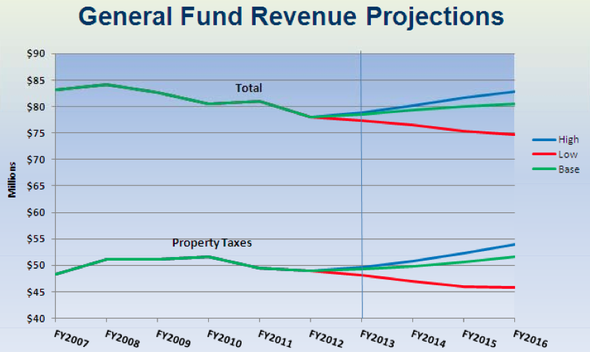 The city of Ann Arbor may have seen the worst of the 2008 economic downturn,
Tom Crawford
told the
Ann Arbor City Council
Monday night.
The city's chief financial officer gave a relatively upbeat budget forecast for the coming year, telling council members to expect more revenue to work with in budgeting.
"It's been a while since I've given you a forecast with an increase in revenues," Crawford said, pointing out property tax revenue projections are up.
"It is indeed a more sunny outlook than we've had in the last several years," agreed Mayor John Hieftje.
A year ago, the city adopted a two-year budget plan that included deep cuts, but city officials are revisiting the second year of that plan before the new fiscal year starts July 1.
The previous plan had recurring general fund revenues and expenditures balanced at $77.8 million. City officials now predict general fund revenues will come in $900,000 higher than planned, while expenses are expected to be down by $700,000.
And that's even after a series of budget revisions that have the city looking to avoid further staffing cuts in the police department.
The budget plan presented by Crawford shows the city canceling nine planned job eliminations in the police department and adding an extra officer position.
Whether the city will avoid the planned elimination of five firefighters remains to be seen, Crawford said, noting the city still is in negotiations with the firefighters union.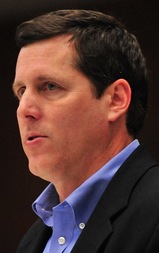 Property taxes are projected to come in $600,000 higher than expected, while state-shared revenue projections are up $700,000, according to Crawford's numbers.
Another $200,000 in increased revenue from fire inspections is expected, which Crawford attributed to Fire Chief Chuck Hubbard's renewed emphasis on fire prevention.
Some losses of revenue offset some of the gains.
Expenditures are going down largely due to the outsourcing of police dispatch operations and savings in health care costs due to union concessions.
Other than losing 19 dispatch positions due to shifting those responsibilities to the county, and possibly five positions in fire, there are no major job eliminations planned now.
The council is planning another working session on Feb. 27 that could go more in depth on the police budget, and another on March 12 that could go more in depth on the fire budget. If necessary, there could be another budget working session on March 26.
The city administrator is expected to release his official recommended budget April 16, followed by a public hearing on May 7 and council consideration on May 21.
There was one highlight on the expenditure side that caused one council member to remark "oops" Monday night: Energy costs are going up by $300,000.
"This is primarily driven by street lights," Crawford said. "There was an audit done on street lights and actually DTE has more street lights than they realized they should be billing us for."
The original budget plan for 2012-13 was to cut human services funding by another $49,000, but the new plan is to increase it by $39,000 — an $88,000 swing.
The administration also is proposing that park maintenance be increased, returning city parks to a 14-day mowing cycle instead of a 19-day mowing cycle.
Even with those changes, there still is a $1.6 million savings identified. Crawford is recommending the council sock away $1.4 million in the general fund cash reserves, and use about $150,000 to start a police officer recruiting program.
Police Chief Barnett Jones was there to talk about the pilot program, telling council members it will help make sure well-trained officers are in line to fill vacancies when they arise.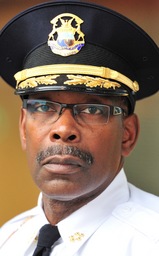 Jones said thousands of law enforcement officers in Michigan have lost their jobs over the last decade, and the recruiting program — which the union supports — will allow him to go out and find five of the best available officers and hire them as part-time employees.
Each of the part-time recruits would work up to 1,500 hours a year and assist in making arrests and booking suspects. He said they'd be assigned to the downtown most of the time.
"And every time we have an available opening, one of those police recruits would be promoted to the rank of police officer," he said.
The Ann Arbor Police Department is in a transition state, Jones said. Nine police officers retired at the end of 2011, opening the door for some promotions and new hires.
Jones said he recently thought he had lined up nine new hires. The department spent time evaluating them, but most of them didn't work out, he said.
"It's a little hard to hire people. Everybody is competing out there for new hires right now," he said. "I lost a couple of the new recruits to other agencies and some of them had some things in their background that were just not going to be perfect fits for us."
Jones said he hopes to be able to tell council members by the end of this month that all the vacancies in the department are filled.
Hieftje said he's particularly interested in seeing a stronger police presence in the downtown to combat nuisance crimes like aggressive panhandling.
The budget documents given to council members show the city expects to save $222,000 by replacing the nine retired officers with new hires at lower wages.
Due to what he called a "precarious economic environment," Crawford said he's asking council members to set a new minimum fund balance policy so that general fund cash reserves equal 15 to 20 percent of the budget. The current policy is 8 to 12 percent.
"This is a time for restraint on spending," Crawford said, adding the city should shoot for a higher fund balance to allow some leeway in case of another economic downturn.
The city experienced a surplus in its general fund for the last fiscal year, with revenues of nearly $81.1 million and expenditures of $80.9 million. The unassigned fund balance for the general fund was about $10.5 million or 13 percent of budget at year's end.
Crawford said the budget for the current fiscal year is projected to break even, despite previously plans to dip $1.56 million into fund balance.
"Staff is working very hard to try to break even," he said. "We have many activities going on to try to do that."
Ryan J. Stanton covers government and politics for AnnArbor.com. Reach him at ryanstanton@annarbor.com or 734-623-2529. You also can follow him on Twitter or subscribe to AnnArbor.com's email newsletters.