Posted on
Fri, Nov 6, 2009 : 8:01 a.m.
Ann Arbor City Council OKs single-stream recycling
By Ryan J. Stanton
Ann Arbor residents will find new high-tech carts dropped off at their doorsteps next June as the city launches its first-ever single-stream recycling program.
The City Council voted unanimously Thursday night on a resolution to move forward with the initiative, which will cost more than $4.6 million to implement.
Single-stream recycling will allow residents and businesses to put all recyclable materials into one cart. City officials say it will make recycling easier on everyone and will expand the numbers and types of materials accepted - for example, almost all plastic bottles and tubs will be able to be recycled.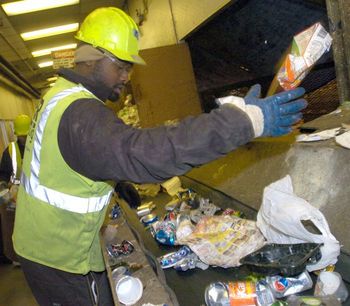 File photo
"This is a smart step forward for us and for our solid waste program," said Council Member Carsten Hohnke, D-5th District. "I feel convinced that we'll see a significant increase in the amount of waste that we're diverting from landfills and therefore the cost that we incur in taking waste to landfills.
"The other exciting part of this is that we'll have an opportunity to generate additional revenue from a greater volume in the recycling stream and to provide additional services to neighboring municipalities and help spread recycling beyond Ann Arbor."
The council approved a contract with FCR LLC, operator of the city's Material Recovery Facility (MRF), for upgrades and processing changes at the MRF.
Of the money being spent by the city, $3.25 million will go specifically to single-stream MRF equipment improvements, $1.25 million for the carts, and $102,950 will pay for consulting services through Resource Recycling Systems. The upgrades will be funded through the approved Solid Waste Capital Budget and Solid Waste Capital Fund Balance. FCR will pay another $550,000 itself for an addition to the MRF.
Tom McMurtrie, Ann Arbor's environmental systems analyst, said $4.5 million is being taken out of the solid waste fund for the program. He said it represents a significant capital investment, but the city is expecting payback within seven years.
City officials said changes in the recycling program should result in a $30,000 annual savings in recycling Dumpster collection, $450,000 annual savings in curbside recycling and $450,000 annual revenues from merchant MRF users.
McMurtrie said a new RecycleBank rewards program is included as part of the changes. Residents will be rewarded for participating in the program and recycling.
McMurtrie said RecycleBank will work similar to a frequent flier program. Every resident will have a cart containing a radio frequency tag that will record when the resident is participating in the program. Based on that information and the weight information collected in the truck, residents will receive points for recycling.
James Frey, a consultant from Resource Recycling Systems, said he profiled about 25 communities that vary in size but have similarities to Ann Arbor.
"Clearly the projections that we're using for Ann Arbor are at the low end of that scale, which goes from about 700 pounds a household all the way up to about 1,200 pounds a household," he said. "And for reference, right now we're recycling at about 400 pounds per household. Some of those reference communities actually had recycling levels that were higher than ours right now and then doubled them on top of that by putting the RecycleBank program in place."
Though historically a leader in recycling, Frey said Ann Arbor currently lags behind other communities that have implemented RecycleBank.
The new equipment will include specialized metering and material handling conveyors, disc screens, material storage bunkers and separation equipment designed to receive, convey, sort, separate, clean and store single-stream recyclables. The result will be an integrated system designed to separate 25 tons per hour of incoming recyclables.
As part of the contract amendment with FCR, the existing 20-year contract that currently expires in 2015 will be extended another six years.
Ryan J. Stanton covers government for AnnArbor.com. Reach him at ryanstanton@annarbor.com or 734-623-2529.