Posted on
Fri, Apr 1, 2011 : 2:27 p.m.
Ann Arbor City Council prepared to vote down hotel and conference center proposal
By Ryan J. Stanton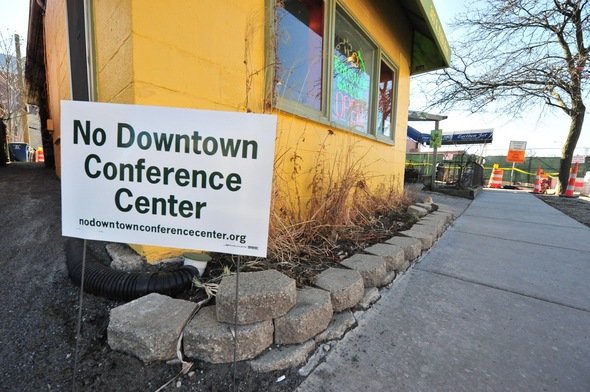 Ryan J. Stanton | AnnArbor.com
(This story has been updated multiple times with additional information.)
A private developer's proposal to build a hotel and conference center on the city-owned Library Lot in downtown Ann Arbor appears to be headed for defeat.
Five Ann Arbor City Council members are co-sponsoring a resolution on Monday's agenda to reject a letter of intent with New York-based Valiant Partners.
"I haven't been in favor of this proposal for a long time, and this is an opportunity for us to end the process and start over again with something new and take some time to think about it," Mayor John Hieftje said in an interview today. "Looking back, I wish I had taken action to stop it sooner, but this will be soon enough."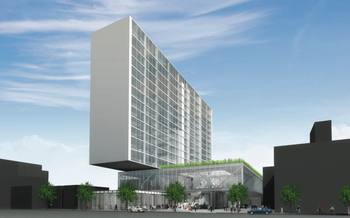 The letter of intent was supposed to come back before council on April 19 and would have laid the framework for negotiations toward a complete development agreement with Valiant.
But in recent weeks it has appeared more and more unlikely that Valiant's proposal for a 150-room hotel and 26,000-square-foot conference center would have gotten the eight votes needed from the 11-member council when it came time to decide on a final deal.
The five co-sponsors of Monday's resolution to end discussions with Valiant are Hieftje and Council Members Stephen Rapundalo, Christopher Taylor, Sandi Smith and Sabra Briere.
"This is nothing against Valiant. This is just the project wasn't right for Ann Arbor," said Taylor, D-3rd Ward. "The proposal does not include the financial aspects the city is looking for and, for my part, I am unconvinced as to its viability. Rather than extend the process, it makes sense to call the question now and move on."
A representative of Valiant could not be reached for comment.
Hieftje and Briere already were among those voicing concerns about the project, along with Council Members Stephen Kunselman, Mike Anglin and Carsten Hohnke. The addition of Rapundalo, Taylor and Smith to the list is seen as a nail in the coffin for the project.
The resolution would completely conclude the city's request-for-proposals process for the city-owned Library Lot at 319 S. Fifth Ave., where the Downtown Development Authority is building a $50 million underground parking garage.
The resolution states that after serious consideration over many months, the City Council questions the viability of the Valiant proposal for a hotel and conference center, and more importantly has concerns about the financial risk to the city.
The city in 2009 sought proposals from developers interested in building atop the parking garage once it's finished, and Valiant's proposal rose to the top. An advisory committee headed up by Rapundalo recently referred the letter of intent to council for a decision.
The fact that Rapundalo changed his mind on the project is perhaps the biggest surprise to those who've been following the process.
"I'm still supportive of the concept and that hasn't changed one bit," he said. "It's like anything, the devil's in the details, and I think really what changed my mind, in terms of what was presented to us, was an analysis that we received from the city attorney's office and from the CFO about a number of issues that were raised. It was enough to give me pause for thought."
Rapundalo said those communications were privileged. AnnArbor.com filed a Freedom of Information Act request today asking for them and is awaiting a response.
In the absence of a full financial and legal analysis, Rapundalo said he couldn't conclude at this time that the project made sense for the city.
"I don't think this closes the door," he stressed. "It may close the door on the formal process on this particular RFP, but I don't think it closes the door on someone coming forward, including these folks, and proposing something different."
The RFP put out by the city in 2009 called for proposals that would include a beneficial use of the site, such as a public plaza, provide a positive financial return to the city, and demonstrate a clear benefit to the community. The proposal also had to be consistent with recommendations of the city's Downtown Plan and A2D2 initiative toward enhancing the downtown.
The rejection of Valiant's proposal would mean the city is deciding not to select any of the proposals that came in response to the RFP, including those calling for an urban park. After completion of the parking garage, the top would convert back to a surface parking lot.
The resolution states that future planning and proposals for the site must recognize that it is a valuable, one-of-a-kind parcel, and that whatever future project is contemplated must compensate the city with fair market value and a positive financial return, contribute to the tax base, add vitality and density to downtown, and provide appropriate public open space.
Hieftje offered his thoughts looking back on the RFP process.
"That was a fishing expedition that council launched and we didn't catch anything we wanted to keep," he said. "I think we have an opportunity now to step back from it now for a little bit and take a longer view of what's going to be best for the area."
Hieftje said his preference going forward is to shop the site around to employers that would bring jobs to downtown. He said he had no regrets that the DDA is putting more than $5 million into making sure the foundations of the parking garage are suitable for future vertical development, because that's still the hope for the property.
"It's a perfect spot for something that's going to contribute to the vibrancy of downtown, and it doesn't look like it's going to be a hotel and conference center," he said.
Ryan J. Stanton | AnnArbor.com
Taylor said it's "perfectly fine" if the Library Lot, which was a surface parking lot before the project started, reverts back to its previous use. He said the plan is to continue building a foundation suitable for a "very substantial project at that location" at the proper time.
"This is not a change of focus for the lot," he said. "This is an assessment that the Valiant proposal is not right for the city at this time, but the underlying vision for the site remains the same."
The Washtenaw County Hotel and Motel Association, which includes all of the major hotels in Ann Arbor with more than 1,800 employees, sent the City Council a letter on March 28. It advised the city it firmly opposes the project for several reasons, including the fact that demand for conference space in Ann Arbor and throughout the country is on a downward trend.
The letter states that the average occupancy rate for the area's upscale hotels was about 64.1 percent last year, with an average daily room rate of $99.21.
"The Valiant proposal estimates that its stabilized hotel occupancy rate will be 75.8 percent with an average daily room rate of $208.89," reads the letter from Joseph Sefcovic, the association's president. "If travelers were willing to pay twice the going rate to stay in Ann Arbor, opportunistic developers would have built hotels downtown years ago."
A group called Citizens Against the Conference Center recently launched a grassroots campaign in opposition to the project. In the last week, the group put out yard signs reading "No Downtown Conference Center" at about 180 different locations throughout Ann Arbor, including in front of homes and businesses, said group spokesman Eric Lipson. The group spawned from a pre-existing group called Public Land Public Process, which is often critical of city hall.
Lipson, a former city planning commissioner, said the group is cautiously optimistic the Valiant proposal will be defeated Monday night.
"We're very heartened by this news, but I think we're going to continue to press our case until that resolution is finally passed defeating this," he said.
Lipson said he personally would prefer to see open space at the Library Lot site, but the group isn't formally advocating any particular use.
"Our position is that we want to see a thorough planning process that includes public input," he said. "I think our group, in particular, feels we've had to sort of impose ourselves into the conversations. There's been no real chance for public input. We're more concerned that the members of the public, the citizens of Ann Arbor, be given a say on this particular lot."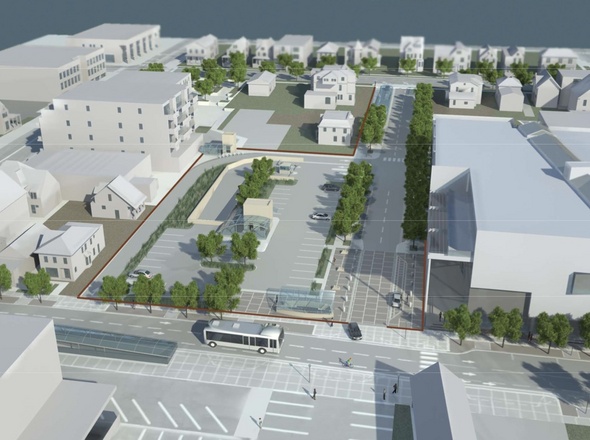 Image courtesy of Ann Arbor DDA
Ryan J. Stanton covers government and politics for AnnArbor.com. Reach him at ryanstanton@annarbor.com or 734-623-2529. You also can follow him on Twitter or subscribe to AnnArbor.com's e-mail newsletters.