Posted on
Tue, Nov 22, 2011 : 5:59 a.m.
Majority of Ann Arbor City Council members back temporary public art funding reductions
By Ryan J. Stanton
The Ann Arbor City Council took the first step toward scaling back the city's public art program Monday night, giving initial approval to a 50 precent reduction in funding levels.
Following a two-hour debate and a public comment period during which several public art supporters spoke, the council voted 8-3 in favor of the cuts to the Percent For Art Program.
Even council members who've defended the program in the past, including Mayor John Hieftje, went along with Council Member Sabra Briere's proposal, saying the public art fund has a healthy balance built up and slowing the accumulations for a while won't hurt.
The city pays for public art through the Percent For Art Program. Under the ordinance approved by the City Council in 2007, 1 percent of the budget for all city capital projects — up to a limit of $250,000 per project — is set aside in a special public art fund.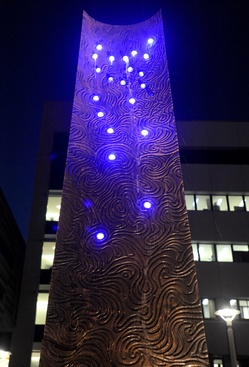 Angela J. Cesere | AnnArbor.com
Even at 1 percent,
more than $2.2 million in city capital dollars
have been channeled toward public art in the last four years, much of it remaining unspent, city records show.
The council gave initial approval Monday to make it so only a half-percent of the budget for all capital projects would go to public art over the next three fiscal years, starting July 1, 2012.
Total city spending across all funds is $314 million this year, and $334,660 of that is going to public art, according to city records. If capital project spending continued at the same rate next year, a 50 percent cutback means $167,330 still would go to public art.
The half-percent proposal came from Briere, D-1st Ward, who also won approval for other changes to the public art ordinance that await final approval next month.
The council rejected proposals from 2nd Ward Council Member Jane Lumm, who wanted to reduce funding for public art to a quarter-percent. The only council member to go along with Lumm was Stephen Kunselman, D-3rd Ward.
Kunselman also was the only council member to back Lumm on her proposal to make it so the public art funding wouldn't automatically revert back to 1 percent after three years. That's the current plan and that's a major selling point for Hieftje and other council members supporting the temporary cuts.
The only three who voted against the cuts were Council Members Tony Derezinski, Margie Teall and Mike Anglin. All three want to continue funding at 1 percent.
Before the 8-3 vote, Council Member Carsten Hohnke, D-5th Ward, made an attempt to keep the funding level at 1 percent — while still favoring other changes to the public art ordinance that Briere proposed — but only Derezinski, Teall and Anglin backed him.
Briere's other ordinance changes also would make it so routine maintenance and repair of sidewalks would not qualify as capital projects that contribute toward public art.
The changes also would make it so no general fund dollars could go toward public art starting July 1. Also, any dollars placed in the public art fund starting July 1 would return to the fund of origination if not allocated to a specific art project within three years.
Briere stressed that she's not against public art — she just has concerns about the city's mechanism for funding it.
"Public art is something that many of us embrace, we enjoy, we endorse, and we absolutely believe that there are different ways to fund that art," Briere said.
Briere said the city has undertaken a number of large capital improvement projects in the last four years that have put aside "a great deal of money" into the public art fund.
"And we are a little surprised at that accumulation of dollars," she said. "I would like to see that, in the next three years, that accumulation decreases."
Lumm agreed, saying she supports public art, but in challenging economic times, it's fair to question the diversion of those "scarce capital dollars."
Derezinski and Teall argued it was disingenuous for Lumm and Briere to say they support public art while at the same time proposing cuts in funding.
"The funding is intimately tied into what your value of that thing is," Derezinski said, noting this is the third time since he's been on council that attacks were made on public art.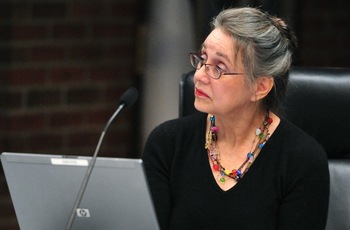 File photo | AnnArbor.com
Kunselman suggested Teall and Derezinski were being hypocritical, pointing out they and others on council have said they support public safety yet voted to cut funding for police and fire.
In addition to Hieftje, Briere, Kunselman, Lumm, and Hohnke, the other three who voted for the cuts to public art Monday were Marcia Higgins, Sandi Smith and Christopher Taylor.
Taylor, D-3rd Ward, said he thinks the art fund is "flush" and there's more money than public art commissioners can even process given their current resources.
"In three years time, we can perhaps — with the 1 percent coming back online — fully fund a revitalized, efficient, appropriately staffed Public Art Commission," he said.
One of the speakers who addressed council in support of public art was Mark Tucker, who teaches art at the University of Michigan. He showed up wearing a suit and hat, both brightly painted different colors, and said he was prepared to make a fool of himself.
"If you could think of me as art for a moment, I'd appreciate it," he told council members, going on to reference The Heidelberg Project, a famous art project in Detroit created by artist Tyree Guyton, who painted a series of houses on Heidelberg Street with bright colors.
"One tourist stopped and asked Tyree why he painted large, colored, polka dots all over one of the houses," Tucker said. "And he responded, 'Why do you paint your house beige?'"
Hinting at removing pieces of his artistic garb, Tucker went on to tell council members he was willing to demonstrate what a half-percent for public art would look like.
"I'm just not sure which half," he said, drawing laughs. "Yes, embarrassing for me. A little awkward for you. Not pleasant to look at. But half a percent for public art means that we then talk about — what about a quarter of a percent? What about an eighth of a percent?
"A sixteenth of a percent?" Tucker continued suggestively. "We all know what zero percent looks like. Let's not go that way. Let's go the other way.
"One percent is not too much to ask to keep ourselves from being beige."
Ryan J. Stanton covers government and politics for AnnArbor.com. Reach him at ryanstanton@annarbor.com or 734-623-2529. You also can follow him on Twitter or subscribe to AnnArbor.com's e-mail newsletters.