Posted on
Tue, Jan 24, 2012 : 7:41 a.m.
Ann Arbor officials voice opposition to deportation of undocumented immigrants with ties to community
By Ryan J. Stanton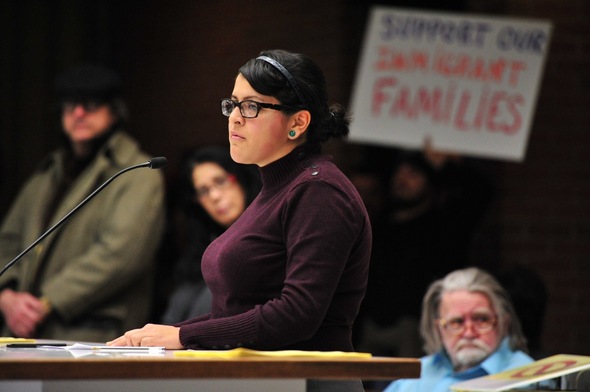 Ryan J. Stanton | AnnArbor.com
The
Ann Arbor City Council
weighed in on the national debate over immigration policy Monday night, passing a resolution opposing increased federal enforcement.
Immigration and Customs Enforcement, also known as ICE, deported nearly 400,000 undocumented immigrants last year, the highest total on record.
About 60 percent of deportations between October 2008 and February 2011 affected individuals with no criminal background, according to statistics cited by city officials.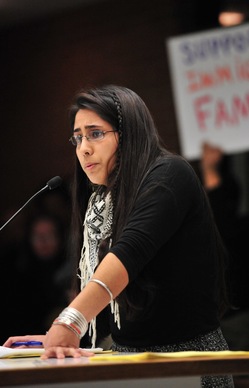 Ryan J. Stanton | AnnArbor.com
By a 9-2 vote, the City Council went on record saying it supports President
Barack Obama's
stated intention to focus deportations on serious criminals in order to preserve immigrant families.
But the city opposes policies that detain or deport immigrants who have not committed a serious criminal offense and who have long-standing ties to the community, according to the resolution sponsored by Council Members Mike Anglin, Sabra Briere, Sandi Smith and Margie Teall. It goes on to state the city supports timely legalization of those undocumented immigrants.
The issue of immigration hit home for council members last month when Lourdes Salazar Bautista, a long-term Ann Arbor resident and a mother of three, made an emotional plea before the council, asking for help to stop her deportation. Days later, it was announced her deportation was postponed one year through deferred action.
"For some of us, this brought an issue to the forefront that we really knew about from the papers but did not know about personally," Briere said. "Growing out of that situation, members of our community got together and worked to perfect a resolution to propose to council."
The resolution passed by a 9-2 vote Monday night with Council Members Jane Lumm and Marcia Higgins opposing it on the grounds that it's outside the scope of issues the council should be addressing.
"This is a situation where we're being asked to address something that's more of a national and state policy question, if you will, and I question whether a local resolution is appropriate," Lumm said.
Anglin, D-5th Ward, said the national dialogue around immigration policy — which affects Ann Arbor residents — is going to happen with or without the city at the table. He said he thought it best to have the city chime in and voice where it stands.
Briere agreed.
"While it's true that Ann Arbor is not on a border precisely, it is also true that a major number of people in our community are at risk of deportation and they're at risk not because they've committed crimes, not because they've broken significant laws, but because they are not documented residents," she said.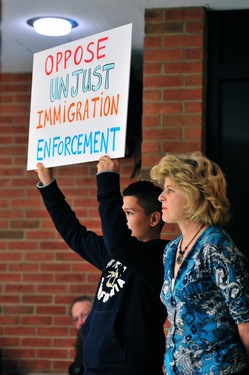 Ryan J. Stanton | AnnArbor.com
Briere said the United States should have an immigration system that allows undocumented residents with long-standing ties to the community reasonable opportunity to become permanent residents and citizens, but unfortunately that level of reform hasn't happened yet.
The resolution approved by council notes ICE's goal is to continue to deport 400,000 undocumented immigrants annually, and Detroit-based Fugitive Operations teams and Border Patrol teams are required to help meet that target.
"Ann Arbor is within 100 miles of the US/Canada border, and is therefore subject to increased immigration enforcement," the resolution states, further adding that immigration raids and deportations violate the human rights of individuals to live free of fear and harassment, and to remain united with their families or loved ones.
"Hundreds of local families — who shop in our stores, live in our neighborhoods, and whose American-born children attend our schools — are affected by these actions, but so is every Ann Arbor resident," the resolution states. "Hundreds of children have been separated from parents and other supporting relatives in the Washtenaw County area in the past four years."
The resolution notes that in April 2009, Homeland Security Secretary Janet Napolitano asserted that just crossing the border is a civil offense, not a criminal offense, and in June 2011, ICE Director John Morton issued a prosecutorial discretion memorandum that stated the federal government could release from detention and stop the deportation of "low-priority cases" — those being immigrants who have not committed a serious crime and who have long-standing ties to the United States.
Ryan J. Stanton covers government and politics for AnnArbor.com. Reach him at ryanstanton@annarbor.com or 734-623-2529. You also can follow him on Twitter or subscribe to AnnArbor.com's email newsletters.