Posted on
Tue, Dec 6, 2011 : 5:59 a.m.
Ann Arbor City Council votes down proposal to cut public art funding in half
By Ryan J. Stanton
A majority of Ann Arbor City Council members joined forces Monday night to block a proposal to reduce the city's funding for public art.
The vote was an exact reverse from two weeks ago when the council voted 8-3 to give initial approval to cutting the funding in half.
By Monday's meeting, several council members had a change of heart, and the council voted 8-3 in favor of keeping funding at current levels.
"It's not just a feel-good program because we think our city should be at the top of the arts world," said Mayor John Hieftje, citing the economic benefits of public art.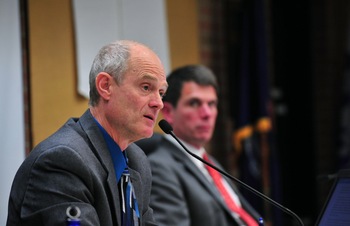 Ryan J. Stanton | AnnArbor.com
The originally proposed cut, had it won support, would have meant about $160,000 less per year going to public art. But the city's art fund still would have kept the nearly $1.5 million already built up, and it would have continued to generate about $160,000 per year.
Now, continuing at current funding levels, about $963,710 in city funds are expected to be channeled to public art over the next three years, records show.
That includes about $395,900 from streets, $68,850 from parks, $228,700 from the water utility, $197,240 from sewer, $71,270 from stormwater and $1,750 from solid waste.
Only three council members — Jane Lumm, Stephen Kunselman and Sabra Briere — favored cutting those transfer amounts in half.
"This is hugely disappointing," said Lumm, an Independent who represents the 2nd Ward, expressing regret about the way the vote went Monday night.
The city's public art program has come under attack multiple times in recent years. Each time, a majority of council members have agreed public art is an important economic development tool and contributes to quality of life in Ann Arbor, and so funding has been maintained.
Five council members who voted for the cuts two weeks ago changed their votes, including Sandi Smith, Christopher Taylor, Marcia Higgins, Carsten Hohnke and Hieftje.
They voted alongside Council Members Tony Derezinski, Margie Teall and Mike Anglin, all of whom never wavered in their support of public art funding.
Hohnke later clarified he only voted in favor of the proposal at first reading because he felt it warranted more discussion, including a public hearing at second reading. In fact, he had brought forward an amendment at the previous meeting to preserve current funding levels, but only Derezinski, Teall and Anglin backed him at the time.
The decision Monday night came after about an hour and a half of debate, including input from several members of the public and the art commission.
Ann Arbor resident Nancy Kaplan suggested the council stop debating the issue and put public art on the ballot so voters can offer clarity on the funding and duration of the program.
The council also voted 6-5 against placing a new three-year limit on spending or obligating public art dollars before they automatically revert back to their original funding sources. The five in favor of the three-year clause were Lumm, Kunselman, Higgins, Smith and Briere.
The city pays for public art through the Percent For Art Program. Under an ordinance approved by the City Council in 2007, 1 percent of the budget for all city capital projects — up to a limit of $250,000 per project — is set aside in a special public art fund.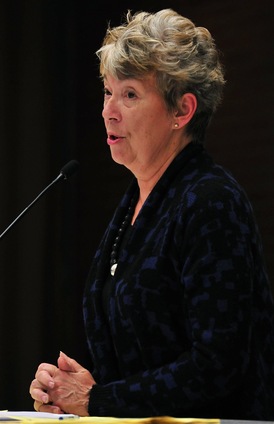 Ryan J. Stanton | AnnArbor.com
The city has transferred a little more than $2.2 million to public art over the last four years, nearly $1.5 million of which remains available to spend.
The proposal council members voted down would have reduced the program to a half-percent for the next three years.
The council voted 11-0 in favor of other changes to the public art ordinance, including making it so routine repairs of sidewalks do not qualify as capital projects that contribute toward public art, and also so no general fund dollars can go toward public art starting July 1.
The mayor and other council members stressed there isn't a link between the city's general fund — which pays for police and fire protection — and funding for public art.
"These monies are capital monies, and forbidden to use in connection with public safety, which we all wish were greater funded," said Taylor, D-3rd Ward.
"It's an issue of funding art or funding another couple of hundred feet of pavement, or some more sewers or water lines — that's what it's an issue about," Hieftje said.
"When it comes down to it, it would be essentially illegal for us to take these funds and spend them in the general fund," he added. "It would be fraud."
Taylor said he doubted whether the proposed cuts to public art would have helped the city do a better job of paving streets or fixing water and sewer lines.
Smith, D-1st Ward, said she had what she called an "epiphany" while crunching the numbers and realizing the minimal impact the public art program has on city residents.
"The difference between 1 percent and a half-percent is about a buck and a quarter per year per person in the city of Ann Arbor," she said.
Briere argued other cities with percent for art programs have significantly less dollars going to public art, and making a temporary cutback wasn't going to cripple Ann Arbor's program.
Ryan J. Stanton covers government and politics for AnnArbor.com. Reach him at ryanstanton@annarbor.com or 734-623-2529. You also can follow him on Twitter or subscribe to AnnArbor.com's e-mail newsletters.