Posted on
Thu, Feb 16, 2012 : 2:03 p.m.
Ann Arbor schools survey sheds light on student-staff relationships
By Danielle Arndt
Survey results shared Wednesday with the Ann Arbor Board of Education identified principal accessibility, trust, student empowerment and the disparity between teacher and student opinions of curriculum as areas for improvement.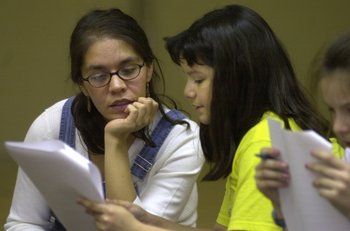 MLive file photo
In 2009, the board directed administration to develop a survey that would collect feedback from constituents at each building on major aspects of school climate.
The surveys were dispersed to teachers and students primarily during the 2009-10 and 2010-11 school years, with Skyline High School completing its survey this school year.
Parents were asked to participate at the elementary level, but their participation rates varied from 6 percent of the family population at Thurston to 47 percent at Angell.
Board members were disappointed with how the survey was distributed.
"It seems this wasn't taken seriously by some of the buildings," said Trustee Andy Thomas. "The design of the survey seems haphazard, when we had very specific expectations."
Deputy superintendents who presented the information admitted there were a number of inconsistencies.
Just 15 elementaries delivered the Zoomerang online survey developed by the initial school climate committee, while six schools issued principal-adapted Google surveys and two gave their surveys using printed versions.
"This survey was the board's decision, not the individual schools' decisions," said President Deb Mexicotte. "I just feel like this is not what we had originally set forth."
Deputy Superintendent of Instruction Alesia Flye said she is confident that moving forward the administration will be able to make improvements to the survey, which AAPS has committed to conducting annually to evaluate school climate.
She added she and Deputy Superintendent of Elementary Education Dawn Linden were not here when the survey was designed or passed out.
The elementary parent surveys were composed of 26 statements that parents were asked to rate either "poor," "fair," "good" or "excellent."
At least 92 percent of parents surveyed responded with a rating of good to excellent for statements concerning overall school safety and security, how welcome they felt at their schools, responsiveness and approachability of office and support staff and the attitudes and responsiveness of teachers.
Areas parents responded to with higher percentages of poor and fair replies were: Responsiveness of lunch and recess staff, atmosphere and safety of the cafeteria and playground and principal approachability and willingness to listen to ideas and suggestions.
Linden said one way parents' concerns about lunchroom and recess staff will be addressed is to include these hourly employees in positive behavior management training sessions.
She added the district will be encouraging principals to be more visible at the schools, particularly during arrival and dismissal times, and educating parents on how and when to approach principals to hopefully help improve this area of concern for parents.
But parents were not alone in feeling like they couldn't speak with the principals.
Fifty-four percent of elementary students replied "not often" or "sometimes" to the statement "I can talk to my principal when I need to."
Principal approachability was listed as an area of growth at the middle and high schools, too, based on student survey responses at these levels.
Linden said the surveys indicate students may not be aware of their options for speaking with the principal or the appropriate procedures and times for doing so. She said this information would be shared with students.
Across all of the surveys at the elementary, middle and high schools, teachers also indicated a dissonance between themselves and principals and administrators.
Their responses showed a need for an improved climate of trust among the staff as a whole and a need for the administration to embrace creative thinking, take action on teacher concerns and listen to teacher suggestions.
The surveys also showed a dissonance between middle and high school students and their teachers. Both secondary groups answered similar or identical questions and for most of the questions, students' responses were slightly lower than their educators'.
Perceived bullying in the secondary schools, the level of encouragement students receive to explore different career choices and how much teachers actually know about students' academic interests, goals and activities outside of the classroom were areas of disagreement for students and teachers.
Career counseling is something AAPS is focused on improving, not just because of this survey. But the survey does further highlight the need, said Superintendent Patricia Green.
Of the four areas — rigor, relevance, relationships and leadership — looked at in the secondary schools survey, the district's strengths centered around rigor and relevance. Teachers and students responded less favorably to statements centered around relationships and leadership.
Teacher-student relationships were a definite high point, however, of the elementary surveys.
To read the complete report presented at Wednesday's Committee of the Whole meeting, click here.
Staff reporter Danielle Arndt covers K-12 education for AnnArbor.com. Follow her on Twitter @DanielleArndt or email her at daniellearndt@annarbor.com.