Posted on
Tue, Dec 13, 2011 : 5:59 a.m.
Next step for Ann Arbor's pedestrian crosswalks on Plymouth Road: Strobe lights?
By Ryan J. Stanton
One word: Strobes.
Ann Arbor officials have identified a $65,000 solution to the crosswalk problems along Plymouth Road and it involves installing new pedestrian-activated LED lights called Rectangular Rapid Flashing Beacons — or RRFBs — at four locations.
The strobing RRFBs, complementing existing crosswalk signs, are designed to grab attention and get motorists to stop safely for pedestrians.
And, hopefully, they'll help put an end to a recent string of rear-end accidents that have happened — largely along Plymouth Road — as a result of motorists not stopping in time after vehicles in front of them hit the brakes for pedestrians at crosswalks.
"This is actually a stutter flash beacon. It kind of looks like what you might see on the top of a police vehicle nowadays," Patrick Cawley, a city traffic engineer, told members of the Ann Arbor City Council during a special work session Monday night.
"Because of the irregular flash pattern, and the intensity of it, it seems to grab people's attention and they react to it," he said.
Here's a video showing how they work:
Cawley was joined by Eli Cooper, the city's transportation program manger, in making a series of recommendations to council for improving safety at crosswalks.
The four crosswalks expected to get RRFBs are along Plymouth near Beal Avenue, Bishop Avenue, Traverwood Drive and Georgetown Boulevard.
If approved by council, installation could start in February and be finished by the end of March, officials said. Funding is available in the major streets fund balance.
Much controversy has surrounded the city's new pedestrian safety ordinance, which requires motorists to stop not only for pedestrians within crosswalks, but also those approaching. There have been numerous rear-end accidents at crosswalks since enforcement of the ordinance began in September.
The highlights of Monday's report were the recommendation of installing RRFBs at four locations along Plymouth Road and staff-proposed modifications to the ordinance.
Council members already gave initial approval to tweaks to the ordinance last month, but they were waiting to make a final decision until after Monday's report on crosswalk options.
It's been stated by Ann Arbor officials in recent months that the city's ordinance requiring motorists to stop for pedestrians approaching crosswalks — which is the case when there aren't signals in place — merely goes one step further than existing state law.
But that's not true.
Cooper clarified Monday night what AnnArbor.com confirmed with the city's attorneys last month — that there actually isn't a state law in Michigan that requires motorists to stop for pedestrians within crosswalks when there aren't traffic signals in place.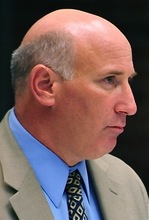 There is a state law that talks about yielding to pedestrians
at signalized intersections
. But the only mention of stopping for pedestrians when there aren't signals in place, such as at mid-block crossings, is found in the state's
Uniform Traffic Code
, which includes rules promulgated by the Michigan State Police.
If a local municipality desires to adopt the crosswalk ordinance in the UTC, it may do so, but it's not required and it isn't state law.
The optional UTC ordinance, which differs from Ann Arbor's ordinance, states that when traffic control signals are not in place drivers must yield to pedestrians within crosswalks, but only when the pedestrian is on the half of the roadway on which the vehicle is traveling, or when the pedestrian is approaching so closely from the opposite half of the roadway as to be in danger.
The City Council originally adopted that UTC language in early 2010 but later decided to craft its own pedestrian safety ordinance, which was approved in July 2010.
The version awaiting approval, as revised by council last month, would drop the word "approaching" and instead state that drivers must stop for pedestrians "stopped at the curb or ramp leading to a crosswalk." It also states that drivers must stop for pedestrians within crosswalks without regard to which portion of the roadway the pedestrian is using.
In proposing an alternate revision, Cooper suggested Monday night the council may want to instead say "curb line" to be more clear. The staff-proposed revision states that drivers must stop for pedestrians who are within a crosswalk or "stopped at the curb, curb line or ramp leading to a crosswalk."
The staff's version also recommends going with the part of the UTC that calls for stopping when the pedestrian is on the half of the roadway on which the vehicle is traveling or when the pedestrian is approaching so closely from the opposite half of the roadway as to be in danger.
Whatever wording is approved, Cooper said it's important that the city continue to educate the community about the ordinance and properly enforce it.
Over the last three years, he said, the city has spent about $50,000 educating the public about pedestrian safety, including brochures, posters and advertisements on buses.
Cooper noted it's been a safety concern that other vehicles have been whizzing by in adjacent lanes when motorists have stopped for pedestrians at crosswalks. Under a UTC rule that was adopted by the council earlier this year, that's already a civil infraction, he said.
In addition to RRFBs, the $65,000 proposal coming back to council for approval calls for augmenting crosswalk pavement markings to include "advance stop bars." City officials say that will help best locate the place to stop and not impede the ability of the pedestrian to see or be seen by traffic in the other lane.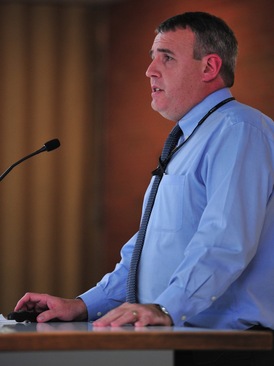 Ryan J. Stanton | AnnArbor.com
Cawley said RRFBs provide a high rate of yield compliance and are inexpensive compared to signalization options, such as
HAWK signals
.
Solar panels can be used to power the RRFB devices, he said, which lowers the ongoing operations and maintenance costs.
Cawley told council members RRFBs can achieve yield rates of 80 percent or higher. He said HAWK signals are known to achieve yield rates above 90 percent. But where an RRFB costs about $15,000, he said, a HAWK signal costs about $75,000.
"It's a lower-cost installation but it's going to provide yielding rates that are near what you can get with a HAWK," Cawley said.
City officials said the installation of the HAWK signal at Huron and Third streets last year cost more than $100,000 only due to the complexity of the installation.
Mayor John Hieftje and Council Member Carsten Hohnke, the original sponsors of the pedestrian safety ordinance last year, both said they like the RRFB solution.
"I'm going to suggest that they look beyond just four, given the cost and the safety feature that they provide," Hieftje said. "We can take a look at a few other places around town."
Hohnke agreed.
"Wherever they do make sense, I think we should seriously consider allocating those resources to do that because I think the value is significant," he said.
Hohnke said though there may have been several recent rear-end accidents at crosswalks, there's been no historical data presented yet to prove there'e been any increase.
Cawley didn't have historical data for rear-end accidents at crosswalks, but he did report there were 5,534 rear-end crashes in the city from 2006 to 2010.
Most of those caused only property damage, Cawley said. He said there were 225 accidents involving pedestrians from 2006 to 2010, and almost all of those involved injuries.
Considering those facts, he said, the city may be increasing rear-end crashes at some crosswalk locations, but they're probably only "property-damage-only crashes."
Council members also heard from an Ann Arbor Transportation Authority official who said the transit agency is evaluating the locations of bus stops near crosswalks.
Meanwhile, city officials are asking the state to consider installation of a HAWK signal at a crosswalk on Washtenaw Avenue near Tappan Middle School.
The four-lane road there is a business loop for I-94, a state corridor where nearly 20,000 vehicles travel each day, city officials said.
Cawley said there is no crash history at the crosswalk, nor is there a lot of pedestrian activity, so he's not optimistic it'll qualify for a HAWK signal.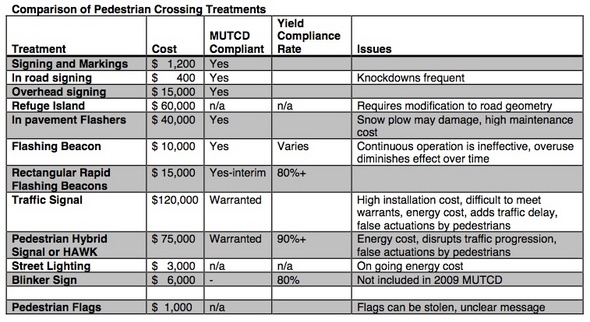 Ryan J. Stanton covers government and politics for AnnArbor.com. Reach him at ryanstanton@annarbor.com or 734-623-2529. You also can follow him on Twitter or subscribe to AnnArbor.com's e-mail newsletters.