Posted on
Tue, Jun 12, 2012 : 5:59 a.m.
Ann Arbor eyes zoning changes to stop 'mega projects' in near-downtown neighborhoods
By Ryan J. Stanton
The Ann Arbor City Council is contemplating a series of zoning changes that could stop future out-of-character developments in near-downtown neighborhoods.
The council took up the issue Monday night for the first time since a long-awaited advisory committee report came out in early May.
"I think it's important that we get moving on this before we have more mega projects tearing down homes in near-downtown neighborhoods," said Council Member Stephen Kunselman, D-3rd Ward, expressing support for imposing strict limits on lot combinations.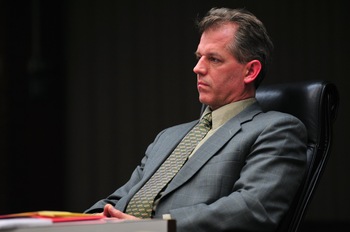 Ryan J. Stanton | AnnArbor.com
Last month's report from the city's R4C/R2A Zoning District Study Advisory Committee was three years in the making and recommends a series of zoning changes.
Most notably, it recommends a limit on lot combinations within the city's R4C zoning district, a multiple-family dwelling district that surrounds downtown.
The report contemplates restricting the maximum size of a combined lot in the R4C district to 6,525 square feet, which is the area needed to permit three housing units.
In the future, that would stop projects similar to the controversial City Place apartments, 24-unit 144-bedroom student complex taking shape on Fifth Avenue.
In order to pave the way for City Place, the developer combined several properties to achieve a 53,579-square-foot lot area and demolished seven century-old homes that stood in the way.
Council members didn't vote on anything at Monday's work session, but expressed interest in seeing the city's planning staff draft ordinance language to bring back for consideration.
Planning Manager Wendy Rampson said the Planning Commission's Ordinance Revision Committee will analyze and refine the advisory committee's recommendations by September and then report back to the Planning Commission in October. The Planning Commission plans to hold a public hearing on the recommended changes before anything is voted on.
Council Member Jane Lumm, an Independent who represents the 2nd Ward, applauded the work of the advisory committee that was appointed in 2009.
"I think that their bottom line goals are very worthy and I think a lot of people in the community would like to see these implemented in due course and as expeditiously as possible," she said.
Not everyone on council is in agreement, though.
Council Member Sandi Smith, D-1st Ward, pointed out that 50 feet by 130 feet would be about the maximum size of a combined lot allowed under the proposed R4C zoning changes, which she called a "severe" limitation that basically says "there will be no lot combinations."
"It is a pretty substantial limitation, yes, and the advisory committee wanted that message to be made," Rampson said.
Rampson said the standard lot size in Ann Arbor is 66 feet by 132 feet, which totals 8,712 square feet — 2,187 more than the maximum proposed for the R4C district.
"The Planning Commission will look at this and they'll look at what the impacts will be," she said. "The staff will work with them to try to numerically represent that, then it will be up to the Planning Commission to say whether they would recommend something different."
Fourteen representatives from eight near-downtown residential associations met recently to evaluate the R4C/R2A advisory committee report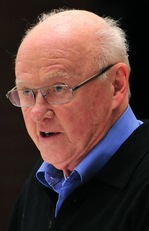 The members of the Near Downtown Neighborhood Group, led by
Ray Detter
, sent the City Council and Planning Commission a letter on June 3, asking them to move forward as quickly as possible to adopt ordinance changes to support the report's recommendations.
The group said in the letter that the committee's recommendations reduce nonconformities in area, height and placement and seek to develop standards that encourage creative design while maintaining sensitivity for existing neighborhood character.
Of particular importance, they said, was the recommendation for a limit on lot combinations within the R4C district in order to prevent the construction of large buildings that could disrupt the existing scale of the streetscapes in near-downtown neighborhoods.
"With the limit on lot combination, the entire community will be assured that a project like City Place will never come before you again for by right approval," they wrote.
Ryan J. Stanton covers government and politics for AnnArbor.com. Reach him at ryanstanton@annarbor.com or 734-623-2529. You also can follow him on Twitter or subscribe to AnnArbor.com's email newsletters.