Posted on
Thu, Apr 5, 2012 : 5:58 a.m.
Ann Arbor considers how to 'activate' Main Street corridor south of William Street
By Ryan J. Stanton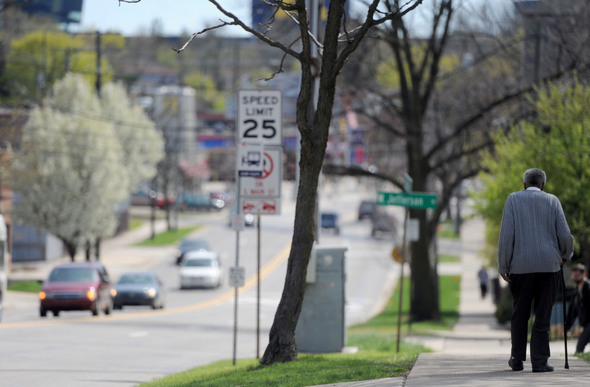 Angela J. Cesere | AnnArbor.com
Not too far south of William Street, Ann Arbor's Main Street changes from an active pedestrian corridor to somewhat of dead zone in what is still technically part of downtown.
But there are talks of changing that.
The developer of the 618 South Main apartment project between Madison and Mosley proposed several weeks ago that the DDA channel some of the captured tax revenues from the project back into the development.
DDA officials have kicked around the idea and they're now thinking there might be a way to make something work, though maybe not exactly what the developer has in mind.
"If you go from Ashley Mews down to this project, if you come on down the hill, it's still kind of industrial and not very pedestrian friendly," said Ann Arbor City Council Member Sandi Smith, also a member of the DDA's governing board. "If we were to use this as an anchor site and do street improvements up there, then I think we could really activate that corridor."
Smith said a potential tax-increment financing plan has been discussed by the DDA's Partnerships Committee and another meeting will be held next Wednesday. If it passes out of committee, it could come to the DDA's full governing board in May.
Project developer Dan Ketelaar of Ann Arbor-based Urban Group Development Co. threw out a $2.3 million figure in February when talking about a potential TIF reimbursement. Smith said on Wednesday it's more likely to be closer to $1.2 million.
"There were misconceptions on the developer's part on what the TIF would actually be," she said. "We've sent them back to get some clarification and correct numbers. We also took an opportunity to take a look at the history of partnership grants that we've done in the past and the specific reasoning behind each time that we have given money."
Smith said each time the DDA has agreed to help finance a project in the past it was because it was an extraordinary project for some reason at its time. And that's the question now — whether 618 South Main is an extraordinary project and whether it offers enough pubic benefit to tip the scale and justify the DDA channeling tax dollars toward it.
"We still need some more information," Smith said. "It's potentially a very important project for the location in the South Main corridor. I think it has an ability to extend Main Street on down by kind of finishing that block off or that stretch off. But without having an organized plan to do that, I don't know that we're ready to say that's a tipping point for us to go forward."
Smith said the current plan being looked at would have about $250,000 a year in tax revenues from the project captured by the DDA and channeled back to the development. She said that would cap out at about $1.2 million, though the numbers are still being refined.
She said it's a community reinvestment program not unlike a brownfield plan. She said the developer will have to apply to the state for funding.
"But it does require a local contribution," she said. "Given the situation that there are very little taxes being paid on the property right now, there's no other source of new tax dollars except for what the DDA has, so it's got to happen with the DDA's dollars and not city dollars."
The developer would have to get the project up and running and start paying taxes before any taxes captured by the DDA get channeled back to the project.
Smith said the developer would like to apply those dollars directly to the eight-story apartment project, but DDA officials prefer a different approach.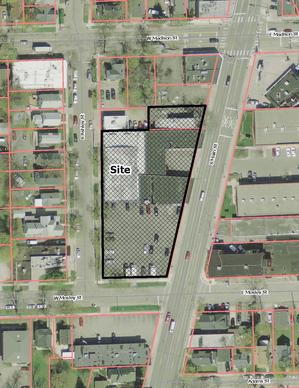 -Urban Group Development Co.
"We would like to do something that would have more of a public benefit, so we're going to look at what we can do," she said. "We would prefer to try to find something where we can make an investment in public infrastructure that everybody could benefit from."
In her report to the DDA's governing board on Wednesday, Smith didn't say specifically what the money could fund, but she spoke generally of activating the Main Street corridor in some way, and that could mean streetscape improvements.
"The developer is right when he says this is an anchor project that will allow us to kind of infill the rest and really change that neck of the woods," she said. "I think it would be dramatic. We just have to find out how we can participate."
DDA board member Joan Lowenstein gave a separate update on the DDA's Connecting William Street project, a master planning effort that has the DDA evaluating new uses for five city-owned properties, including the Library Lot, Y Lot and Palio Lot, among other sites.
Lowenstein relayed the results of a recent community survey for the initiative, saying the DDA expected 1,000 responses but received double that amount.
"We heard some clear messages through the survey — a strong desire for a more vibrant sidewalk experience in the William Street area with attention to building quality and design, economic development, housing and open plaza space," she said.
Lowenstein said the DDA is partnering with Concentrate to host a speakers series to explore with the community the different ways to accomplish some of those goals.
The first event was held on March 29 at Conor O'Neill's with the Michigan Municipal League's Dan Gilmartin speaking. Gilmartin co-wrote a book called "The Economics of Place," which Lowenstein said contains "a lot of ideas that we want to try to accomplish."
The second event in the speakers series — focusing on activating sidewalks and open space — is scheduled for 5:30 p.m. April 19 at Conor O'Neill's.
Lowenstein said a Philadelphia-based land-use consultant has visited Ann Arbor and is helping the DDA with its planning process.
"We're going to get some of his market analysis, we're going to have focus group meetings and also utilize the survey results," she said. "Our next step is to create scenarios that we will then be able to show to people, because you can't really get ideas about what people want until you start showing them something a little bit more concrete. And so we're going to create these development scenarios that we'll then also explore with the community."
Ryan J. Stanton covers government and politics for AnnArbor.com. Reach him at ryanstanton@annarbor.com or 734-623-2529. You also can follow him on Twitter or subscribe to AnnArbor.com's email newsletters.