Posted on
Thu, Mar 24, 2011 : 2:09 p.m.
Ann Arbor family's custody ordeal over mistaken alcoholic drink order for son sparks federal lawsuit
By Juliana Keeping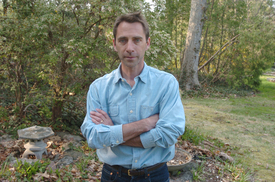 A Michigan law that allows the government to take a child without proving the child is in immediate danger is unconstitutional, the American Civil Liberties Union of Michigan argues in a federal lawsuit filed today.
A 2008 case in which authorities took a 7-year-old Ann Arbor boy from his parents after his father unknowingly gave him a Mike's Hard Lemonade at a Detroit Tigers game at Comerica Park in Detroit sparked the move.
Leo Ratte, then 7, was attending the game with his father, Christopher, a classical archaeology professor at the University of Michigan on April 4, 2008. A security guard notified police after Christopher gave Leo a Mike's Hard Lemonade. Leo was taken to Children's Hospital while police question his father, who said he did not know the drink contained alcohol. The hospital found no alcohol in Leo's blood. Nevertheless, Wayne County Children's Protective Services, a division of the state Department of Human Services, took Leo from his parents and kept him until April 7.
His mother, Clair Zimmerman, is also a professor at U-M. The school's child advocacy clinic helped secure the release of their son. The case was later dismissed.
"This experience was traumatic for all of us," said Zimmerman, a professor of art history and architecture at the university, in an ACLU press release. "If the University of Michigan had not helped us, it could have taken weeks to get Leo back. It's tremendously important for us to challenge this law so that no other family has to deal with the lasting effects of having a child unjustly removed. We tried for three years to convince the legislature to fix the law, but when the bill did not get a hearing, we had no choice but to file this case."
Child advocates pushed for bill called "Leo's Law" to address the perceived flaws in the law, but it never got off the ground. The lawsuit states the Michigan law is illegal under the Fourteenth Amendment to the U.S. Constitution.
Juliana Keeping covers general assignment and health and the environment for AnnArbor.com. Reach her at julianakeeping@annarbor.com or 734-623-2528. Follow Juliana Keeping on Twitter