Posted on
Mon, May 17, 2010 : 2:24 p.m.
Ann Arbor firefighters union president says 'we cannot afford fewer firefighters, period'
By Ryan J. Stanton
Ann Arbor's police and fire services will be spared from deep cuts tonight if changes to the city's 2010-11 budget go through as expected.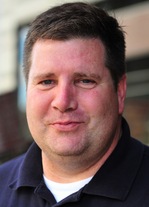 The plan proposed by Mayor John Hieftje and other council members would cut only five vacant positions in the police department instead of the 20 positions previously proposed. But on the fire services side, four of the five positions still left on the chopping block are held by firefighters who face potential layoff.
Hieftje said layoffs can be avoided if four senior firefighters retire, but the union came out in opposition today to any cuts.
"I stand by the fact that we cannot afford fewer firefighters, period," said Matt Schroeder, president of the firefighters union. "We still need those people to fully protect the citizens of Ann Arbor, to provide the same level of service that we currently do."
Schroeder said over the weekend that losing five positions would be manageable in terms of daily staffing. But he expanded on that statement today to say it would take increased overtime costs, and he remains opposed to any cuts.
Schroeder noted the firefighters union was the only city labor group to agree to a voluntary 3 percent pay cut requested by the mayor in recent months. The union also agreed to contribute an additional 1 percent of pay toward pension costs.
"Our local is the only one to give back to the city, and we are the only group on the chopping block," Schroeder said. "We bargained in good faith and council has proposed cuts anyway. We have been diligent in our effort to educate council what citizens need, but they have chosen to disregard our recommendations."
Fire Chief Dominick Lanza sent an e-mail to the entire fire department on Thursday in anticipation of tonight's Ann Arbor City Council meeting, where the budget will be voted on. He said there still was a chance the budget could go through as recommended by the city administrator — with 20 position eliminations in fire, one of which is currently vacant.
"Loss of 19 people no matter what their individual jobs are would drastically affect the way we conduct business at all levels," Lanza wrote in his e-mail.
Lanza said once the budget is approved tonight, the full impact on the fire department will be known. He's planning to take that information and "move forward to continue to perform excellent service to the community we serve."
"No matter what the final decision, we will definitely conduct business in a different way than we do today," he said.
Lanza is planning a town hall meeting with the entire staff of the fire department at 10 a.m. Wednesday at the downtown fire station. The topic of conversation will be the future of the fire department and what changes everyone can expect.
"I would add that whatever decision is made to reduce the number of employees is most likely not the end of this issue," he said. "Our only option is to rethink what we do and how we accomplish the tasks we are all here to do."
Ryan J. Stanton covers government for AnnArbor.com. Reach him at ryanstanton@annarbor.com or 734-623-2529.