Posted on
Tue, Jan 31, 2012 : 2:51 p.m.
January in Michigan? Ann Arbor golf course opens; residents bask in 50-degree weather
By Cindy Heflin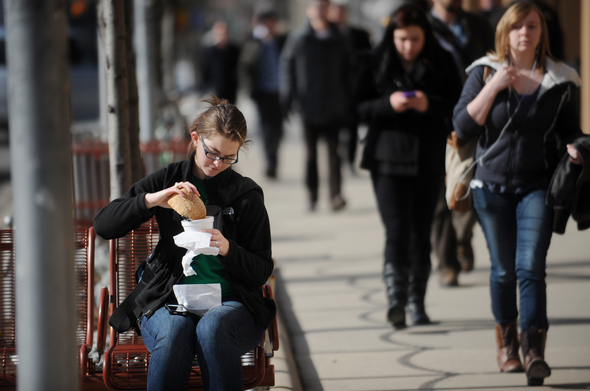 Melanie R. Maxwell | AnnArbor.com
A brisk wind kept most people from shedding their coats in downtown
Ann Arbor
Tuesday afternoon, but
temperatures in the 50s
were enough to open a local golf course and put smiles on the faces of those enjoying a walk in the sun.
"I love it," said Sheryl Millben. "If I had a diary I'd write it down. I wish I didn't have to go back to work." Millben of Southfield was buying a drink at Starbucks on Main Street before heading back to her office at Barracuda Networks on Depot Street.
The temperature in Ann Arbor stood at 54 degrees at 2 p.m., and with clouds moving in, the National Weather Service said temps were unlikely to go much higher.
But it was warm enough for staff at Huron Hills, a city-owned golf course in Ann Arbor, to open for play Tuesday afternoon.
Facility supervisor Andrew Walton said no one was out on the course at 1 p.m., but he was expecting a few die-hard golfers before the course closed again at 5:30 p.m. He said he expects the course to be open for the next couple of days with temperatures expected in the 40s.
Walton said he had no plans to hit the course himself. He normally puts his clubs away in the fall. "But some people, they love it when it's like this," he said.
For updated weather conditions and forecasts any time, check AnnArbor.com's weather page.