Posted on
Sat, Apr 7, 2012 : 2:45 p.m.
Hash Bash message in Ann Arbor: 'We are not safer because of the war on marijuana'
By Ryan J. Stanton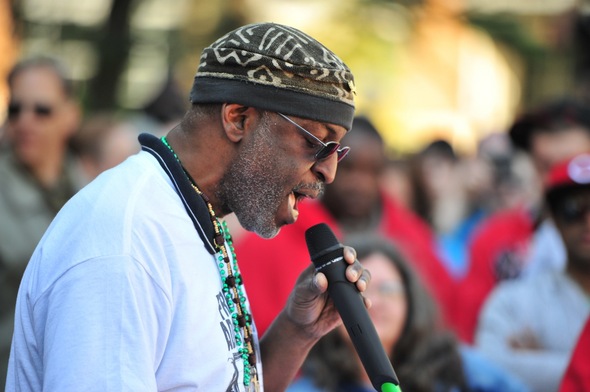 Ryan J. Stanton | AnnArbor.com
The University of Michigan may be a smoke-free campus as of last July, but that didn't mean much on Saturday as the
41st annual Hash Bash
kicked off on the Diag.
The aroma of freshly lit cannabis already was present as Nick Zettell, president of Students for Sensible Drug Policy, warned the crowd not to smoke and that police were watching.
Police reported multiple marijuana-related arrests but didn't have a complete tally as of early Saturday afternoon.
But beyond the smoke screen at Hash Bash, there was a deeper political message this year. For the first time in 41 years, activists are collecting signatures to amend Michigan's Constitution and repeal marijuana prohibition for adults 21 and older.
"I salute you, Ann Arbor. I salute you, Michigan — for being on the front lines in this struggle," said keynote speaker Steve DeAngelo, director of the Harborside Health Center in Oakland, Calif., and star of the "Weed Wars" TV show.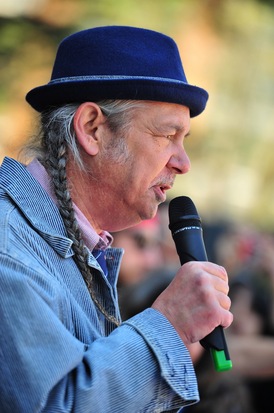 Ryan J. Stanton | AnnArbor.com
DeAngelo has been active in the national cannabis reform movement for nearly four decades, both in Washington, D.C., and in California, and he heads up one of the largest medical marijuana dispensaries in the nation.
He encouraged a crowd of more than 5,000 to keep fighting.
"I know you've had a tough time here in Michigan," he said. "Like many other places, the voters of Michigan passed a law fully expecting it would be implemented, fully expecting that our elected officials and our law enforcement officers would respect the will of the voters."
Organizers of the campaign who spoke at the rally said the ballot question they're pushing is a direct response to interference by state officials to implement Michigan's Medical Marihuana Act, as well as increasing legal actions against state-registered patients and caregivers.
Speakers at the rally had choice words for Michigan Attorney General Bill Schuette, who has argued the voter-approved medical marijuana law does not authorize dispensaries. He has supported efforts by prosecutors and local governments to shut down dispensaries.
DeAngelo's speech was heavily politicized and targeted Schuette and the Midland-based Dow Chemical Co. He accused Schuette of being in bed with the global chemical giant and said Dow has been terrified for years that the world will learn that cannabis-based medicine is more effective, less expensive and has fewer side effects than chemical pharmaceuticals.
DeAngelo characterized the war on marijuana as failed policy, and said it's a waste of government resources and makes victims of innocent people.
"Let's look at it. Their system spends billions and billions of dollars to criminalize one of the most beneficial and useful plants Mother Nature has bequeathed to us," he said, adding it's a system that forces people to buy marijuana on the streets.
"Our system provides patients a safe place to get their medicine," he said. "A place where patients can be confident that the medicine they purchase has been tested."
DeAngelo left the crowd with words of encouragement. "The darkest moment comes before the dawn," he said, "and that's where we're at now."
The Hash Bash rally on the Diag began in 1972 after local activist John Sinclair was sentenced to 10 years on prison for selling two joints to an undercover narcotics agent. The Michigan Supreme Court declared the law used to convict Sinclair unconstitutional and since then the annual gathering has focused on the goal of reforming marijuana laws.
Long-time Hash Bash organizer Adam Brook is currently serving a two-year prison sentence for a weapons violation, so this year's event was organized by three local drug policy reform activists: long-time Ann Arbor activist Chuck Ream, Zettell of Students for Sensible Drug Policy, and Michigan Moms United to End the War on Drugs founder Charmie Gholson.
Gholson and Ream co-emceed the event.
Ream offered his take on Brook's two-year prison sentence.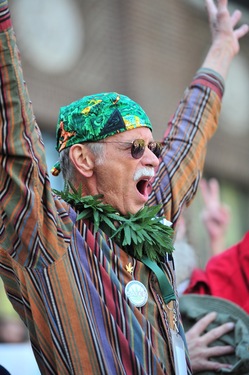 Ryan J. Stanton | AnnArbor.com
"He's in jail because he's the emcee of Hash Bash and he went to Oakland County," Ream said. "That's a mistake."
Ream called Hash Bash a celebration of "the magical miracle plant that we love — the holy ganja that gives us a glimpse of heaven right here on Earth."
"And second, the Hash Bash is a fierce protest, a scream of patriotic outrage at the immoral policy of destroying the lives of American citizens through cannabis prohibition — over 800,000 people every year," Ream said. "Every 37 seconds one of us is taken down and we lose the liberty that Star-Spangled Banner just promised us, and it has to stop."
A letter from Brook, modeled after Martin Luther King Jr.'s famous letter from the Birmingham Jail, was read by Richard Clement, a marijuana activist from Lansing.
"In here, I have no First Amendment rights," Brook's letter stated, adding he could do "very little from in here" to support the movement except to write letters to "elected idiots."
"These idiots have no idea how much support this movement has," his letter continued.
Brook vowed to be back for Hash Bash in 2014.
"Smoke one for Adam Brook!" Clement shouted after reading the letter as the crowd erupted in cheers. "Let freedom ring for Adam Brook! Let freedom ring for Adam Brook!"
Speakers noted at Saturday's rally that Michigan activists are fighting back on many levels and there now are a number of local initiatives under way to ease restrictions on marijuana, enable dispensaries and establish local "decriminalization by exemption" laws.
Organizers were expecting 6,000 attendees and rough estimates on Saturday afternoon suggested there may have been close to that. Police estimated 5,500 in attendance.
Several local medical marijuana dispensaries used Hash Bash as an opportunity to promote their businesses and passed out fliers at the event.
Diane Brown, a spokeswoman for the U-M Department of Public Safety, said she wouldn't have a tally of the number of people arrested during Hash Bash until later Saturday, but she confirmed there were some arrests and some medical incidents.
While lax penalties regarding marijuana apply elsewhere in the city, campus police enforce state law on the university property, and state law says marijuana possession is a misdemeanor crime punishable by one year in jail and up to $2,000 in fines.
Brown said there was at least one arrest for sale of marijuana. There also were reports of multiple people collapsing on the Diag. Huron Valley Ambulance arrived and took away at least one person by ambulance, but details about the incident weren't available.
Gholson used her speech to point out the crowd — though mostly male — included a mix of young and old people, men and women, people of different races, parents and grandparents, skilled trades workers, teachers and students.
"There are so many reasons to end this war on American families," she said. "We are not safer because of the war on marijuana."
Ryan J. Stanton covers government and politics for AnnArbor.com. Reach him at ryanstanton@annarbor.com or 734-623-2529. You also can follow him on Twitter or subscribe to AnnArbor.com's email newsletters.