Posted on
Sat, Apr 7, 2012 : 8:19 p.m.
Ann Arbor home struck by lightning in 2011 burns down just as owners complete repairs
By AnnArbor.com Staff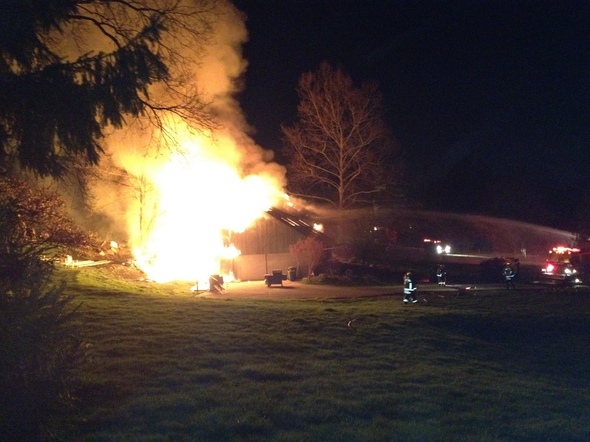 Photo courtesy of Nicholas Ferrario
Misfortune struck an Ann Arbor home for a second time when it was destroyed in a fire late Friday night that occurred just after its owners had completed repairing the damage caused by a lightning strike last year.
Ann Arbor Fire Battalion Chief Randy Menard said the fire at 3125 Hunting Valley Road was reported at 11:11 p.m. on Friday, and firefighters didn't clear the scene until about 5:40 a.m. on Saturday. No one was injured, and the cause of the fire hasn't been determined, he said.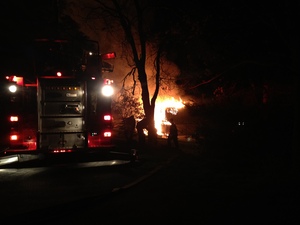 Photo courtesy of Nicholas Ferrario
Menard said the home had just been issued an occupancy permit, but the owners hadn't moved back in yet. He said the house was struck by lightning last year, and the owners were living elsewhere while they had the damage repaired and the home renovated.
It took firefighters about an hour to bring the blaze under control but they stayed on the scene until early Saturday morning because an excavator had to be brought in to remove portions of the home that had collapsed into the basement, Menard said.
He said the Pittsfield Township Fire Department assisted by bringing its 100-foot tower truck to the scene.
Menard said the home was a total loss. The damage was estimated at $500,000 for the home, and $150,000 for its contents.
Nicholas Ferrario had driven from Chicago to Ann Arbor to visit his parents on Friday night, and arrived in the neighborhood just as the fire broke out.
"Within five minutes of us arriving, the Fire Department arrived,'' he said. "Our understanding was that no one was living there because they were doing construction on it.''
An investigation into the cause of the fire is continuing.
This video was provided to AnnArbor.com courtesy of Nicholas Ferrario.