Posted on
Tue, Apr 10, 2012 : 2:46 p.m.
Ann Arbor Housing Commission refocuses as it emerges from HUD 'troubled status'
By Ryan J. Stanton
The Ann Arbor Housing Commission is finally turning around and, as of last month, has been removed from a federal watch list after being in "troubled status."
That was the news Jennifer Hall, the Housing Commission's executive director, shared with the Ann Arbor City Council during a work session Monday night.
"It has been a very tough couple years," she told council members. "Since 2009, we've had five different executive directors, three managers in our voucher program, six managers in our public housing, and we've had nine other staff turnovers."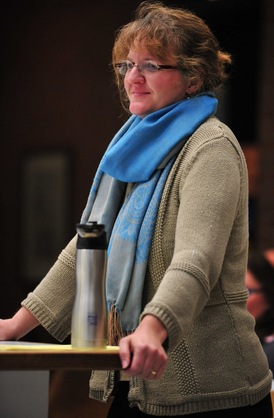 Ryan J. Stanton | AnnArbor.com
Added Hall: "It's been very, very difficult, yet we've still been able to come out of that and out of troubled status."
The city has spent the last two years trying to reorganize and refocus the Housing Commission, which oversees more than half of the affordable housing stock in Ann Arbor.
The Housing Commission has been in a transitional state since 2009 when long-time director Betsy Lindsley retired and the agency was placed in troubled status by the U.S. Department of Housing and Urban Development for its operational shortcomings.
The commission was suffering significant budget shortfalls and being in troubled status didn't help. It meant the commission had a higher reporting burden with HUD, was getting less funding and couldn't apply for certain grants until it proved it had improved.
Now that the Housing Commission is out of troubled status, Ann Arbor officials are looking forward to more opportunities to seek additional funding, try out new programs, and possibly even redevelop some properties over time.
Hall, who previously served as housing manager in the office of community development, was selected by the commission's board in October to replace Marge Novak, who resigned in July.
Hall said the Housing Commission is now operating in the black after staff cutbacks, but the 360 housing units it oversees are suffering continued deterioration due to a lack of money. She pointed to an estimated $14.5 million-plus in deferred capital needs.
The bigger picture
Hall gave a big-picture presentation to council at Monday's meeting, talking about the housing needs in the community and what the commission can do about them.
"A lot of our tenants are very high-need and need a lot of support services, and one of the things I was surprised to find out about in working with the Housing Commission is we actually have contracts with seven different agencies that provide various kinds of support services," she said, describing those services as somewhat less supportive than the kinds of services provided by nonprofit Avalon Housing, "but kind of moving that way."
The city owns 360 affordable housing units at 18 sites that are overseen by the Housing Commission, including 193 primarily single-bedroom units at five sites, 166 family units ranging up to five bedrooms at 12 sites, and one lease-to-own, three-bedroom family unit.
But perhaps the most significant contribution the Housing Commission makes to affordable housing is through its rental voucher program, Hall said. The commission has more than 1,400 tenant-based vouchers throughout Washtenaw County.
The annual budget is about $15 million and $10 million of that is pass-through funds, the vast majority of which go directly to landlords to pay rent subsidies, Hall said.
By HUD's definition, affordable housing means a person is paying 30 percent or less of their gross income. Hall said that's particularly difficult for people making less than 50 percent of the Area Median Income because they have less disposable income.
According to the National Housing Conference, the Ann Arbor area had the 87th most expensive housing market of 209 metro areas studied last year with a $162,000 median home price. The Ann Arbor area also had the 87th most expensive rental market of 209 metro areas with $882 a month being the fair market rent for a two-bedroom apartment.
It appears those statistics are for the entire county, as city officials cite a median home value of $213,000 for Ann Arbor.
Hall said the statistics point to a lack of affordability in the Ann Arbor, and the Housing Commission is seeing long wait lists as a result.
"We have our voucher program wait list, which we're about to open up this fall, and normally when we open up our wait lists we get three, four, five thousand people apply," Hall said, noting people in the past have been lined up down the street trying to get in.
About nine out of 10 people on the Housing Commission's wait list are considered extremely low income, meaning they make less than 30 percent of the Area Median Income.
Hall said the local homelessness system of care also is seeing increased demand. A total of 4,738 people in Washtenaw County experienced homelessness in 2010, a 72 percent increase from 2004 levels, according to the Washtenaw Housing Alliance.
"On the public housing side, we often call it the housing of last resort," Hall said. "When people aren't able to be successful in other housing, when they get up to our housing, if they can't be successful in our housing, it often ends up being that they become homeless."
Growing demand, shrinking funds
Hall said there's a growing demand for affordable housing everywhere and Ann Arbor is no exception, but federal support has plummeted.
In 1976, HUD's budget was $86.8 billion. In 2010, HUD's budget was $43.6 billion. And those numbers aren't adjusted for inflation.
HUD released a study last year that found the nation's 1.2 million public housing units need an estimated $25.6 billion for large-scale repairs to improve basic living conditions.
Locally, the Ann Arbor Housing Commission's own study found $14.5 million in deferred capital needs, which equals $40,374 per unit.
But the commission is getting less than $500,000 a year from HUD to invest in capital improvements, or about $1,224 per unit. At that rate, Hall said, it would take 33 years to address today's needs, assuming no other repairs are needed in the future.
"So that is definitely our biggest crisis, I would say, that we're in right now — the inability to invest in our own properties," Hall said.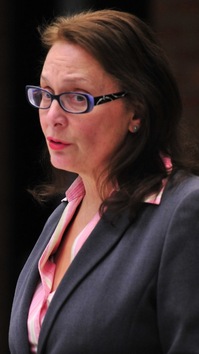 Ryan J. Stanton | AnnArbor.com
Marta Manildi
, a local attorney and president of the Housing Commission board, told council members there's still a lot of work to do to create desirable affordable housing in Ann Arbor and the city needs to move forward on new strategies.
She had choice words for HUD.
"HUD is really quite awful as an agency to deal with," she said, citing the amount of red tape involved. "Some of it's arbitrary, some of it's counterproductive, some of it's pointless."
Hall said not only is HUD not providing enough capital grant funding, but the amount of rent being charged for public housing is not enough to cover costs of maintaining the aging properties. She pointed to $5,167 in annual revenue per public housing unit compared to $5,304 in expenses.
"The revenue that we get per unit is about half of what the private sector gets," she said, pointing out the average monthly rent boils down to $431 for public housing.
Hall, who makes $88,000 a year, said another challenge is that the Housing Commission's salaries are some of the lowest in city government.
"We recently had a maintenance tech who took a job at the city as a maintenance tech for public services," she said. "He's making $7 an hour more doing the exact same job, but that's because we had to take cuts in our staffing because our HUD funding isn't enough."
Hall said the type of tenants that public housing attracts also results in excessive damage to units, including broken windows and holes in walls. She said the commission has issues with security and some sites could benefit from having a security guard.
"We have all kinds of tenants with various issues — mental illness, substance abuse, homelessness," she said. "We deal with fist fights, partying, suicides, graffiti. All of these things have happened in the five months that I've been at the Housing Commission."
New strategies
The city hired a company called Schumaker & Co. as a consultant to recommend a new strategic direction for the Housing Commission a few years ago.
That report was released in 2010 and the reorganization began with a new board of directors appointed and a new director hired, as well as a new deputy director.
Council Member Margie Teall, who joined the board more recently, called it "huge" that the commission has climbed out of troubled status.
Ryan J. Stanton | AnnArbor.com
Mayor
John Hieftje
, who appoints the commission's board, agreed the city has taken some bold steps that have led to positive results.
"It really turned things around over there," he said. "Not that the old board wasn't working hard at it, but I think there were some issues there that they were having trouble getting past and the new board came in and has really made some sweeping changes."
Hall said the Housing Commission has been doing "all kinds of training" of its staff. She said the commission is working to reduce unit turnaround time to keep vacancy periods shorter and it has worked to increase voucher utilization. Meanwhile, the commission has hired another consultant that will be on site next week to help update all policies and procedures.
While the Housing Commission has made great strides, Hall said it needs to start looking at new opportunities, including redevelopment possibilities.
The commission's last development included two duplexes in 1998.
"There are many housing authorities out there that have demolished obsolete units, they have built new units, they have built units that are tax-credit units like Avalon-type units," she said. "Housing commissions can do that. They can convert their own units to those kinds of units."
Hall said there's also a new competitive program where HUD is trying to get 60,000 public housing units converted to project-based vouchers.
"We are going to figure out which properties we want to do that to and prioritize and do some conversions," she said, pointing out the average public housing subsidy in 2011 was $527 per unit per month, while vouchers brought in $807 per unit per month.
"And so if we take our public housing and convert it to a voucher program, we actually will generate more revenue for the exact same units, the exact same tenants," Hall said, adding that extra revenue can be spent on hiring more staff and doing more maintenance.
Council Member Sabra Briere, D-1st Ward, said she'd like to see a plan for addressing the current maintenance needs. Hall said she'd ideally like to hire one or two more maintenance workers, a social worker to handle intake work and an administrative assistant.
"But I don't have the funding," she said.
Council Member Stephen Kunselman, D-3rd Ward, asked if the Housing Commission is restricted from using volunteers to help tackle some of the needs.
Hall said the commission isn't restricted from using volunteers for certain activities and she's in talks with Eastern Michigan University about tapping the skills of construction management students to do some specific projects. She also said the commission is considering a program where tenants themselves could make some extra money to do work.
Ryan J. Stanton covers government and politics for AnnArbor.com. Reach him at ryanstanton@annarbor.com or 734-623-2529. You also can follow him on Twitter or subscribe to AnnArbor.com's email newsletters.