Posted on
Tue, Jan 17, 2012 : 3:10 p.m.
Ann Arbor issues first fine for violation of couch ban ordinance
By Cindy Heflin
The City of Ann Arbor has issued the first fine for violation of its ordinance banning upholstered furniture on porches.
The fine comes as the result of a fire on the porch of The Black Elk Cooperative house, 902 Baldwin Ave., Oct. 1. The fire started when something hot, possibly ash from a cigarette, fell between the arm and cushion of a couch on the porch, fire investigators said.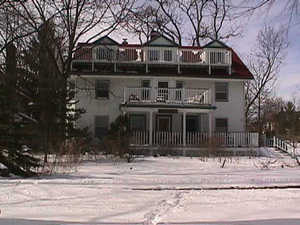 Photo from A2gov.org
The cooperative, made up of the residents of the house, admitted violating the ordinance and agreed to pay a $1,000 fine by Jan. 31, said Shryl Samborn, deputy court administrator for 15th District Court in Ann Arbor.
Had the fire not been quickly extinguished, it could have spread to the inside of the house and possibly trapped the residents inside, fire officials said at the time.
Ann Arbor Fire Marshal Kathleen Chamberlain said the case is important because it shows the city is serious about enforcing the ban and eliminating the risks posed by upholstered furniture on couches.
"The life safety is the No. 1 issue because lives aren't replaceable," she said. Property damage and the significant expense of emergency services are secondary concerns, she said.
The ordinance was passed following the death of 22-year-old Renden LeMasters in a house fire that started on a porch in April 2010.
Erik Lipson, general manager of the Inter-cooperative Council, a student-owned co-op that runs 19 houses, including the Black Elk house, said the members understand the importance of fire safety and following the ordinance.
"The members took this very seriously and they have taken a lot of efforts to make sure this doesn't happen again," he said. "I think they realized they were very lucky."
The Inter-cooperative Council is the oldest student-owned cooperative in the United States, Lipson said. The Black Elk Cooperative includes about 20 members, he said.
A jogger spotted the fire on the porch of the Black Elk house shortly after 7:30 a.m. Oct. 1. He alerted other passers-by, who extinguished the fire with a garden hose.