Posted on
Thu, Mar 22, 2012 : 2:15 p.m.
Ann Arbor judge gives Dream Nite Club until April 4 to pay $42K or face eviction
By Ryan J. Stanton
The landlord of the Dream Nite Club obtained a judgment against the controversial downtown Ann Arbor establishment today.
According to the judgment, an order of eviction will be issued against the club on April 4 unless the club's owners pay $42,000 in rent owed.
Dean Zahn Properties LLC, represented by Ann Arbor attorney Bill Stapleton, is listed as the plaintiff in the order signed by 15th District Court Judge Joe Burke. The defendants named in the landlord-tenant dispute are V.R. Entertainment Inc. and Jeff Mangray.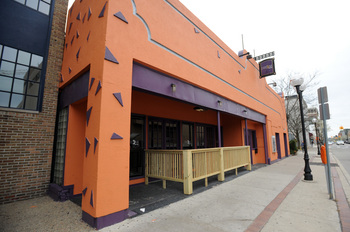 Melanie Maxwell | AnnArbor.com
Stapleton could not immediately be reached for comment.
Roger Farinha, a Detroit-based attorney for the Dream Nite Club, spoke critically of the city attorney's office for showing up in court today for a landlord-tenant dispute.
"It's a clear example of the city attorneys using their powers," he said. "They're involved in every aspect of attacking this club, even to the point of showing up to a landlord-tenant issue."
Postema acknowledged Senior Assistant City Attorney Kristen Larcom was present, but only to verify what happened as the city is not a party to the landlord-tenant dispute.
The city of Ann Arbor has been fighting to shut down the club on Fourth Avenue following a string of problems over the last year, including stabbings and at least one shooting. The city has a state court lawsuit pending that claims the club is a public nuisance.
Meanwhile, the club has filed a federal civil rights lawsuit that claims city officials have made false allegations of illegal activity at the business, subjected it to heightened scrutiny by police and harassed it because its owners and customers are racially diverse.
City Attorney Stephen Postema called Thursday's judgment against the business significant in that it could mean the end of the Dream Nite Club.
"It's very significant because if they get evicted, then they're done and there's no nuisance," Postema said. "It would theoretically end the city's case."
The embattled business has gone through at least four different attorneys as it works through the pending legal cases. The club is in a dispute with one of its attorneys in the state court case who claimed he hadn't been paid several thousand dollars.
Farinha is representing the club in the federal lawsuit. Saline attorney David Shand is listed as the current attorney of record in the state court case.
Postema said he doesn't see how the club can make some of the claims it's making when it already admitted responsibility and paid $600 in fines in September for the injuries two patrons suffered in fights inside the club last year.
State Liquor Control Commission records show the club acknowledged two charges against it in a settlement agreement in September. That includes allowing "annoying and/or molesting" of two customers, Marquis Hargrove and Sean Foster, by an unknown customer.
The Ann Arbor City Council voted this week to ask the state not to renew the Dream Nite Club's liquor license.
Ryan J. Stanton covers government and politics for AnnArbor.com. Reach him at ryanstanton@annarbor.com or 734-623-2529. You also can follow him on Twitter or subscribe to AnnArbor.com's email newsletters.