Posted on
Wed, Oct 10, 2012 : 5:55 a.m.
Ann Arbor library board candidates offer opinions on $65M proposal for a new downtown library
By Ryan J. Stanton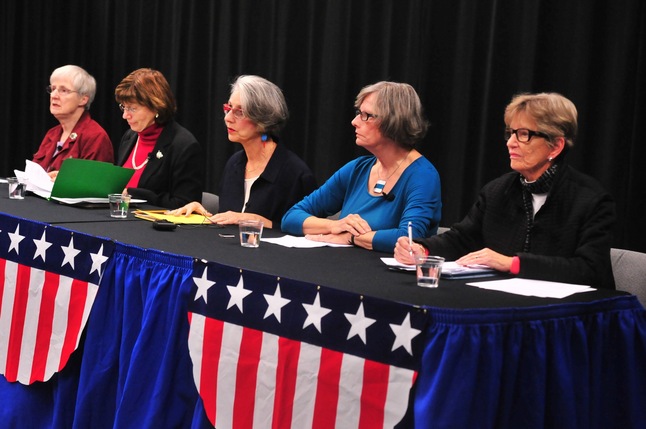 Ryan J. Stanton | AnnArbor.com
In addition to deciding on a
$65 million bond proposal
for a new downtown
Ann Arbor
library, local voters get to elect four library board members on Nov. 6.
Five candidates are competing for four seats on the seven-member board of trustees that governs the Ann Arbor District Library.
Four of them already are current trustees: President Margaret Leary, Vice President Prue Rosenthal, Rebecca Head and Nancy Kaplan.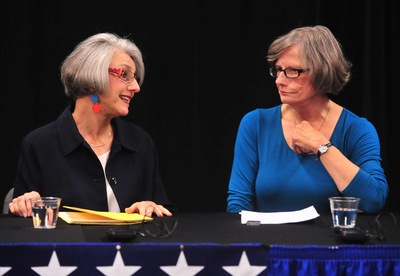 Ryan J. Stanton | AnnArbor.com
All four incumbents believe a new downtown library is sorely needed, and they made that clear during a Tuesday night forum hosted by the
League of Women Voters in Ann Arbor.
Lyn Powrie Davidge, the fifth candidate in the race, is hoping to unseat one of the incumbents. She's opposed to building a new downtown library at this time.
"I'm the renegade in the group, I guess," Davidge said.
Voters will see all five names appear on the Nov. 6 ballot and will get to pick four.
The four-year terms for the nonpartisan library board positions begin Jan. 1.
Davidge identified herself as a former school teacher and retired University of Michigan librarian who also worked 12 years as a substitute librarian at AADL.
"I am not in favor of this particular proposal at this particular time, which is not to say that I will never be in favor of a new library," she said. "But I do not think right now the case has been fully made."
All four incumbents painted a picture of the AADL as a fiscally responsible agency, one that already has successfully built three neighborhood branch libraries on time and under budget.
"The library is at an important juncture," Kaplan said. "With an excellent record of fiscal responsibility, the library now wants to invest in its future."
The library at Fifth and William, which AADL leaders want to demolish and replace, traces back to the 1950s and has been renovated and added onto at different points over the years.
The estimated millage to be levied to pay off the bond is 0.56 mills. That would cost the owner of a home with a $200,000 market value and a $100,000 taxable value about $56 per year.
"Our current building is really three buildings, and all three of them are worn out," said Leary, the former director of U-M's law library.
"They are about to experience expensive repairs and the board has studied this for a long time," she said, arguing a complete renovation of the library to bring it up to modern-day standards would cost about 90 percent of what it would cost to have a completely brand-new library that is bigger.
Head said the downtown library clocked about 600,000 visits in the last year and the numbers keep growing, but the building has a lot of problems.
"I support the millage because the current library building, as it's configured and constructed, doesn't really meet the needs of the current residents," Head said.
Kaplan, who has a background in teaching and physical therapy, said she wants a new library that is "lighter and brighter" and has "all of the technology that we need."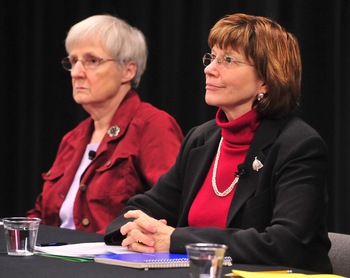 Ryan J. Stanton | AnnArbor.com
"The whole building should be ADA-compliant, whether you are a mother with a carriage or you're someone elderly with a walker," she said. "The building should feel comfortable and accessible to all."
Rosenthal agreed the building isn't accessible enough to handicapped people, arguing it doesn't have enough bathrooms or elevators.
"Meeting rooms are used beyond capacity," she added. "We turn people away constantly. We need an auditorium where everyone can see and hear presentations being made
"We have outgrown the building," Rosenthal concluded. "The town has grown and the library usage has grown 12 percent in the last 10 years. We need to double the space available."
Davidge said she's concerned the AADL is going to the community for approval of a new library building that hasn't been fully planned out yet.
"I understand the need not to spend a whole lot of money before you have it, but there is no real specific plan for the building and there are a lot of unanswered questions," she said.
"For one thing, I've looked at the statistics for the meeting space downtown known as 'aadlfreespace' and it appears to be very much underutilized," she added. "So I would like to see us step back."
Davidge previously ran for a two-year term on the library board in 2010, but she pulled only 19.8 percent of the vote compared to Kaplan's 55.6 percent.
Whether the library bond passes or fails, whoever is elected to the library board likely will be involved in major discussions regarding the future of the downtown library.
"I think it's critical for this bond to pass, but if it doesn't pass, the board will have to decide what to do next, and that will depend on what the conditions are," Leary said. "If it fails by only a little bit, that will be one situation. If it fails by a great deal, that would be another situation."
But if the bond fails and library leaders don't try again, Leary said, the AADL will end up spending more and more of its operating budget on maintaining "that inadequate building."
"We will have to replace an elevator for $1 million," she said. "We will have to replace a roof. We will have to repair damage done from internal leaks. We will have to replace parts of the heating, ventilating and air conditioning system. The building is worn out."
Davidge said she thinks more public input is needed.
"I think if the proposal should fail, that is a signal to the board to take a step back and a deep breath and to have a close look at things," she said. "I think it means that the community does not have enough information and is not ready to move forward."
Rosenthal said she's proud of the AADL for maintaining a healthy fund balance while levying only 1.55 mills of the 1.92 mills it's authorized to levy for operations — saving taxpayers $1.6 million a year.
But she said that fund balance would get swallowed up very quickly if the bond proposal fails and the AADL has to pay for a bunch of repairs to the downtown library out of its budget.
"If this fails, I agree with my colleagues that we will use up dollars that would go for services and programs, and that would be so unfortunate," Head said.
"We have such a sterling library system, I'd hate for it to go downhill."
For more information on the candidates, check out the MLive Voter Guide.
Ryan J. Stanton covers government and politics for AnnArbor.com. Reach him at ryanstanton@annarbor.com or 734-623-2529. You also can follow him on Twitter or subscribe to AnnArbor.com's email newsletters.