Posted on
Sat, Feb 4, 2012 : 5:55 a.m.
Ann Arbor library's Traverwood Branch to close for floor repair
By Cindy Heflin
The Traverwood branch of the Ann Arbor District Library will be closed for 10 days later this month for the refinishing of its wood floors.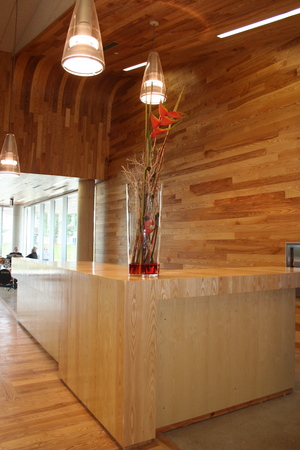 Ann Arbor District Library photo
The closing is scheduled from Feb. 12 to 23, but, in a post on the library's website, Director Josie Parker said the branch could reopen sooner if the work goes well.
The floors, made from dead ash trees removed from the library building site, requires special care to maintain.
Parker wrote that finishes used to "adhere to standards that are in keeping with the sustainable principles used to build the building have not held up to the high traffic in that location."
The floor requires repair, sanding and resealing, Parker wrote.
"We could simply throw all caution to the wind and finish the floor like a basketball court, but that seems shortsighted and unjustified." The library will instead use a product "that meets our standards and is proven to hold up well in high traffic areas," Parker wrote.
The repair is estimated to cost between $10,000 and $12,000, library officials said.
The library also had to close the branch two years ago for floor refinishing. The floors will still require annual maintenance, Parker wrote, but should not require extensive work after this repair.
The Traverwood Branch, opened in June 2008, has been hailed for its innovative and sustainable design. It won the won the American Institute of Architects Michigan Building Design Award in 2009. It was the subject of a Detroit Public Television documentary "Up From the Ashes.