Posted on
Fri, Apr 6, 2012 : 6:33 p.m.
Ann Arbor Hash Bash 2012: Police warn pot smoking on campus won't be tolerated
By Ryan J. Stanton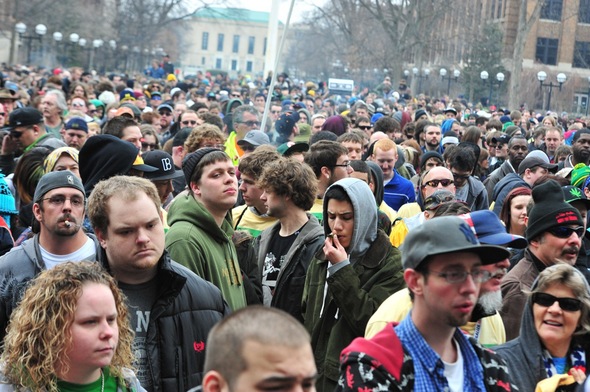 Ryan J. Stanton | AnnArbor.com
Hash Bash
takes place Saturday in
Ann Arbor
and inevitably that means the
University of Michigan
campus and surrounding areas will be swarming with tokers and smokers.
But before anyone decides to light up, U-M campus police offer a simple warning: Hash Bash is not a special day when officers will look the other way on marijuana use.
Just as in years past, police will be hawking the crowd.
"The illegal activity the event does tend to draw is not welcome," said Diane Brown, a spokeswoman for the U-M Department of Public Safety.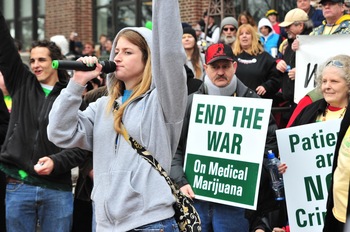 Ryan J. Stanton | AnnArbor.com
Brown said police will be present at Hash Bash, which starts with a political rally at high noon on the U-M Diag and then spills over into the
Monroe Street Fair
.
"Particularly people coming from out of town think that it is a one-day amnesty for marijuana and that is not true," Brown said. "People need to be law abiding if they are on the University of Michigan campus, and everything should go smoothly if they are."
Brown said some people have actually gone up to campus police officers in years past to ask: "Where's the marijuana tent where I can go smoke?"
Of course, there isn't one. It's smoke at your own risk, and the risks are greater on university property versus anywhere else in Ann Arbor, a town known for its tolerance toward cannabis.
The Ann Arbor City Council in the 1970s reduced the city penalty for possession of small amounts of marijuana to a $5 civil infraction, essentially decriminalizing weed in Ann Arbor. That remains the case today, except it's now a $25 ticket for first offenses.
But while the city's lax penalties for possession of marijuana apply in most areas of the city, campus police enforce state law on university property, and state law says marijuana possession is a misdemeanor crime punishable by one year in jail and up to $2,000 in fines.
Brown said campus police arrested 20 people for marijuana possession at Hash Bash in the past two years, and another two people were arrested for use of marijuana.
Another person was cited for open intox on the Diag at last year's Hash Bash and one person was arrested for possession of heroin and ecstasy at the festival two years ago.
So, ironically, Hash Bash is perhaps the worst time of year in Ann Arbor to light up in broad daylight and expect to get away with it — at least on university property.
Chuck Ream, a local marijuana advocate and one of the organizer's of this year's event, agreed university property isn't the best place to hold Hash Bash.
Ryan J. Stanton | AnnArbor.com
Ream said he'd love to hold Hash Bash off campus at a place like Ann Arbor's Gallup Park, located along the Huron River, where there'd be more room to bring in bands.
But he said tradition trumps all else when it comes to Hash Bash.
The Hash Bash rally on the Diag began in 1972 after local activist John Sinclair was sentenced to 10 years on prison for selling two joints to an undercover narcotics agent. The Michigan Supreme Court declared the law used to convict Sinclair unconstitutional and since then the annual gathering has focused on the goal of reforming marijuana laws.
Ream said the U-M campus also has a higher significance.
"That's the place Johnson announced the Great Society," he said. "That's the place Kennedy announced Peace Corps. It's politically of great significance."
Hash Bash is able to be held on the Diag because a student group — University of Michigan Students for Sensible Drug Policy — is the holder of the permit.
U-M junior Nick Zettell, the group's president, plans to announce at the start of Saturday's rally that it's not smart to light up on university property.
"I would tell them to refrain from smoking during the actual rally," he said. "There will be plenty of time to do that during the Monroe Street Fair."
Ream, a former kindergarten teacher, agreed.
"Basically it's dumb to smoke on university property," he said. "And if you smoke anywhere else, you should be careful. It's not open season for smoking here."
A spokesperson for the Ann Arbor Police Department could not be reached for comment.
Brown declined to comment on how many U-M police officers will be out on Saturday, but she said they're expecting a larger crowd than in years past given the warmer weather and the heavily politicized debate over marijuana in the state of Michigan.
For the first time in 41 years of Hash Bash, activists are collecting signatures to amend Michigan's Constitution and repeal marijuana prohibition for adults 21 and older.
Brown stressed that the university embraces freedom of speech and is happy to allow the political aspects of Hash Bash — just not marijuana use.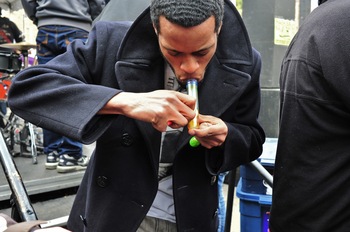 Ryan J. Stanton | AnnArbor.com
And that's what makes the Monroe Street Fair tricky. If anyone is thinking that's safe territory to smoke after the rally, it's not that simple.
On the north side of Monroe Street near the U-M law quad — that's still university property. On the south side near Dominick's — that's not university property. But go a little farther west and hit the first block next to State Street — that's university property again.
Zettell said he thinks campus police are mainly interested in making sure the Diag doesn't turn into a "giant smoke session," but he still recommends avoiding smoking on any campus property. He said smoking in the street at the fair should be fine.
Charlie Strackbein, who founded the Monroe Street Fair in 2002, said he encourages fair-goers to just be smart and enjoy the day. Monroe Street will be shut down for the fair with live bands playing all afternoon from 1 to 6 p.m. on a stage in front of Dominick's.
Bizarre, a former member of the D12 rap group, is expected to perform a comical set that includes songs like "My Mom's A Stoner." Strackbein said another highlight will be when a popular musician from Nashville, Chief Greenbud, takes the stage.
"We'll have entertainment running from beginning to end this year, even between band changeovers," said Strackbein, marketing director for the B.D.T. Pipe & Tobacco Shop headquartered in Hazel Park, one of the festival sponsors.
Acts in between bands will include an impressionist, a comedian, an acoustic guitar set and a speaker from the campaign to legalize marijuana in Michigan.
"People really enjoy the fair," Strackbein said. "They enjoy the music and mix of unique vendors. I think what really draws people is the entrainment. I get a lot of complements on that, and this year we have a new music director and we've put together a heck of a show."
The annual Hash Bash concert at the Blind Pig follows at 8:30 p.m. Tickets are $15 at the door and acts include The Macpodz with John Sinclair, UV Hippo and Chrystian Rawk.
Ryan J. Stanton covers government and politics for AnnArbor.com. Reach him at ryanstanton@annarbor.com or 734-623-2529. You also can follow him on Twitter or subscribe to AnnArbor.com's email newsletters.