Posted on
Tue, Jan 26, 2010 : 6:02 a.m.
Ann Arbor officials consider selling parks, privatizing Huron Hills golf course to trim city budget
By Ryan J. Stanton
Ann Arbor officials met Monday night to discuss ways to trim the city's budget, including such measures as selling some parks and cutting maintenance of others.
The idea of entering into a public-private partnership to operate the Huron Hills Golf Course also was floated during a presentation by Jayne Miller, the city's community services administrator.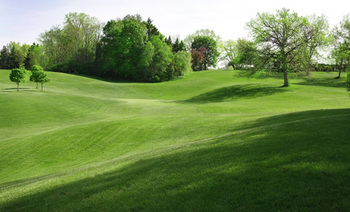 Monday's working session of the Ann Arbor City Council was a follow up to issues raised at last month's council retreat, where city leaders painted a grim picture of next fiscal year's budget and stressed the need to trim millions of dollars in a hurry.
Miller oversees three areas of city government that were the subject of budget talks Monday night -Â parks and recreation, planning and development and community development. The city owns more than 2,000 acres of parkland at 160-plus sites.
Miller presented a list of 40 to 50 acres of parkland where the city might be able to reduce or eliminate mowing grass to save money. Eliminating snow plowing and reducing trash collection also are options, she told council members.
Miller outlined a separate list of 23 sites her staff identified to explore closing. Her report cites such examples as Dicken Woods, where there may be potential developer interest; Eisenhower Park, where there have been encroachment issues; and Mill Creek and Foxfire East parks, which simply have low use.
Mayor John Hieftje said it's important that the city consider all of its options as it looks to confront a major budget deficit heading into the next fiscal year. But he acknowledged there are a "great deal of cuts" proposed that he can't agree with.
"Selling parks is off the table - it doesn't make any sense," he argued.
As for golf, Miller said city staff has been approached by two different businesses interested in public-private partnerships for the Huron Hills Golf Course.
The basic concept both businesses have recommended, Miller said, would convert the front seven holes to a driving range, while retaining the back 11 holes for golf. She said if such a partnership were established, city staff believes it would minimize the city's financial risks.
Miller addressed the fact that neither Leslie Park Golf Course or Huron Hills Golf Course are self-supporting and said the staff has been exploring ways to stop general fund support for golf.
Ryan J. Stanton | AnnArbor.com
In the 2007-08 fiscal year, a six-year forecast showed the golf courses improving their net loss each year - but still losing money by the end of the sixth year. At the end of 2008-09, the city originally projected a loss of $689,000, and the actual loss was $454,000. The forecasted loss for this year is $517,288.
Hieftje said the options for Huron Hills Golf Course are worth taking a closer look at.
"We're going to have to make all of these tough considerations," he said. "I want to keep the senior center open, I want to keep Mack Pool open, I want to keep the golf course open - I want to do it all - but we have to make tough choices, and we're going to have to look at everything."
Bill Newcomb is a member of the city's golf course task force appointed to find ways to make the two courses self-supporting. He attended Monday night's meeting and spoke with council members afterward.
"There's great division on the task force right now," Newcomb said. "From the accounting procedures in place with the city right now, we have a lot of so-called 'allocated expenses' that are conceptual expenses - they have to be allocated somewhere. You could get rid of the golf courses, but you would still have those expenses, so I think what we're seeing is some false accounting by people who are trying to really rid this city of Huron Hills. It's a shame because it really serves the seniors and it serves the juniors."
City officials said another option that should be on the table to cut costs is having more citizen volunteers help maintain parks. But that could become an issue with the city's labor unions contracted for that work.
Council Member Stephen Kunselman, D-3rd Ward, said council members have a lot of information to digest before making any decisions. He said he hasn't made up his mind on anything yet.
"It's sobering," he said. "Obviously, they're very difficult decisions to be made. I think there's a lot of things on the table, and obviously not all of them are going to be universally embraced and we'll just see where it goes. We've got a lot more meetings to have."
The city already has proposed the closure of Mack Pool and the Senior Center starting in July, though groups have been working to find ways to save them. 
Miller said two other recreational facilities - the Buhr and Veterans Memorial outdoor pools - have proven to be expensive to the general fund.
Veterans Pool is requiring a $150,078 subsidy this fiscal year, while Buhr Pool is costing another $92,829. Additionally, Buhr Rink is costing the city $43,358 this year, and the Bryant and Northside Community Centers are costing $158,049. 
Other facilities - such as the Argo and Gallup canoe liveries, Fuller Pool, and Veterans Ice Arena - are self-supporting or close to being so.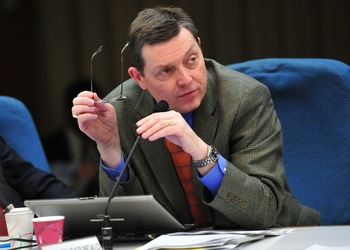 Ryan J. Stanton | AnnArbor.com
During Monday's meeting, Miller also laid out options for trimming costs within planning and development. She said in the past, the city has worked with Washtenaw County and Pittsfield Township on mutual aid for construction inspection services. She said those arrangements have been re-implemented, and more talks of collaborating are happening.
Miller said it may be worth considering outsourcing some or all planning and development activities, such as plan reviews and construction inspections. She notes the department is unionized, and contract language will dictate what happens.
Miller's report suggests another option of transferring authority of construction code activities from the city to the state of Michigan. To do that, the city would have to demonstrate that administering and enforcing the state Construction Code Commission's general rules cause undue burden on the city.
Miller's report Monday night also touched on human services funding options. The city's current plan includes a $260,000 reduction for fiscal year 2010-11.
Miller also gave a report on what's happening with the Ann Arbor Housing Commission. As part of a reorganization effort, the city went forward with posting job openings on Monday for the positions of director and deputy director.
Miller said the reorganization will cost an extra $228,163 a year, only $90,000 of which is planned for in next year's general fund budget. That leaves the city with another $138,163 gap to address.
City Administrator Roger Fraser announced two more special meetings will take place on Feb. 8 and Feb. 22, where city officials will continue discussing ways to attack the city's budget problems. Both meetings start at 6 p.m.
Fraser said the city is operating a dual-track budget discussion this year. Not presented at Monday's meeting, he said, are proposals being working to reduce expenses in the 2011-11 fiscal year by another 7.5 percent - on top of a 3 percent reduction strategy already identified. 
Those proposals will be the topic of future meetings, Fraser told council members.
Ryan J. Stanton covers government for AnnArbor.com. Reach him at ryanstanton@annarbor.com or 734-623-2529.