Posted on
Thu, Dec 6, 2012 : 5:55 a.m.
Ann Arbor opposes legislation that includes Washtenaw County in regional transit authority
By Ryan J. Stanton
Update at 12:53 p.m.: The RTA legislation again failed to garner the needed 56 votes on Thursday afternoon, causing the House GOP to table it again. House Democrats reportedly clapped and cheered after its defeat. Many Democrats support the bill but are refusing to vote for the RTA, which the Republicans want to see passed, while right-to-work legislation remains in play.
As legislation to create a Southeast Michigan Regional Transit Authority heads back to the floor of the state House for a vote, concerns abound it might not be good for Ann Arbor.
"It's a bad piece of legislation," said Mayor John Hieftje, who fears it poses a threat to the Ann Arbor Transportation Authority, the city's long-time transit service provider.
Ann Arbor officials said they met with representatives of Gov. Rick Snyder's office months ago and were assured Washtenaw County would be taken out of the RTA legislation.
Hieftje and Eli Cooper, the city's transportation program manager, both said they were disappointed to see the legislation fast-tracked out of the House Transportation Committee on Wednesday without any changes. It still includes four counties: Wayne, Macomb, Oakland and Washtenaw.
Ryan J. Stanton | AnnArbor.com
"It's been no secret that in Ann Arbor we're opposed to a regional transit authority if Washtenaw County is included," Hieftje said. "I wish the other counties the best of luck, and I think it's a good idea for the Metro Detroit area, but I don't see what it offers Washtenaw County and Ann Arbor."
While the RTA would not replace the city's transit agency, the AATA would come under the umbrella of the four-county regional authority in some respects. Both city and AATA officials fear the AATA could see some of its funding jeopardized in that process.
"I can see some downsides to it for Washtenaw County and Ann Arbor, but I haven't been able to discover the upside yet," Hieftje said.
Senate Bill 909, co-sponsored by Sen. Rebekah Warren, D-Ann Arbor, is the legislation that authorizes creation of the RTA. After several months of idling, that bill and three companion bills finally moved out of the Senate last week with the Legislature now in its lame duck session.
Snyder has made the RTA legislation a top priority, but heightened political tensions appear to have compromised plans for taking Washtenaw County out of the mix.
After the legislation passed through committee on Wednesday, it went to the House floor for a vote. But when it became apparent SB 909 was just shy of the 56 votes needed to pass, the Republican House leadership pulled the legislation off the table for the day.
Those tracking the bill, including state Rep. Rick Olson, R-York Township, are expecting it to come back on Thursday. And if not then, at least by next week.
"We'll come back tomorrow morning and probably pass it," Olson said Wednesday night. "If the Democrats stop playing games, we could do lots of things, but with Republican votes only, about the only thing we can do is pass it as the Senate sent it to us."
Olson and Mark Ouimet, Washtenaw County's two outgoing Republican delegates in the House, both serve on the Transportation Committee that approved the legislation on Wednesday. Olson acknowledged the plan was to remove Washtenaw County, but that changed overnight when Democrats decided they weren't going to vote for the legislation.
Democrats support the concept of an RTA, but they refused to vote for the bill while the question of right-to-work legislation remains on the Legislature's agenda.
Olson said amending the RTA legislation in any way now would require sending it back to the Senate, where it likely wouldn't have enough votes without Democratic support. Rather than risk losing the whole bill, he said, the Republicans are pushing ahead with the current draft.
If approved, the RTA would be in charge of coordinating public transit within a four-county region stretching from Ann Arbor to Detroit and north to Oakland and Macomb. The legislation allows a county not included to petition the authority to become a part of it, and that was a future option Ann Arbor officials counted on even while asking Washtenaw County to be excluded.
"We're not supportive because our community's interests are not well represented in this bill," Cooper said, calling the legislation offensive to Ann Arbor and the AATA.
Cooper, who serves on the AATA board, said he was surprised to see Olson and Ouimet pass the legislation out of committee without addressing the concerns of local officials.
"It was abundantly clear there was something at a higher level that was driving the decisions being made," he said. "There's a stronger hand being played."
The RTA would be responsible for adopting a public transit plan for the entire four-county region and updating the plan annually. The legislation makes it clear a major focus would be implementing a rolling rapid transit system — or bus rapid transit — within the region.
Ryan J. Stanton | AnnArbor.com
SB 909 specifically enables the RTA to implement a bus rapid transit system on four corridors, including a 47-mile route between downtown Detroit and the Blake Transit Center in Ann Arbor, with stations in at least three other locations: Ypsilanti, Detroit Metro Airport and Dearborn.
The 10 members of the RTA board would include two representatives from each of the four counties plus one appointed by Detroit's mayor and one appointed by the governor.
Unanimous approval of all voting members would be required to acquire, construct, operate or maintain any form of passenger rail service. Ann Arbor officials argue that clause in the legislation essentially gives veto power over regional rail to any member of the board.
For Ann Arbor's purposes, Hieftje said, that means the RTA might be little more than an express bus service to Detroit, and he doesn't think that's a hot demand or an efficient mode of travel.
"I don't know why anybody would want to take an hour-and-45-minute bus ride to get from Ann Arbor to Detroit when they could do it on a rail line the state is soon to own," Hieftje said.
Hieftje said he also is concerned federal discretionary funds the AATA has been successful at receiving — such as the millions being used to rebuild the Blake Transit Center — would have to go through the RTA board, which could decide to give higher priority to projects closer to Detroit.
AATA board member Jesse Bernstein, former CEO of the Ann Arbor Area Chamber of Commerce, said whatever happens with the RTA legislation, the AATA is ready.
"Whatever happens in Lansing and whatever the local politicians decide, I personally am very proud that AATA over the last two and a half years has developed a communitywide vision for the next 30 years that engaged thousands of county residents," he said. "And we have a five-year strategic plan that also engaged some key county constituents. So whether we go on our own as a county or we go with an RTA, we know where we're going. We've already done that legwork."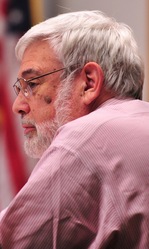 Bernstein said it's his understanding the RTA would have an oversight role regarding the AATA's state and federal allocations, and he's still not sure how that's going to play out.
The legislation provides that the RTA would be the region's designated recipient for the purposes of applying for grants. Before assuming responsibility for distributing state and federal funds, the RTA would have to enter into agreements with transit providers like the AATA.
The AATA and other public transit providers in the region would be required to submit to the RTA an annual report regarding the coordination of service. The legislation allows the RTA to issue directives regarding public transit services and to withhold a portion of state assistance from entities if they fail to comply with directives.
The enabling legislation comes with a $250,000 state appropriation get the RTA started.
Among its options for raising additional revenues, the authority would be allowed to levy a special assessment and collect a new motor vehicle registration fee if approved by voters. The authority also would be allowed to issue self-liquidating revenue bonds.
Washtenaw County Board Chairman Conan Smith, D-Ann Arbor, has been aggressively lobbying for passage of the RTA legislation with Washtenaw County included.
"I want to make it clear, I don't speak for the county board on this," he said. "It's just something I'm personally passionate about and I think would be good for Michigan and Washtenaw County."
The AATA recently tried to form a countywide transit authority called the Washtenaw Ride but most of the municipalities in the county indicated they weren't interested.
Hieftje said he finds it disturbing that Smith is lobbying so hard for the county's inclusion in the RTA when Ann Arbor and AATA officials are opposed to it, and when local communities already decided they don't even want to be part of a countywide authority.
Smith argued it's important for Washtenaw County and Ann Arbor to be connected to the rest of the region because there are bigger issues at stake.
"The issues that arise around the operations of our local transit system are appropriate, but let's not lose the forest for the trees," he said. "There's great benefit for us being part of a regional transit authority — everything from new funding streams to increased connectivity for communities."
Smith's nonprofit group, the Michigan Suburbs Alliance, released a report earlier this year explaining how the funding would work with an RTA. He believes the AATA's funding streams are protected.
"None of the funding can be siphoned off from AATA," Smith said. "We're actually going to get more money. So what Ann Arbor loses is the complete independence and autonomy it has now. But it's got to learn to play in the sandbox with others, whether it likes it or not."
Olson said he thinks the AATA has a good reputation of being a well-managed transit agency, and if it continues that way, it'll get a fair shake.
He said the idea of forming an RTA for Southeast Michigan has been discussed for many years and it's always failed, so he's glad to see something moving forward.
"Perfect is sometimes the enemy of good," he said. "Is this perfect? Probably not, but I am willing to go with what came out of the Senate so we can get something going."
State Rep. Jeff Irwin, D-Ann Arbor, said he can't support the legislation until better protections are provided for the AATA. He's also concerned it leaves rail out of the picture.
"I'm hoping to see a regional transit authority in the future that has the ability to get some good things done, and in a way that doesn't diminish the quality of service in our own community," he said.
Hieftje said he's anxious to see what happens.
"We're sort of on pins and needles," he said. "I just wish there was somebody at the state that respected what we here in Ann Arbor want."
Ryan J. Stanton covers government and politics for AnnArbor.com. Reach him at ryanstanton@annarbor.com or 734-623-2529. You also can follow him on Twitter or subscribe to AnnArbor.com's email newsletters.