Posted on
Wed, Apr 4, 2012 : 5:58 a.m.
Ann Arbor officials pushing for conversion of Jackson Avenue from 4 to 3 lanes with bike lanes
By Ryan J. Stanton
Ann Arbor officials are asking the state to convert a portion of Jackson Avenue from four to three lanes to improve safety and allow for the addition of on-street bicycle lanes.
The Ann Arbor City Council voted 8-2 Monday night in favor of a resolution to forward that request on to the Michigan Department of Transportation, which is planning to resurface Jackson Avenue — an I-94 business loop — either in 2013 or 2014.
Council Member Carsten Hohnke, D-5th Ward, said he lives about two blocks away from the stretch of Jackson proposed to be converted to three lanes.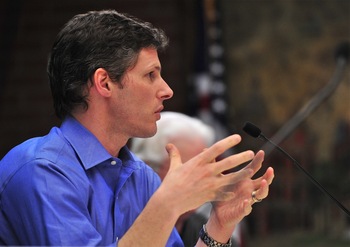 Ryan J. Stanton | AnnArbor.com
Hohnke said he welcomes wider lanes.
"I can certainly confirm the narrowness of that," he said. "There are a few white-knuckle moments if you're driving next to a large bus or trucks that are often going up and down there, so the narrowness of those lanes I know is a concern for a lot of people."
Hohnke said the conversion sounds like a no-brainer.
"Going from four to three would steady out the traffic flow, it would allow for a dedicated lane for left-turn deceleration and reduced collision points, maybe include bike lanes," he said, summing up the benefits. "That all sounds too good to be true."
The council's resolution is being forwarded to MDOT to share with the Southeast Michigan Council of Governments and the Federal Highway Administration.
With the final approval of the FHWA, the proposed lane conversion will be implemented by MDOT with its Jackson Road-Huron Street resurfacing project, which spans from the I-94 interchange to North Main Street, either in 2013 or 2014.
The section city officials are interested in converting to three lanes extends from east of Maple Road to Revena Boulevard, which is where Huron Street splits into Jackson and Dexter avenues.
East of Maple Road, Jackson has four narrow traffic lanes that measure about 10 feet wide each, said Homayoon Pirooz, head of the city's project management unit.
He said that's narrower than is ideal for safety.
Pirooz said one of the advantages of switching to three-lane street is the addition of a new center turn lane, which provides for safe deceleration when making left turns. He said three-lane streets also eliminate lane weaving and unsafe driving.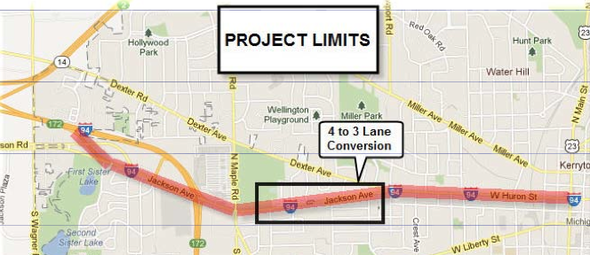 Uniform speeds at three-lane streets also have traffic calming effects and research shows going from four to three lanes can reduce crashes and their severity, Pirooz said.
The extra pavement width that is saved by eliminating the fourth traffic lane can be converted to bike lanes, Pirooz said, noting the new center turn lane also creates new opportunities for the addition of marked and safe pedestrian street crossing locations.
While there are five-foot-wide sidewalks on each side of the street, Pirooz said there are no bicycle lanes or safe and convenient pedestrian crossing points between the two signalized intersections at Maple Road and at Revena Boulevard.
Pirooz said it's understood by industry experts that going from four to three lanes in cases where average daily traffic is less than 15,000 vehicles can be very successful. He said the area of Jackson Avenue being evaluated has about 15,500 vehicles per day.
Pirooz said the city has successfully completed conversions from four to three lanes on a number of streets, including the following:
South Main, Ann Arbor-Saline to Eisenhower (13,300 ADT)
Platt, Packard to Ellsworth (13,800 ADT)
Packard, Stadium to Jewett (12,000 ADT)
Huron Parkway, Nixon to Plymouth (6,100 ADT)
West Stadium Blvd., Seventh to Pauline (14,900 ADT)
Green, Plymouth to Glazier Way (9,200 ADT)
Council Members Mike Anglin, D-5th Ward, and Jane Lumm, an Independent who represents the 2nd Ward, were the only two to oppose the conversation Monday night.
Marcia Higgins, D-4th Ward, was absent.
Anglin said he wanted to postpone the vote to get more community input.
"I was very much in favor until I looked at some of the ramifications. The road will not be widened," he said, expressing concerns it could be dangerous to add bicycle lanes.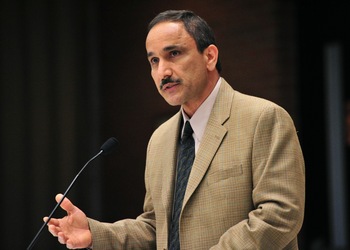 Ryan J. Stanton | AnnArbor.com
Pirooz said four-lanes roads were common many years ago, but over the years traffic engineers have found out that it's not the safest arrangement.
He used the example of Platt Road, which the city converted from four to three lanes from Packard to Ellsworth. Prior to the changes, he said, there were 20 to 30 accidents per year, but now in the last two years it's down to six or seven.
He recalled there were a lot of concerns about the conversion at the time, but it has worked out.
He said if the three-lane conversion on Jackson doesn't work out for whatever reason, it's relatively easy to switch back to four lanes by repainting the lines.
Pirooz acknowledged there might be some downsides to three lanes, including additional wait time at unsignalized intersections and added vehicle stacking at signalized intersections, as well as slower traffic and loss of passing opportunities for faster traffic. That didn't deter council members, though.
MDOT held a public meeting at Slauson Middle School in February and presented the proposed conversion from four to three lanes. At the meeting, MDOT staff ran a traffic simulation model to show participants the difference between the two configurations.
From the written comments and the emails received afterward, Pirooz said, most members of the public who attended were in favor of the conversion.
According to MDOT's presentation in February, the road rehabilitation project it has planned for Jackson and Huron will span 2.4 miles and cost an estimated $6.5 million. The tentative timeline calls for construction from April 2013 through November 2013.
Pirooz said the project might be pushed back to 2014.
The city is talking about reconstructing Miller Avenue in 2013 and there are concerns about having both roads under construction at the same time.
Ryan J. Stanton covers government and politics for AnnArbor.com. Reach him at ryanstanton@annarbor.com or 734-623-2529. You also can follow him on Twitter or subscribe to AnnArbor.com's email newsletters.