Posted on
Tue, Apr 17, 2012 : 1 p.m.
Ann Arbor officials seeking public feedback before closing two fire stations
By Ryan J. Stanton
Consideration of a proposal to close two Ann Arbor fire stations and switch to a three-station model is being put on hold — at least until later this fall.
City officials said they realized it's not an ideal time to deploy the plan, which relies heavily on reopening Station 2 at Stadium and Packard and having that be one of three stations.
The reason that's not ideal is because the Stadium bridges are out through the end of the year and East Stadium Boulevard could be under construction through September.
The original proposal presented last month by Fire Chief Chuck Hubbard called for transitioning toward a three-station model starting in June.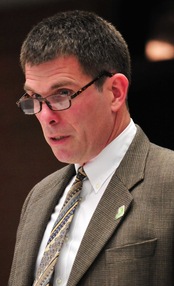 City Administrator
Steve Powers
and Mayor
John Hieftje
said they're going to wait out the projects taking place along Stadium Boulevard and use that time to go out to the public to get feedback on the proposal. The overall plan actually calls for closing three of the city's five fire stations and reopening Station 2 for a net reduction of two stations.
"We are going to have Stadium Boulevard torn up right in front of the station, so you're only going to have one lane in each direction for much of that time," Hieftje said. "That's just a poor way to go, because there's really no way for those cars to get out of the way for a firetruck.
"So we've got some physical impediments in the way and we might as well take advantage of the time to thoroughly vet the idea."
Hubbard could not be reached for comment. In an email memo sent in mid-March to all fire department employees, Hubbard banned his firefighters from providing information about the pending restructuring plan to the media.
"No personnel shall give interviews or distribute propaganda about the restructure proposal without permission from the fire chief," Hubbard's email stated.
Given the existing staff levels, Hubbard believes concentrating the fire department's resources in three stations instead of five will better position the city to respond to fires.
Powers stressed Hubbard's plan, which he endorsed as city administrator, remains merely a proposal for consideration. Though it's an administrative change that doesn't require council approval, he said it's important to get buy-in from the council.
Powers said he and Hubbard will go out into the community to gather public input, answer questions, explain the plan and then report back to council sometime in the fall.
He said he wants to meet with neighborhood associations and go into more detail regarding impacts to specific neighborhoods in the city.
Powers said any implementation would follow the completion of the bridges replacement project toward the end of the year. The street reconstruction should be done by then.
The Ann Arbor firefighters union has been fighting back in response to Hubbard's plan. Instead of closing stations, the union argues the city should be increasing staffing in the fire department to meet national standards for responding to fires.
Powers presented a budget plan to the City Council Monday night that maintains 82 full-time employees in the fire department heading into the next fiscal year July 1. Both the fire chief and the union have expressed a desire to increase staffing to 88 firefighters.
Despite a planned surplus in next year's budget, which would be enough to hire four more firefighters, Hieftje and Powers expressed doubts the city has enough money to increase staffing levels in the department in any sustainable manner.
They said the city is applying for a federal SAFER grant and pressing the state to live up to its obligation to fully fund state fire protection grants.
SAFER stands for Staffing for Adequate Fire and Emergency Response. It's a grant program created to provide funding directly to local fire departments to help increase staffing levels and meet national standards. Nearby cities such as Dearborn, Ferndale and Southfield have received SAFER grants in recent years ranging from $850,000 to $2 million.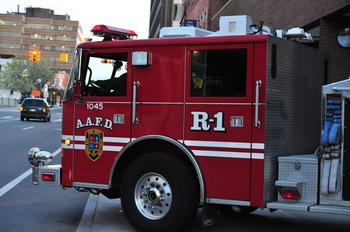 Ryan J. Stanton | AnnArbor.com
"We've applied for a SAFER grant and have some confidence in that," Hieftje said. "We're also working with our folks in Lansing for increased fire protection money. "
Hieftje hinted at an upcoming lobbying effort.
"We're going to be working in a concerted effort with members of the firefighters union to do some lobbying up there with the Legislature," he said. "It's a more concerted effort than we may have seen in the past among all of the cities that receive fire protection money."
Ann Arbor, home to the University of Michigan, is one of four communities in the state underfunded by six figures or more when it comes to state fire protection grants.
Under a law passed by the Legislature in the 1970s, the state is required to reimburse local municipalities like Ann Arbor for the fire protection services they provide for state facilities.
The state fire protection grant payment to Ann Arbor this year amounts to a little more than $1 million, down 10.6 percent from the year before and nowhere near the $2.2 million called for in the funding formula, which is based on the amount of state-owned property in the city.
If the city had the extra $1.2 million it's owed by the state, it could hire an additional 15 firefighters and put many of the concerns about staffing levels to rest.
According to the city's finance department, the cost of hiring a firefighter under a new labor agreement with the firefighters union is $79,599, inclusive of wages and benefits.
"As we pursue other funding opportunities — whether that's state funding of the fire protection grant, whether it's success with a federal grant that has been submitted — help with both of those items would result in additional positions for fire," Powers said.
Hieftje said he and Council Member Margie Teall, D-4th Ward, sat down with Hubbard and Powers recently to talk about the issues facing the fire department. Hieftje said both he and Teall were in favor of taking a step back on implementing the three-station model.
"I wouldn't say we're convinced until we've had more input from the public and we have time to thoroughly weigh the pluses and minuses of the chief's plan," he said. "And I really commend the chief for coming forward with a creative plan."
Ryan J. Stanton covers government and politics for AnnArbor.com. Reach him at ryanstanton@annarbor.com or 734-623-2529. You also can follow him on Twitter or subscribe to AnnArbor.com's email newsletters.