Posted on
Wed, Nov 9, 2011 : 5:48 p.m.
Ann Arbor pedestrian safety ordinance repeal proposed in response to concerns
By Ryan J. Stanton
There's a movement afoot to roll back Ann Arbor's pedestrian safety ordinance, and discussion on the issue could take center stage at this week's City Council meeting.
Council Members Christopher Taylor, D-3rd Ward, and Sabra Briere, D-1st Ward, are co-sponsoring a resolution on Thursday's agenda that seeks to amend the ordinance.
They propose getting rid of the local requirement that drivers must stop for pedestrians "approaching" crosswalks, and just leave it so that drivers must follow the pre-existing state law that requires stopping for pedestrians "within" crosswalks.
The following is the full text of the proposed changes.

Supporters of the pedestrian safety ordinance are mobilizing in protest of what they see as essentially a repeal of the local ordinance. They argue that would be a regressive move, reverting back to the old practice of making pedestrians put themselves in harm's way to get vehicles to stop for them. And they argue the current ordinance is modeled on an ordinance in Boulder, Colo., that has been in place since 1989 without any challenge.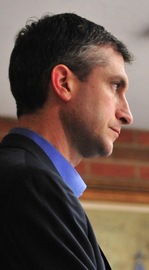 "It's been working in Boulder, Colorado, for 22 years, but maybe it'll take a little while here," said Mayor
John Hieftje
, a supporter of the pedestrian safety ordinance.
It's still possible that the proposal from Briere and Taylor could be revised or that it might not be voted on Thursday. Taylor said it's "a little bit in flux right now," but he said the message is clear from constituents that there are many concerns about the law the council unanimously approved in July 2010.
Enforcement only started in September.
"I've been communicating a great deal with my constituents on the matter and I think, although the ordinance does have its supporters, there is also widespread concern with the approaching standard," Taylor said, agreeing that it's not very clear.
"Everybody shares the same goal and the goal is to improve pedestrian safety," he said. "And everybody agrees that the best way to effect that is to encourage pedestrian-minded driver behavior — that is to say, to encourage drivers to know their obligations and to encourage pedestrians, too, to know their obligations."
Thursday's meeting starts at 7 p.m. on the second floor of city hall at the corner of Fifth Avenue and Huron Street in downtown Ann Arbor.
Ryan J. Stanton covers government and politics for AnnArbor.com. Reach him at ryanstanton@annarbor.com or 734-623-2529. You also can follow him on Twitter or subscribe to AnnArbor.com's e-mail newsletters.