Posted on
Thu, Oct 13, 2011 : 5:59 a.m.
Ann Arbor officials say they're listening to concerns about pedestrian safety ordinance
By Ryan J. Stanton
Image courtesy of David Burgess
After a near miss at a crosswalk on West Stadium Boulevard, Ann Arbor resident
David Burgess
says he doesn't think the city's new
pedestrian safety ordinance
is all that safe.
Burgess said he slowly stopped his car in the curb lane around 3:30 p.m. last Friday to yield to a young boy who was preparing to cross the street. But other cars continued to whiz by in the adjacent lane, he said, and he feared the boy might be hit if he tried to cross.
Just then, Burgess said, he heard squealing tires behind him and noticed an SUV approaching too fast to stop without hitting his car. Fortunately, he said, the SUV jumped the curb and went up onto the sidewalk beside him instead.
"I don't remember where the young boy was at that moment, but if I had been rear-ended when he was in front of me, I would have been pushed into him," Burgess said.
Burgess' concerns are similar to those shared by many other motorists since the city began enforcing its new pedestrian safety ordinance last month.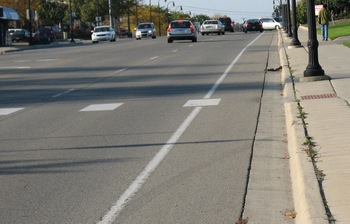 Image courtesy of David Burgess
Under the new law, the penalty for not stopping for pedestrians within or approaching a crosswalk in Ann Arbor is a $100 fine and two points on a driver's license.
Even Police Chief Barnett Jones said back in June that when he stopped for a pedestrian at a local crosswalk, it caused a lot of commotion and he almost wound up being rear-ended.
"I'm just afraid this is going to backfire and somebody is going to get hurt or killed," Burgess said. "I'm all for pedestrian rights. I just think unless it becomes state law or national law, it's going to lead to more problems than it solves. I'd like to see it gone."
Adapting to change
Ann Arbor officials said this week they're getting lots of feedback from the public and they take all concerns to heart, but they're not interested in abandoning the new crosswalk law.
"Accidents happen at normal stoplights, too, when people aren't paying attention and run into the back of somebody," Mayor John Hieftje said in response to Burgess' story. "But certainly that's a concern. It was one of our concerns from the beginning."
It was Hieftje and Council Member Carsten Hohnke, D-5th Ward, who sponsored the ordinance that was unanimously approved by the council last year.
While it's always been the law that motorists must stop for pedestrians already within a crosswalk, the stopping requirement now applies to pedestrians approaching a crosswalk — the idea being that they shouldn't have to risk life and limb to get a car to stop for them.
"The idea was if somebody is coming up to a crosswalk, or wants to get into the crosswalk, that we should consider a shift in our community kind of culturally around saying, 'Hey, I'm going to stop,' as opposed to kind of gunning it to get through the crosswalk," Hohnke said.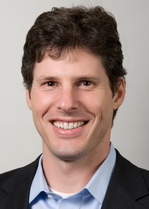 Hohnke said situations like what Burgess experienced are bound to happen as the community gradually adapts to the new law.
"Anytime when you're going through change in traffic engineering and traffic policy, there's greater vulnerability to unintended consequences," he said. "You see the same thing when you put up stop signs at four-way intersections that used to have yield signs."
Hohnke noted similar pedestrian safety ordinances have been successful in other communities, including Boulder, Colo.
"There's always going to be this period of adjustment," he said. "But if you look at other communities in which these same or very similar ordinances exist, you see overwhelming evidence of communities being able to adapt to those changes."
Despite the concerns, Hieftje said he still believes the pedestrian safety ordinance is appropriate for Ann Arbor, but it may eventually require some tweaking.
"Our ears are open and listening to the feedback and you may just see us bring this up and give it a few tweaks at some point," he said. "And I don't think the police are anxious to go out and ticket a lot of people — maybe just enough to raise awareness."
Hieftje agreed more education around the new law is needed, and he acknowledged that's a big challenge for the city.
"At any given time, half the drivers in Ann Arbor aren't from Ann Arbor, and so it makes it a little harder to educate," he said. "So if more communities in Michigan went down the same path, pretty soon we'd all get it and everybody would understand."
Hieftje also agreed with the concern that there's some ambiguity about the obligation to stop for pedestrians "approaching" a crosswalk.
He said he's interested in seeing if there's a better system for pedestrians to alert motorists when they intend to cross, rather than leaving it up to motorists to assume.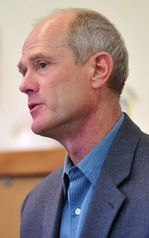 In Salt Lake City, for example, containers with
brightly colored flags
are located at each end of crosswalks. Pedestrians are instructed to carry them while they cross, and the simple act of holding one alerts drivers that the pedestrian has a desire to cross the street.
"In some communities, the pedestrian who is about to cross signals that," Hieftje said. "He raises his arm or something like that and indicates he's going into the intersection, rather than just standing on the curb, talking to a friend and making it a little difficult to tell."
According to city officials, motorists should stop when there's a reasonable expectation that a pedestrian has a desire to cross at a crosswalk, and they can stop safely.
"It is an issue just like a lot of traffic issues that involve some discretion," Hohnke said, citing regulations around yellow lights, which require motorists to stop if they can do so safely.
"Well, what does 'if I can do so safely' mean?" he said. "It's discretion on each driver's part and on enforcement. So it's not any different than a lot of other traffic rules."
Other remedies
Hieftje said he's also interested in working with the state of Michigan to get more HAWK signals in place at certain crosswalks in Ann Arbor, including on Plymouth Road.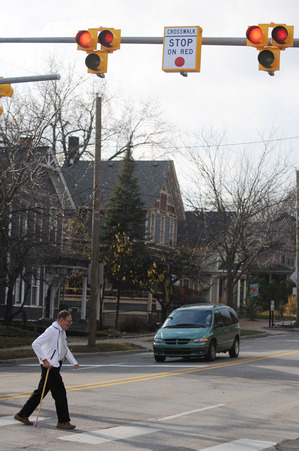 Melanie Maxwell | AnnArbor.com
A HAWK signal can be activated by pedestrians with the push of a button. A flashing yellow light alerts drivers that a pedestrian is preparing to cross, followed by a solid yellow light alerting drivers to prepare to stop. The signal then changes to red, allowing pedestrians to cross.
That was the solution for the intersection of Huron and Third streets just west of downtown. Prior to the installation of a HAWK signal there last year, otherwise able-bodied seniors living at Lurie Terrace were taxied across the street to work out at the YMCA, said Erica Briggs, a city planning commissioner and Washtenaw Bicycling and Walking Coalition board member.
Briggs said children in the childcare program at the YMCA also were required to walk up the street to First and Huron to cross with the traffic signal and then walk back down to Third and Huron on the other side of the street to go to West Park. Other individuals using wheelchairs simply couldn't cross at Third and Huron, she said.
Briggs said the HAWK signal is a wonderful device, but it isn't a financially viable option for every crosswalk. She maintains the pedestrian safety ordinance is needed so people aren't required to step in front of moving vehicles to trigger the need for motorists to stop.
Before the pedestrian safety ordinance, Briggs said, the city's previous law was basically unenforceable and crosswalks weren't serving as a safe crossing point for many members of the community. While it's possible for some people to wait for a gap in traffic and dash across a busy street, she said, that option doesn't exist for many residents.
Some motorists have argued Ann Arbor police officers should start ticketing pedestrians who jaywalk if they're going to ticket motorists for not stopping at crosswalks. Briggs pointed out there is no jaywalking law in Ann Arbor, but police can ticket pedestrians who cause a dangerous situation by stepping in front of a moving vehicle.
Briggs said a survey of local drivers last spring found that the presence of multiple treatments at crosswalks — zebra stripping, signage, and the presence of the word "crosswalk" in a sign — helped motorists correctly identify a crosswalk as a crosswalk.
The city's engineering staff is now working to develop stronger crosswalk design guidelines and make improvements at crosswalks that will benefit both motorists and pedestrians, but city officials say resources are tight and design changes will take time.
"We're never done," Hohnke said. "There's always ways to make everything better, so we continue to look at ways to improve education, engineering, enforcement and policy."
Ryan J. Stanton covers government and politics for AnnArbor.com. Reach him at ryanstanton@annarbor.com or 734-623-2529. You also can follow him on Twitter or subscribe to AnnArbor.com's e-mail newsletters.