Posted on
Wed, Jan 11, 2012 : 5:34 p.m.
Got ideas for public art in Ann Arbor? Online survey asks residents for feedback
By Ryan J. Stanton
Do you have an opinion about where public art should go in Ann Arbor?
The city of Ann Arbor and the Public Art Commission are asking residents to take an online survey regarding the most desirable locations, projects and programs for public art.
City officials are calling it an effort to "re-imagine public spaces in Ann Arbor" by thinking about "what would be valued and creative contributions to shared environments in our city."
The survey is available via a link on Public Art Commission's website at www.a2gov.org/aapac or directly at www.surveymonkey.com/s/K96SWGD.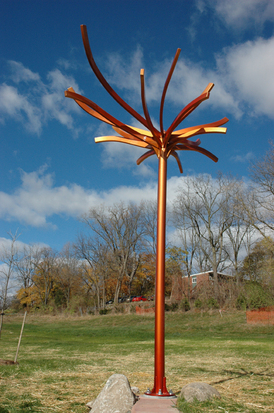 Courtesy of City of Ann Arbor
The survey data will be used to help the commission decide what types of public art projects to pursue during the next few years.
The survey takes about 10 minutes. It closes Feb. 20.
After months of intense debate, the Ann Arbor City Council voted 8-3 in December in favor of keeping funding for public art at current levels.
The originally proposed cut, had it won support, would have meant about $160,000 less per year going to public art. But the city's art fund still would have kept the nearly $1.5 million already built up, and it would have continued to generate about $160,000 per year.
The city pays for public art through the Percent For Art Program. Under an ordinance approved by the City Council in 2007, 1 percent of the budget for all city capital projects — up to a limit of $250,000 per project — is set aside in a special public art fund.
The city has transferred a little more than $2.2 million to public art over the last four years, nearly $1.5 million of which remains available to spend.
Though many projects have been discussed, the Public Art Commission has delivered on just two art installations in four years: a $750,000 bronze sculpture in front of city hall and a $15,000 installation in West Park that included two orange-colored tree sculptures.
The commission voted in December to establish a $20,000 budget for another public art project at the site of a new rain garden being constructed at Kingsley and First streets.
City officials also are talking about public art installations at the site of the Stadium bridges and the Fuller Road Station project.
Another piece is being planned for the lobby of the new Justice Center addition to city hall, while a mural project is kicking off at Allmendinger Park.
Some members of the City Council have stated a desire to see a larger number of smaller public art projects scattered throughout the city.
Ryan J. Stanton covers government and politics for AnnArbor.com. Reach him at ryanstanton@annarbor.com or 734-623-2529. You also can follow him on Twitter or subscribe to AnnArbor.com's email newsletters.