Posted on
Wed, Feb 1, 2012 : 2:27 p.m.
Ann Arbor records 13th warmest January on record
By Cindy Heflin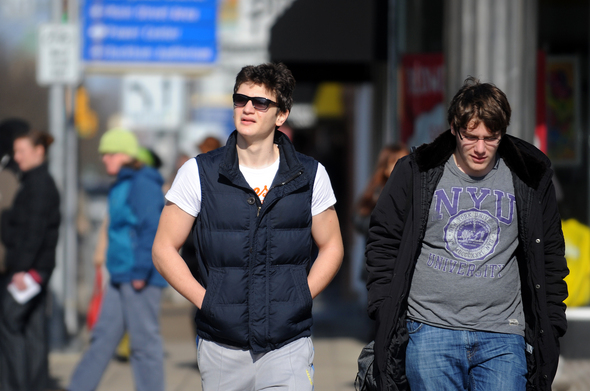 Melanie Maxwell | AnnArbor.com
It wasn't a record,
but the 55-degree high in Ann Arbor
Tuesday helped to put January on the books as the 13th warmest since weather observers began keeping track in 1880.
The average temperature in January was 30.2 degrees, 5.5 degrees above the normal average, said University of Michigan weather observer Dennis Kahlbaum. The warmest January on record was 1932, when observers recorded an average temperature of 35 degrees.
For comparison, the coldest January ever recorded was in 1918, when the average temperature was what must have been a truly bone-chilling 11.4 degrees.
It may come as a surprise that 13.9 inches fell in Ann Arbor in January. That's 2.5 inches below normal snowfall for the month, but still ranks the month at the 37th snowiest January since 1880, Kahlbaum said. Snow fell in small amounts and melted soon after, Kahlbaum said.
For a little perspective on January snowfall, consider this: The most ever recorded in January was 36 inches in 1999. Folks in 1891 had it a lot easier. Only .3 inch fell that year.
Ann Arbor area residents can expect the mild weather to continue for the rest of the week, though no more 50-degree days are in sight.
After a high in the mid-40s Wednesday afternoon, the forecast calls for partly to mostly sunny days through Sunday and highs in the upper 30s to low 40s. Sunday night will bring a chance of snow showers with a low around 27.
For updated weather conditions and forecasts anytime, visit AnnArbor.com's weather page.