Posted on
Thu, Feb 16, 2012 : 10:44 a.m.
Want to change schools? Ann Arbor is taking in-district transfer applications
By Danielle Arndt
Ann Arbor Public Schools is now accepting in-district transfer applications for the 2012-13 academic year.
Applications must be submitted by March 16. If more students apply than seats are available, a lottery will take place at the schools for those seats.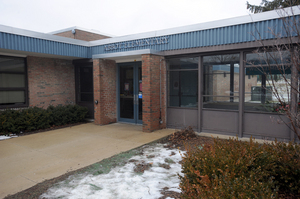 AnnArbor.com file photo
Each year, Ann Arbor's research and student enrollment departments work with the individual building staff to determine the number of available seats based on
capacity
and current class sizes.
The staff looks at projections of incoming kindergarteners, kindergarteners moving on to first grade as well as fifth-graders moving on to the middle schools, said district spokeswoman Liz Margolis. Rarely does the district open up spots at the high schools, she added.
Once in-district transfers are set, the district uses the same projections to determine Schools of Choice options, which are expected to be announced in March, Margolis said.
Last year, AAPS opened up a second window for in-district transfers after Schools of Choice was determined. Margolis said a decision on a second window for this year has not been made yet.
Families will be notified by mid-April if their applications were accepted.
Ten spots, same as last year, are open at each of Ann Arbor's traditional middle schools, Clague, Forsythe, Scarlett, Slauson and Tappan.
Abbot, Carpenter, Dicken, Eberwhite, Lakewood, Logan, Northside and Pittsfield will be open to in-district transfers. According to the AAPS website, actual numbers will be determined after further monitoring of enrollment projections.
Allen was not included on this year's list. Recent capacity data indicates Allen is operating at about 77.4 percent full.
Last year, Angell was open only for kindergarteners. But for the upcoming school year, first grade will have a limited number of spots as well. Margolis anticipates there will be five spots at each grade.
King and Burns Park were not open to in-district transfers last year but they do have a limited number of spots in kindergarten and first grade for fall.
Lawton only has kindergarten open this coming school year, as opposed to first and K.
Pattengill has open spots in third through fifth grade, while Thurston added space in second-grade. Thurston just had first and kindergarten last year.
Transportation is not provided to families that accept in-district transfer offers.
For more information or to download an application, visit Ann Arbor Public Schools' in-district transfer website.
Staff reporter Danielle Arndt covers K-12 education for AnnArbor.com. Follow her on Twitter @DanielleArndt or email her at daniellearndt@annarbor.com.