Posted on
Tue, Jan 8, 2013 : 5:59 a.m.
Smart meters: Ann Arbor residents want health effects considered in development of Detroit Edison's opt-out plan
By Amy Biolchini
Editor's note: This story has been edited to indicate a claim made by Linda Kurtz.
Pages of personal testimony from DTE Energy Company customers in Ann Arbor and its southeast Michigan environs are on the chopping block for removal Tuesday morning from the state's review of a proposed opt-out program for customers of the utility that don't want smart meters.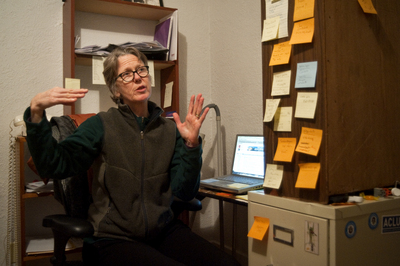 Joseph Tobianski | AnnArbor.com
The Michigan Public Service Commission has conducted a hearing and collected testimony since September regarding Detroit Edison's proposed opt-out plan, which would require customers that don't want a smart meter to pay a one-time removal fee of $89 and a monthly service charge of $15.
Much of that testimony has been from DTE Energy customers, including that of two Ann Arbor women; Cynthia Edwards, 59, and Linda Kurtz, 50, who maintain they have been experiencing a number of health effects as a result of the presence of a smart meter.
The opt-out program should be free, they say.
Operating on the grounds of non-relevant arguments and non-expert witnesses, Detroit Edison has made a motion to strike the testimony of Kurtz and Edwards, as well as of several other individuals, from the record of the hearing.
The company's lawyer has cited the health concerns of the customers as "not relevant" in the case, as the Michigan Public Service Commission previously determined in its own review there to be no significant negative health effects from the presence of the meters.
Tuesday morning in Lansing, Judge Dennis Mack will hear oral arguments on the motions to strike the testimony.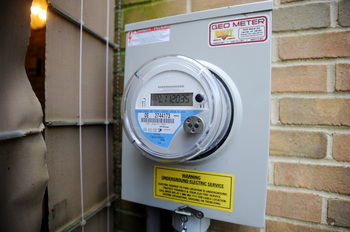 Melanie Maxwell | AnnArbor.com file photo
So-called "smart meters" have been installed by the company beginning in the Ann Arbor area in 2012. The digital meters measure the amount of electricity usage in a residence and wirelessly transmit the information to the company. The device also allows the company to remotely track power outages.
Detroit Edison plans to have a total of 1.2 million meters installed by the end of 2013, eventually investing $447 million in 2.6 million meters for all of its customers. The company projects a savings of $65 million per year.
The introduction of the new meters did not meet a positive response from some members of the community, and questions were raised about unknown health impacts of the devices. After receiving about 1,100 complaints about the smart meters, Detroit Edison developed an opt-out program, which requires the approval of the Michigan Public Service Commission before it can go into effect.
The proposed program does not require individuals to cite a reason for opting out, nor has any special provisions for businesses, apartment complexes or government-controlled entities.
Jennifer Hall, executive director of the Ann Arbor Housing Commission, wrote a letter to the Michigan Public Service Commission in August stating nothing presented by Detroit Edison had convinced her that the smart meter technology would not have a negative impact on the residents they house.
With 360 housing units at 18 different locations, rent charged by the Ann Arbor Housing Commission is controlled by its funding organization, the U.S. Department of Housing and Urban Development. Hall stated in her letter she does not have the ability to raise rents to cover operating costs that would be incurred under Detroit Edison's proposed plan should the smart meters be removed.
Without the health testimony on the record and no lawyer to represent them, Kurtz and Edwards fear the heart of their argument to the commission will be lost and they will have to pay for the removal of a device they feel is making them, and a number of others they've encountered in the process, sick.
Neither Kurtz nor Edwards have a smart meter installed in their homes, but both feel they are, to varying degrees, hypersensitive to electromagnetic waves.
Kurtz has a master's degree in anthropological archeology from the University of Michigan, is a biodynamic cranial psychotherapist and a massage therapist. She's spent hundreds of hours researching electromagnetic studies and the logistics of smart meters -- and noted that there are no scientific articles that examine the health effects of smart meters on humans.
"That's how science works," Kurtz said. "A lot of people had to get sick before the powers that be decided something needed to be changed."
Kurtz said the compounded exposure to the electromagnetic waves associated with smart meters, wireless internet networks and cell phones has plagued her with insomnia.
"This is not something I would be doing if it were hypothetical," Kurtz said. "The people who are becoming involved in this … they are people who have not been politically involved, nor activists in any way. People are getting involved only because they can't sleep and their ears are ringing 24/7."
Edwards is a landscape gardener and works in retail. She began noticing she was having difficulty sleeping after coming home from work late at night in the summer. Coupled with a tightness she experienced in her temples and an aggravated heart condition after spending long hours under the fluorescent lights at work and in certain conditions, she said she didn't start to connect the dots until she was forwarded an article on smart meters from a friend.
Electromagnetic hypersensitivity is acknowledged as a disability under the Americans with Disabilities Act, which means persons covered by the ADA cannot be forced to pay for something that they need to live with their disability.
The heart of the controversy is that smart meters have neither been scientifically proven nor disproven to have effects on human health.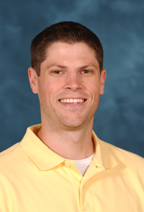 Courtesy U-M
John Meeker
, associate professor of Environmental Health Sciences at the University of Michigan's
School of Public Health
, studies chemical and physical hazards that humans are commonly exposed to through their environment and their associated health effects.
"It's possible that some people could be more susceptible than others to the electromagnetic frequencies," Meeker said.
There are few peer-reviewed studies regarding the electromagnetic fields associated with smart meters, Meeker said, and all are industry-funded. Those studies indicated that smart meters emitted less radiation than cell phones.
However, cell phone safety studies are highly controversial and inconsistent -- Meeker deemed them inconclusive.
In 2011, the World Health Organization changed its classification of cell phone radiation: It's now on the list of potential cancer-causing hazards, right next to lead, engine exhaust and chloroform.
Amy Biolchini covers Washtenaw County, health and environmental issues for AnnArbor.com. Reach her at (734) 623-2552, amybiolchini@annarbor.com or on Twitter.