Posted on
Wed, Mar 7, 2012 : 1:42 p.m.
Savoring spring-like temperatures: How long will this warm weather last?
By Danny Shaw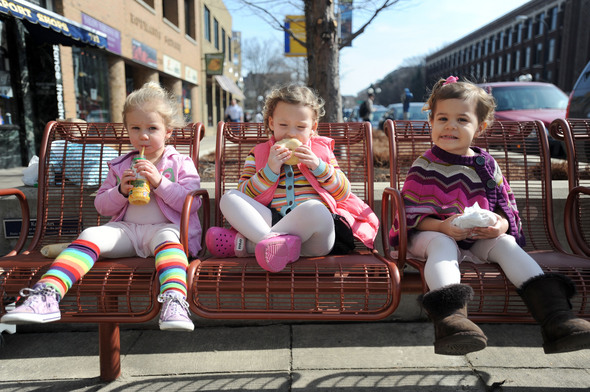 Angela J. Cesere | AnnArbor.com
Spring is visiting the Ann Arbor area today with highs in the mid-60s, inspiring local businesses and residents to think about the outdoors.
Dairy Queen employees are prepping for a busy afternoon and evening. Manager Elizabeth Lasley said the business may have opened its doors for the season March 1, but workers expect this afternoon to really kick the season off as the first big rush of the year.
"It's always that first nice day when tons of people visit Dairy Queen," Lasley said. "We added extra people to the schedule for today. We're thankful to have the girls home from spring break."
Employees at Ace Barnes Hardware on Washtenaw Avenue are replacing snow shovels with rakes and featuring soil over salt.
"We've been really busy selling spring stuff like mulch, seeds and fertilizer," Manager Paul Fletcher said. "We're almost all the way in stock of the spring items. It's already been busy today, so we're expecting this afternoon to be busier."
Area residents are getting out and walking around as the skies clear and the temperature rises, despite it being a little windy.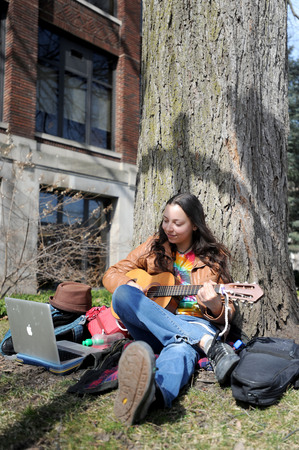 Angela J. Cesere | AnnArbor.com
University of Michigan sophomore
Elise Beckman
sat under a tree on campus and played guitar in the sunshine. She said her plans involve more relaxation with her guitar in the warmer weather before it gets cold again.
"I'm happy to be able to play guitar without my fingers hurting or having to re-tune all the time from the cold," Beckman said, while strumming a song. "I just want to play some more guitar."
After a session of ballet, Ann Arbor resident Anna Mignery and her 2-year-old daughter Madeline enjoyed the breeze outside while eating bagels on North University Avenue. She said their afternoon plans will definitely revolve around outside activities.
"We're going to be outside as much as possible," Mignery said. "It's great out."
The record high for March 7 in the Ann Arbor area was set in 2000 at 75 degrees, University of Michigan weather observer Dennis Kahlbaum said, but don't get too used to it. A cold front is on its way from the Southwest and will cause temperatures to drop down to lows in the 30s by Friday.
A high temperature of 55 is expected Thursday. Temperatures will cool to mid-30s by Friday, but swing back to the mid-50s for Saturday.
For updated weather conditions and forecasts anytime, visit AnnArbor.com's weather page.