Posted on
Fri, Mar 23, 2012 : 11:34 a.m.
Was that a 'leaping' cougar in Ann Arbor? Witnesses describe mysterious animal
By Kellie Woodhouse
A day after police warned of a possible cougar spotting, an Ann Arbor woman says she may have encountered the animal on her way to work Friday morning.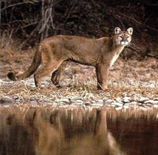 Minu Tyagi was driving from her home in Ann Arbor to her job in Southfield at 6:45 a.m. Friday when suddenly a light-colored animal leaped in front of her car.
"It was quite a big leap," Tyagi said. "It was something bigger than a cat and smaller than a deer and very, very fast."
Tyagi saw the animal while driving south on Green Road. She said it ran out of a field near the Plymouth Green Crossings shopping center in Ann Arbor.
Tyagi's spotting comes after police alerted the public that a "possible cougar" with a tan coat was spotted near Hubbard Road between Green Road and Stone Road on Thursday before 8:30 a.m. Police searched for the animal Thursday but did not find it, although another animal described as black with a white patch was reported to police in the afternoon.
University of Michigan Department of Public Safety spokeswoman Diane Brown said Tyagi had not reported her animal sighting to police Friday morning.
Mohamed Aittaleb, a biology research fellow at U-M, said he believes his wife spotted the supposed cougar in the early hours of Thursday in the backyard of their home in Arrowwood Hills on Pontiac Trail, near the North Campus area.
Earlier, his wife had thrown stale bread in the backyard, thinking small animals like birds and squirrels would eat it. When she woke up around 1 a.m. to close a window, she spotted a dark brown animal eating the bread.
Aittaleb said she roused him from sleep to look at the animal, but by the time he got up it had left the area. He told her it was probably a dog, but says that she responded adamantly that "It's not a dog. It's not a dog." Aittaleb said his wife couldn't identify the animal, but said it did not appear to be a house pet or deer.
The next day Aittaleb saw the alert warning of a possible cougar and reported the sighting to campus police.
However, Brown said aside from the two sightings reported Thursday, no other possible cougar viewings have been reported.
Ann Arbor police Lt. Renee Bush said police received two reports of a dog in the road Friday morning. The reports, which came in at 8:45 and 9 a.m., alert of a medium-sized light brown dog roaming around the Plymouth Road area. One report referred to the dog as a lab and another referred to it as a partial hound dog.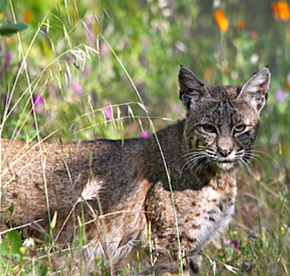 Adam Bump, a bear and furbearer specialist with the Michigan Department of Natural Resources, said the DNR has never verified a cougar sighting in the Lower Peninsula, but has done so 10 times in the Upper Peninsula. He told AnnArbor.com on Thursday that it would be unlikely to find a cougar in Washtenaw County because wild cougars rarely wander into populated areas.
"There's a lot of reports with no physical evidence," Bump said. "There's been eyewitnesses but no pictures of the cat or of tracks or anything like that."
Whether the animal she spotted in the road is a cougar, Tyagi said the discovery was frightening.
"It's scary," she said. "It's kind of creepy because people are jogging around at that time and it's dark."
After the initial animal sighting, Brown warned residents to be wary of bringing small children and pets into the North Campus area. She said bicyclists should also be on the lookout when riding through the area.

View Mysterious animal sightings in Ann Arbor in a larger map
Kellie Woodhouse covers higher education for AnnArbor.com. Reach her at kelliewoodhouse@annarbor.com or 734-623-4602 and follow her on twitter.