Posted on
Tue, Mar 13, 2012 : 5:57 a.m.
Ann Arbor school administrators to report on balanced calendar proposal April 18
By Danielle Arndt
The Ann Arbor Board of Education is scheduled to hear the district's evaluation of a proposed balanced calendar concept on April 18.
Some parents at Scarlett Middle School may be surprised to learn the balanced calendar idea for the Mitchell-Scarlett Teaching and Learning Collaboration is still being considered, based on recent conversations.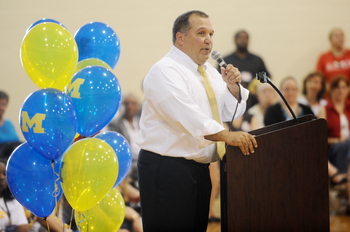 File photo
Parents said at last week's sixth-grade orientation, Principal
Gerald Vazquez
told incoming families the year-round school proposal is off the table, unless Superintendent
Patricia Green
decides to implement it district-wide.
Members of Scarlett's parent-teacher-student organization said Vazquez made a similar remark at their recent meeting.
PTSO board member Ann Farnham said she left the meeting with the impression the balanced calendar "wasn't happening."
"I can't remember exactly the question that was asked (of Vazquez), but he said it wasn't on Scarlett's agenda … we wouldn't see it next year," she said.
However, district spokeswoman Liz Margolis said a decision on the balanced calendar for Mitchell, Scarlett or district-wide has not been made yet. Although, she would "highly doubt" if any movement toward a balanced calendar district-wide was being considered "at this time," she said.
The district's instructional team, led by Deputy Superintendent Alesia Flye, will report on the balanced calendar concept to the Board of Education at its April 18 Committee of the Whole meeting.
Administrators declined to comment on whether the balanced calendar is being evaluated for 2012-13 or a later date. Margolis said this information would be part of the upcoming report.
"We don't want to get out ahead of ourselves before the administration report is complete and presented to the board," she said.
Vazquez did not return phone calls seeking comment Monday, but said in a statement made through Margolis "at no time was he addressing the balanced calendar district-wide."
Margolis wrote of Vazquez, "What he said he intended this to mean was that the decision to move or not to move to a balanced calendar … is made at the district level. This means the superintendent level."
Green said she would make a recommendation after she reviewed the report the instructional team is developing.
The balanced calendar was an original, intended component of the school district's partnership with the University of Michigan for the Mitchell-Scarlett TLC.
The year-round school concept for Mitchell, Scarlett and its feeder elementary schools was postponed after attracting criticism from the community, so the Mitchell-Scarlett TLC was launched in September without the calendar.