Posted on
Thu, Jan 26, 2012 : 4:26 p.m.
Ann Arbor school board debates: Make bold moves, dip into fund equity or both?
By Danielle Arndt
The Ann Arbor Public Schools Board of Education discussed taking a balanced approach to eliminating the district's $14- to $16-million budget shortfall Wednesday.
That approach could include a variety of bold moves as well as dipping into Ann Arbor's nearly $19.7 million in fund equity.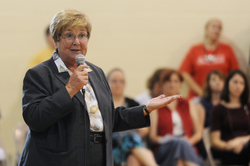 "It's called a rainy day fund. We have one. And it's pouring," said Superintendent
Patricia Green
.
She said she will be recommending the district use a significant portion of its fund equity to balance the budget for 2012-2013. Green contributed to that fund balance by returning $1.4 million in Medicaid reimbursement dollars to Ann Arbor from the Washtenaw Intermediate School District.
Trustee Andy Thomas is in favor of this approach. He would like to see AAPS use $7 million from its fund balance, he said.
He added the district is expecting another $1.6 million for meeting Gov. Rick Snyder's "best practice" standards, bringing the fund equity to about $21 million or 11.5 percent of Ann Arbor's current $183-million operating budget.
"($7 million) would still leave us enough in there, but would buy us a year of not having to implement draconian budget cuts," Thomas said. "The downside to that is what happens the following year. We will have the $7 million to make up and probably another $7 (million) or so in additional cuts."
Trustee Susan Baskett expressed a desire to put it all on the table, including redistricting, although she said the "R-word" cautiously. Redistricting would require looking at neighborhoods and transportation in Ann Arbor to ensure children are attending the closest schools using the most efficient routes.
Board President Deb Mexicotte was gung ho with this method of thinking.
"We've been incrementally trying to hold on with both hands to this top-notch education system, but I feel like at every turn we are being thwarted even by those we are in consortium with and those that have the same interests as us," Mexicotte said, referring to Willow Run and Ypsilanti who may be backing out of a consolidated transportation system with AAPS.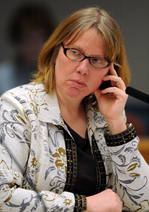 She said board members need to "free their minds" and "be bold" in their thinking this year, explaining that as a group they traditionally have taken things off the table because they were deemed unheard of, complex or extreme.
Mexicotte would like to see the district look at school-day start times, holding the seventh hour of class online, closing schools and decreasing class sizes.
"We have to do the business of education," Mexicotte said. "If that means shifting resources and spending more money or something, then we need to look a little more boldly."
She said if redistricting, changing the high school start time or making the seventh hour online would result in smaller class sizes and allow for renewed spending on opportunities for education, then she is "on board."
She said she is at least interested in learning the potential cost savings of these cuts.
"Let's find the money," Mexicotte said. "Change is hard, but we have been so careful about keeping things under wraps. … I'm not interested in being an incrementalist anymore."
Mexicotte's sentiments generated applause from Baskett and nods of approval from the rest of the board. Members agreed the district may not be able to make the necessary big changes prior to the 2012-2013 academic year, but said using some portion of the fund equity would give the district more time to act.
The idea of hosting more community forums on the budget also came up Wednesday. Both Mexicotte and Vice President Christine Stead did not see the need to solicit more opinions from the public.
Thomas said it's difficult because most of the parents that come forward with ideas don't want to cut programs their children participate in, but they are willing to throw other programs on the chopping block.
Stead said sooner rather than later, she would like to see the board shift gears from listening to "helping people focus on the areas we know are going to be impacted, most likely."
"So from 'give us an idea' to 'what do you think about x, y or z,'" Stead said.
Green and members of her executive cabinet are expected to make their budget presentation and recommendation to the board in February.
Staff reporter Danielle Arndt covers K-12 education for AnnArbor.com. Follow her on Twitter @DanielleArndt or email her at daniellearndt@annarbor.com.