Posted on
Thu, May 6, 2010 : 6:02 a.m.
Ann Arbor school district looking into legality and principal's actions in black-only field trip
By David Jesse
The Ann Arbor school district is investigating the actions - and legality - surrounding a field trip organized exclusively for black students at Dicken Elementary School last week.
Superintendent Todd Roberts said the idea to take 30 black students to hear a special presentation by a black University of Michigan scientist was well-intentioned. But Roberts conceded the execution of that trip and its aftermath might not have been appropriate.
One aspect of the investigation is how Principal Mike Madison handled students who were upset about being excluded, Roberts said Wednesday. Two of Roberts' top administrators - LeeAnn Dickinson Kelley, the district's elementary administrator, and Liz Margolis, the district's communications director - will be at Dicken tonight to hear from parents and offer answers.
Roberts has also asked Dave Comsa, the district's legal counsel, to determine whether the trip violated state law.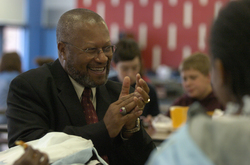 "The desire to have kids see a role model and be exposed to that was good," Roberts said. "It may have been helpful to have that person come to the school so everyone could participate. Our goal is not to be left out. I don't think the goal was to exclude."
The controversy centers on the African American Lunch Bunch, a group school officials say was formed out of the school improvement team process that looked at who was struggling academically at the school.
That group, which is made up of only black students, was taken out of school last week on a school district bus to hear the speaker. Roberts said a private donation paid the time for the bus, which was the only cost of the event.
Madison, who is black, defended the trip in a letter to parents earlier this week.
"In hindsight, this field trip could have been approached and arranged in a better way," Madison wrote. "But as I reflect upon the look of excitement, enthusiasm and energy that I saw in these children's eyes as they stood in the presence of a renowned African American rocket scientist in a very successful position, it gave the kids an opportunity to see this type of achievement is possible for even them.
"It was not a wasted venture for I know one day they might want to aspire to be the first astronaut or scientist standing on the Planet Mars.
"I also think it's important that you know that I have talked to the children who did not go on the field trip, and I think they have a better understanding of the purpose of the AA Lunch Bunch now, as I hope you do. I'm sorry if any kids were upset by the field trip or my discussion afterwards with them, and I have let them know that.
"The intent of our field trip was not to segregate or exclude students as has been reported, but rather to address the societal issues, roadblocks and challenges that our African American children will face as they pursue a successful academic education here in our community."
Not everyone was swayed by his letter.
"Here's my problem with it. It's illegal for them to run a black-only or white-only event," said Rachel Loge, who is white and has two grandsons at Dicken. "Why wouldn't my grandsons be inspired to do better in school after hearing a cool presentation on being a scientist?"
Michigan voters passed a law in 2006 that bars school districts, among other public institutions, from discriminatory or preferential treatment on the basis of race or other factors.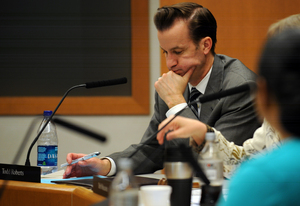 Melanie Maxwell | AnnArbor.com
Adding to the ire over the trip are reports of what happened when the students returned to Dicken.
Several parents have written letters to complain to Roberts, Madison and board members, alleging that after the trip, students who didn't get to go booed their fellow fifth-graders who were on the trip. The parents allege Madison then came into the classroom and harangued the students.
District officials said that's not the case and called Madison "passionate" in his discussion with the students about race.
School board member Christine Stead said she's hoping to find out more about what transpired.
"The intent of the program seems to be in line with what we expect," said Stead, noting she understands the frustrations of parents whose students weren't on the trip. "We need to look at how things were communicated and the issue of students going out versus the speaker coming in."
District administrators said the intent of the program was to work in a mentoring relationship with black students to help boost their achievement. They said it was part of the district's work to combat the achievement gap, which in Ann Arbor is commonly referred to in terms of the difference in test scores, grade-point average, discipline and graduation rates between white and black students.
Much of that work is being led by a consultant, Glenn Singleton, and his Pacific Educational Group. The district has been employing the company since the 2004-05 school year and has paid it $341,000 so far, Roberts said.
Roberts said the district is making progress in closing the gap, pointing to multiple areas in the latest Michigan Educational Assessment Program data, where achievement for black students is up. That includes eighth-grade math scores, where the percentage of black students scoring proficient has climbed 23 percentage points since the 2005-06 school year.
Much of the work PEG is doing centers on "things we can control in the school," Roberts said. That includes making sure black and Latino students see artwork in classrooms and read literature that reflects their culture. PEG is also helping district staff discuss race and cultural issues and figure out how to effectively teach students of different cultural backgrounds.
But it goes beyond that, Roberts said. The company helps district staff focus in on individual students who are struggling to work with them.
Roberts said he is happy with the work PEG is doing. "There are conversations in the district and a greater focus on all the students and how we can help them. I can't say they are the only reason for the growth, but they are key."
The meeting at Dicken will take place from 6-7 p.m. tonight. Administrators have not set a timetable for their investigation into the matter.
David Jesse covers K-12 education for AnnArbor.com. He can be reached at davidjesse@annarbor.com.