Posted on
Tue, Feb 7, 2012 : 12:42 p.m.
2 Ann Arbor schools make list of highest-performing charters in Michigan
By Cindy Heflin
Two Ann Arbor-area charter schools are among those lauded by Bridge Magazine as academic champs in its statewide analysis of charter school performance.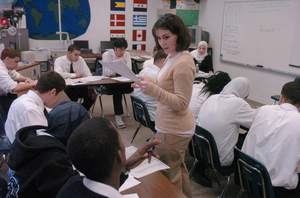 File photo
Central Academy
of Ann Arbor earned a spot on the list for its 100 percent graduation rate.
Honey Creek Community School
in Scio Township also made the list for its 100 percent score in eighth grade reading on the Michigan Educational Assessment Program test.
Bridge grouped schools in two socioeconomic categories (student body at 39 percent or less free lunch and student body at 40 percent or greater free lunch) and then analyzed their performance in eight academic categories. Those included graduation rate, college readiness and grade-level proficiency in math, reading and writing on the MEAP. The highest-performing schools in each category made the list.
Besides the list of highest-performing schools, Bridge has a searchable database of charter schools, and articles about how the winners help students achieve in reading, writing and math.
Bridge Magazine is an online publication of the Center for Michigan, a nonprofit think tank founded by former newspaper publisher and University of Michigan Regent Phil Power.