Posted on
Tue, Jan 10, 2012 : 1:42 p.m.
Ann Arbor skate park update: 'We're going to do what we can to get this done as fast as we can'
By Ryan J. Stanton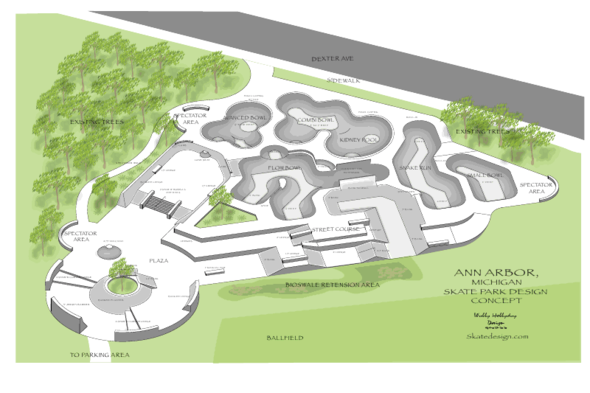 Courtesy of Friends of the Ann Arbor Skatepark
Supporters of the
Ann Arbor Skatepark
initiative say they're hoping to break ground on the long-awaited project in September.
Scott Rosencrans, project liaison for the Friends of the Ann Arbor Skatepark, appeared before the Ann Arbor City Council Monday night and offered that update.
With a significant portion of the funding for the project now lined up, Rosencrans said the next step is to issue a request for proposals.
"The next step in the process is to convene an RFP committee that will be responsible for selecting a firm for the design and construction of the amenity," he said. "Our organization will be represented by Trevor Staples, Gregg Iddings and Chris Cassell, all of whom are skateboarders and two of whom are parents of skateboarders."
The RFP process will be facilitated by Colin Smith, the city's parks and recreation manager. The committee also will include one member of the city's Park Advisory Commission and Jeff Dehring of the Washtenaw County Parks and Recreation Commission.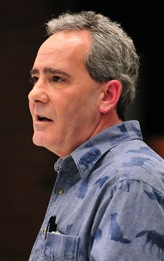 "We're excited to be a part of this project to serve an underserved sector of the recreation community," Dehring said.
The Friends of the Ann Arbor Skatepark announced last month it had received a $300,000 grant from the Michigan Natural Resources Trust Fund for the construction of a permanent skate park amenity at Veterans Memorial Park on the city's west side.
The $300,000 state grant, combined with more than $100,000 in donations raised from private contributors, gives the group all the matching funds it needs to unlock a $400,000 challenge grant from the Washtenaw County Parks and Recreation Commission.
That leaves the skate park group with more than $800,000, enough to get going on the project.
"Fundraising will continue in the hopes that we can reach the original goal of $1 million," Rosencrans said. "We are cultivating relationships with potential donors, our skatepark merchandise will continue to be available, and we will be moving aggressively with the brick campaign."
Rosencrans told council members it will be his last time speaking before council, as Staples is assuming the role of project liaison going forward.
Mayor John Hieftje offered his thanks to Rosencrans and others behind the movement. He asked when the skate park might be open to users.
Rosencrans said it's still early in the process, but if the project breaks ground in September, it could be open by this time next year.
"Sometimes these projects can take up to four months to construct," he said. "Winter comes into play. With a winter like this year, you could be skateboarding in January."
Sumedh Bahl, the city's community services administrator, said the timeline depends on how long it takes for the state to obligate the grant funds.
"We cannot sign any contracts or do any work until we get that contract signed with the DNR, so it's all dependent on them," he said, adding construction might not happen until spring 2013 if there are any significant delays in the process.
"The next step is now to get the RFP out for getting it designed and built," he said. "We're going to do what we can to get this done as fast as we can."
Ryan J. Stanton covers government and politics for AnnArbor.com. Reach him at ryanstanton@annarbor.com or 734-623-2529. You also can follow him on Twitter or subscribe to AnnArbor.com's email newsletters.